Filtered By: Lifestyle
Lifestyle
LOOK
Is it lechon? Self-taught Pinay baker creates cakes that look like other food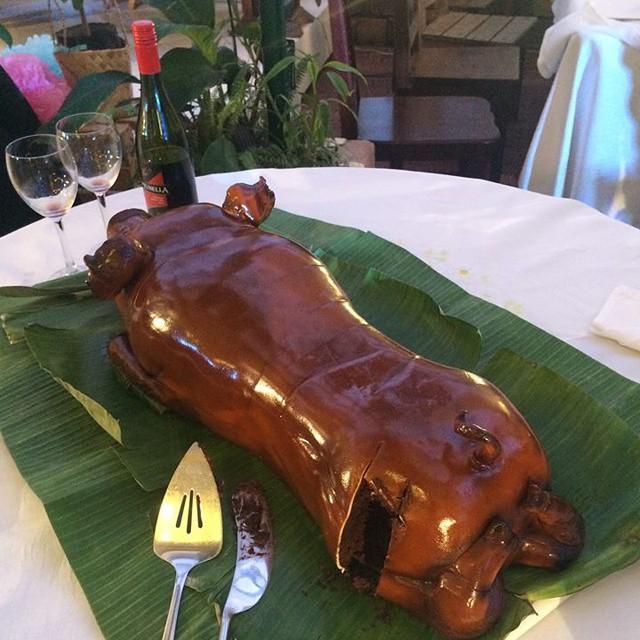 Whether it's lechon, burgers, a bowl of ramen, or even a Louis Vuitton bag, this Pinay baker can make it for you! However, don't be confused to find out it's edible and tastes sweet.
Lovelots Cakes creative director Melissa Pedreña-Cardenas and her team make cakes that look like other food, making you question what exactly you're looking at.
Aside from ramen and lechon cakes, Lovelots also have creations that look like many other things under the sun—be it a can of beer, an ice cream cone, and even your pet dog!
"Most of our cake ideas really start from our clients since we create bespoke cakes upon order," she said. "Our signature style is Minimalist Elegance, but we can also be playful at times just like this ramen cake. Most of our food cakes are [realistic] looking. We are also known for our lechon cakes."
The cake artist said the process of making one took about three days, from baking to boxing.
"Molds for these sculpted cakes do not exist so cheesy as it may sound, you must put your heart into it," she said. "These figures take hours to make, sometimes days. You must know how to use your medium, in our case, marshmallow fondant, and bring it to life," she added.
"Since we've been doing this for several years already, the ramen cake will take half-day of decorating. However, the preparation is another discussion, because you need to dry things in advance. So more or less, from baking to boxing it will take three days."
According to Melissa, everything she knew about baking and cake designing were self-taught.
"I am a self-taught cake artist. If I were to describe it, maybe 10% came from books, 10% from YouTube and Google, 80% from my own experience—trial and error!" she said.
Melissa said her journey in baking started in 2010 when she graduated with a nursing degree.
"I wanted to try a lot of new things. I promised myself I'd learn how to cook and during that time, the internet came in handy. I've always been passionate about how food is made. Most of my childhood days were spent watching cooking shows on the TV. I started exploring to cook simple dishes then I ended up being interested in trying desserts too," she said.
At one point, she created panda-looking cupcakes for her boyfriend. Soon, after posting the panda cupcakes on Facebook, people started ordering from her. By 2013, she decided to work full-time on her cake business.
"Fast forward to 2021, our growing number of followers has blossomed into a wonderful community. It's really nice to share stories, and meet people, albeit virtually, who appreciate your craft," Melissa said.
"I am very thankful to all my friends who had confidence in me and ordered cakes during my neophyte years. Those were really my building blocks. But the world of cake decorating and art never ends. There are still lots of mediums to explore, techniques to try, myths to bust, and principles to master."
Melissa said she dreamt of giving back to the community and building her own cake academy focused on the "basics and intricacies of building a custom cake."
Each sculpted cake, the baker said, starts at Php 8,000 depending on the level of detail. For those interested customers, simply get in touch at Lovelots Cakes website. – Kaela Malig/RC, GMA News