Filtered By: Lifestyle
Lifestyle
Helm by Josh Boutwood is now open at Ayala Triangle Gardens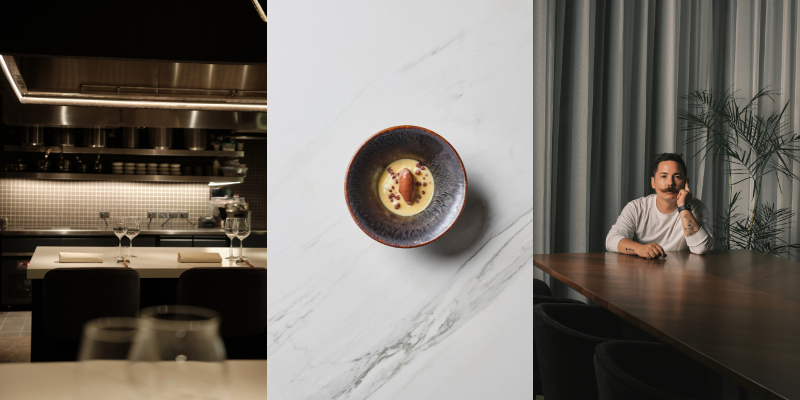 That Josh Boutwood moved Helm to the 3rd floor of The Shops at Ayala Triangle Gardens is apt: He has a long-standing fascination with the number 3, after all, and dishes at the restaurant are guided by this principle of trinity.
"Always, three [ingredients] on this menu, every single dish will have about three components. That's been a cohesive concept when we develop dishes," he says at a preview dinner for the press last week.
And while he admits "that there is a lot of work to making the three ingredients look singular and appear simple," Boutwood and his team remain composed and relaxed — graceful even — in this culinary theater they've built.
Note the word "theater." Step inside Helm and it's like stepping inside one. The 24-seater space is dark, featuring minimalist design in a color palette of black, gray, copper, and steel.
Only the kitchen and the two, four-seater counters are well and warmly lit. Some pieces of modern art adorn the walls, a storm trooper helmet quickly taking your attention.
If you're after the culinary theater, aim to get seated at the first counter nearest the kitchen. Here you get to see the chef and his team perform and/or prepare all the excellent dishes for either the eight (P5,800) or the 12 course (P8,800) menu on offer.
It starts with — here you go again — a trio of snacks: onion tart with raw beef and horseradish, fish and chips, and fjord trout with juniper and tamari. It's weird to be calling them "snacks;" they're delicious and delicate and serious-tasting and taste expensive. But they should clue you in on Boutwood's playfulness and creativity.
Unlike the old Helm with strict and ever-evolving themes, the opening menu of the new Helm has him and his team enjoying their time in the kitchen and process of cooking. "It gave me the opportunity to work with the team and really just do what we wanted to cook, because we haven't properly cooked for two and a half years," he said.
"We didn't want to have just this theme to think around. Instead, we wanted to look at the ingredients that were available and we could get a hold of and treat them with much as respect and delicateness as possible and come up with this menu," Boutwood continued.
Much like the old Helm however, it's bound to change in four months' time. What the menu will be like then, he still doesn't know. "But one thing we've been playing around with, which I hope I don't get a cease and desist order is Star Wars," he said.
Helm is Boutwood at his most relaxed. "I designed it that the dining room is inside the kitchen, so you guys are in my domain versus me being in your domain as a diner. It's a much more relaxing place to be in. I enjoy conversing with everyone," he said.
But that's getting ahead of the story. When Boutwood said they wanted to treat the ingredients with respect and delicateness, he was serious. From the snacks, the tasting menu proceeds with a soup of mussel, lemongrass, and chili, which the chef advises to take three sips. It's a warm and delightful opening, and one where the crescendo begins. The wonderfully interesting Hamachi with coconut lime and yuzu, with the delicate piece of fish tucked under a film of coconut lime, follows. It is light but creamy, and one that makes you think what other flavor combination is possible under Boutwood's well, helm.
It is followed by the dense and heavy egg yolk, barley, and kale. And then he puts a pause with the beautiful bread number — a slice of sourdough made with three types of flour that's been fermented for three days. It boasts of 84% hydration so as Boutwood would say, it's "very wet." The bread, which comes from the Test Kitchen Bakery, is accompanied by two types of butter, whipped and burnt, arranged to look like a slice of bone marrow.
The couple of dishes that follow — the seabass with mussel emulsion and the pork tenderloin with cabbage — set the foundation for the banger of the evening: the pan-seared duck breast with guyabano gel, cauliflower puree, black pepper gel, and caramelized onion. It's easily the highlight of the meal and the most memorable, too.
A palete cleaner of watermelon, calamansi, and basil follows after which the strip loin with mushroom and sunchoke takes center stage. Boutwood reveals he is a big beef fan. "I like its texture and its flavor," he says so it's not surprising to learn he has been diligently taking on the tedious six-hour process for the dish. For Boutwood, this is when work gets personal. "You gotta have the right feeling," he says of the beef course.
The tasting menu ends as it began: with a trio of desserts beginning with a cheese course comprised of a St. Nectaire cheese from France paired with pear butter and beetroot lavash. A Coconut mango vanilla number, and finally with burnt chocolate, dark chocolate and white chocolate served with Tanzanian coffee.
The whole meal takes about two hours of your time and by then, you are pleased, satisfied, weirdly at home and comfortable and most importantly, happy.
Boutwood is still uncertain what the next theme of Helm will be. What they all know though is the fine-dining restaurant will soon open for a lunch service. — LA, GMA Integrated News
3/F, The Shops at Ayala Triangle Gardens, Ayala Avenue for. Paseo de Roxas, Makati. +63915 9098647. Open Tuesdays-Sundays 6pm-10pm