Filtered By: Lifestyle
Lifestyle
Can solar panels cut electric bills and save money in the long run?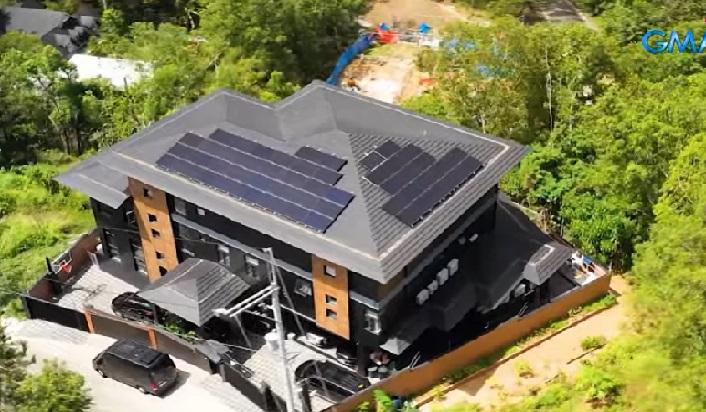 As this sweltering summer triggers increased power consumption, having higher electricity bills should be expected.
Installation of solar panels in homes offer a solution to save money as well as to go "green."
A source of renewable energy, solar panels are an important way to combat climate change. They produce clean "electricity that keeps us from burning greenhouse gas-producing fossil fuels," Scicence.org says, which means installing solar panels and switching to a renewable energy like solar can help reduce greenhouse gas emissions, a key step in mitigating climate change and keeping global warming to 1.5C.
But solar panel installation isn't cheap.
According to Patrick Panlilio, chief operating officer of Meralco's wholly owned renewable energy company Spectrum Inc., the cost of installing a 3.8-kilowatt (kW) solar generating system would roughly amount to P350,000 to P400,000.
This is recommended for a customer who has an electric bill amounting to around P7,000 a month.
Sounds heavy on the wallet, but the cost, says Panlilio, "is already inclusive of everything — the materials, installation cost, legal documentation, net metering application, and etc."
It's an investment
Businesswoman, DJ, and social media influencer Cecile Zamora was bracing for an expensive solar panel installation, so it came as a pleasant surprise when she learned that "it's a lot more affordable now."
"I thought it was going to be in the millions," she tells GMA News Online. "But I spent less than P400,000."
She switched to solar last year, after she saw a friend had solar panels in his house. "It's something I've always wanted to do. When I built my house 19 years ago, solar wasn't allowed pa. But when I saw my friend, JJ Acuña — he's an architect — had solar panels in his house, I got inggit," she said.
It was a quick process for Cecile, who asked her for friend's recommendation. "He recommended his supplier, Solaready. I called the number he gave me and had the supplier come in, to determine where best to put the panels," she said.
Solaready is an systems integrator, meaning they "take care of installation from start to finish — panels, cables, inverter, and all the other things like connecting with Meralco that will make it fully operational," Miguel de Asis tells GMA News Online.
For Cecile's home system, Solaready installed a 6.8 kilowatt system, consisting of 12 Panasonic solar panels at 545 watts each. It's something of a hybrid, where the solar panels generate electricity from the sun to power her house in the daytime. "And then Meralco comes in at night, when there is no sun," she said.
"Even if it's cloudy, basta there is sun, my electricity will come from the solar panels. I know some people have extra batteries to power their homes at night but me, I still rely on Meralco for nighttime electricity."
Said de Asis, Cecile's is an on grid solar system without batteries. "We sync it with Meralco but her default power is solar."
Perhaps its best to think of switching to solar energy as an investment. According to the Panlilio, "Conservatively, it's safe to assume that a proper solar installation will reduce a customer's electricity bill by at most, half of what they are consuming beforehand."
"This is particularly true especially if they are a heavy user during the daytime. If the customer's previous bill amounts to around P10,000, they can expect to reduce it by at most P5,000 once the solar system is installed," Panlilio said.
Cecile compared her electricity bill from April 2022 with her April 2023 bill: "In April 2022 it was around P32,000. This year it's around P19,000," she said.
"I know you don't get your returns right away but I wanted to do something for the environment. And I also didn't want to be spending that much money on electricity," Cecile added.
But that's not all. According to German solar company AE Solar, a 6 kilowatt solar system not unlike Cecile's helps reduce 6.3 metric tons of carbon emissions per year. "This means it can comfortably offset the emissions produced by one vehicle in a year," it said.
Net metering
Users of solar panels can also slash their electricity bills by earning bill credits through the net metering program.
According to the Department of Energy (DOE), net metering allows customers of distribution utilities to install an on-site renewable energy facility (such as solar panels) not exceeding 100 kilowatts (kW) in capacity so they can generate electricity for their own use.
The DOE said any electricity generated that is not consumed by the customer is automatically exported to the utility's distribution system.
"Any unused energy will be exported to the grid thru net metering as allowed by the government," Panlilio said.
The distribution utility then gives a peso credit - equivalent to its retail rate - for the excess electricity it receives and deducts the credits earned to the customer's electric bill, which in turn will be used to reduce the bill, according to the DOE.
A distribution utility's retail rate consists of generation, transmission, system loss, distribution, subsidies, taxes, and other charges.
"We also highly recommend that customers apply to Meralco's Peak / Off-Peak (POP) Program. This program will help them save more as it offers the benefit of having lower rates during off-peak hours (9 p.m. to 8 a.m. from Monday to Saturday, and 6 p.m. to 8 p.m.on Sunday)," Panlilio said.
According to Meralco, the POP generation rate is cheaper at P3.55 per kilowatt-hour (kWh) for off-peak hours versus P5.69 per kWh for non-POP customers, saving up to P2.14 per kWh.
"When combined with a solar installation, customers will be consuming the energy generated by the solar PV (photovoltaic) system during peak hours, when the rate is higher, and only rely on the grid during the off-peak hours, when the rate is lower. This is really beneficial," Panlilio said.
Return on investment
Panlilio said that ROI or return on investment may vary depending on prevailing electricity rates in the customer's service address.
"In Metro Manila, average ROI is around five to six years. Once the customer recovers their investment, all generations made thereafter by the solar installation will come as a net positive for them," he said.
The Spectrum official said that by the fifth or sixth year of the solar panel system's operation, customers can fully enjoy savings from their solar investment.
To install a solar panel system, Panlilio said customers can use Meralco's customer touchpoints such as the official website, social media pages, and customer hotline 16211.
Alternatively, there are plenty other solar panel providers you may call — like Solaready — which will take care of hooking it up to the Meralco grid.
"Typically, it takes us 10-14 days. We will go to your home for an occular to determine where the panels will be best located, the wiring, where inverter will be placed. And then we will send a quotation. If you're OK with that, you just pay a 50% downpayment after which we will install the panels," de Asis explained.
Solaready uses Panasonic solar panels, which come with a typical 25-year warranty. De Asis says about 80-90% of their customers go with Panasonic, "they have an office here, we have good relations with them already. Other brands, they don't have an office so they just ship the panels here."
"If there are any issues, you just call us and we will sort it out," de Asis assured.
With summer temperatures continuing to soar, heat indexes hitting dangerous levels, and PAGASA already issuing an El Niño alert, perhaps it is the best time to shift to solar energy. — LA, GMA Integrated News