Filtered By: Lifestyle
Lifestyle
'Start-Up' lead stars share how they prepared for their roles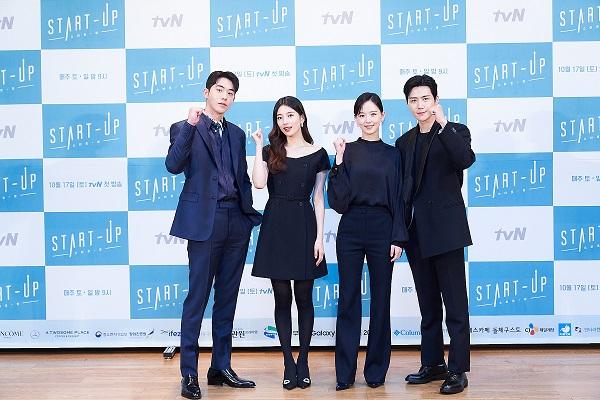 If you're all caught up on Netflix's latest K-drama "Start-Up," you probably want to know more about the series and its characters.
In a virtual press conference last October, its lead stars Bae Suzy (Seo Dal-mi), Nam Joo-hyuk (Nam Do-san), Kim Seon-ho (Han Ji-pyeong), and Kang Han-na (Won In-jae) talked about their characters and how they prepared for them.
1. Nam Joo-hyuk pulled out the nerd in him to portray tech genius Do-san.
Joo-hyuk said when he first read about his character in the synopsis of the K-drama, he thought it was still incomplete.
"I thought that I could add more to this character and fill the void together if I took on this role. The character seems a bit lacking, but as the story unfolds he grows," he said.
"I saw some overlapping relationships with my character. We are around the same age, so I could feel what he's feeling. I wanted to grow together with Do-san," he added.
As he portrayed Do-san, Joo-hyuk said he was able to look back at his life and look forward to his future.
"To relate to my character, I looked into myself. It was not hard to pull off the nerd aspect of my character because I realized his qualities were within me. When I get nervous in real life, I tremble so I used that in my acting."
2. Kang Han-na had her hair cut for the role.
Kang Han-na said when director Oh Choong-hwan and the writer Park Hye-run asked her to cut her hair, she just "went about it, I had a haircut."
Han-na, who plays Dal-mi's sister Won In-jae, will appear as one of the antagonists in the beginning of the series.
Despite In-jae being an amazing businesswoman acting strong and capable all the time, Han-na said she felt sympathy for her character.
"However, deep down I feel sympathy for her. I hope viewers can relate to that and cheer her on for her personal happiness," she said.
Han-na said to effectively portray her character, she watched videos of real-life young CEOs.
3. Kim Seon-ho said he's not as sharp-tongued as his character Ji-pyeong in real life.
Fans of the series have been falling head over heels for second lead Han Ji-pyeong, portrayed by Kim Seon-ho, despite his sharp tongue and business-focused thinking.
Seon-ho described Ji-pyeong as a kind man who has a good heart, a trait that the Korean actor said he shared with his character.
"I'm not as mean with my words as Han Ji-pyeong. He's straightforward and quite sharp-tongued to people to their faces and I can't really be like that so that's a difference between my character and me," he said.
Similarly with Han-na, Ji-pyeong had to look at mannerisms of real-life successful CEOs to portray his investor role.
4. Bae Suzy said her portrayal of Seo Dal-mi made her look back at her life.
Bae Suzy said her portrayal of Seo Dal-mi—the strong leading lady who has been battling challenges all her life—made her look back at her own life.
"Throughout the production process, I was comforted by the screenplay. It helped me take a look back on my life and feel comforted. It's a very heart-warming story," she said.
Suzy said her character "meets a lot of different people."
Suzy said she had to focus on how Dal-mi's personality changed based on who she interacted with and that was how she was able to successfully portray the role.
"I looked at the script a lot to portray how different she is when she interacts with different people including her first love Do-san, her grandmother, mother, and others," she said.
The K-drama "Start-Up" follows four young people who are chasing their dreams in a place called "Sand Box." Seo Dal-mi (Suzy), whose dream is to become the Steve Jobs of Korea despite not having a fancy background, shows her passion and energy to reach her goal, having had a wide-range of experience from her part-time jobs.
Meanwhile, Nam Do-san (Joo-hyuk), the founder of Samsan Tech and a "Math genius" as a young boy, used to be the pride of his clan. He later meets Dal-mi, who mistakes him for her first love. He decides to work his way up with the hopes of turning misunderstanding to reality.
Han Ji-pyeong (Seon-ho) is a senior investment manager at a venture capital company. He is known as "the Gordon Ramsay of investments," given his sharp tongue and investment skills.
In-jae (Han-na), on the other hand, is a young CEO with an attractive background that everyone wants: good education, beauty, and money. Despite all of this, however, she struggles to create her own success and be recognized for her own talent and skills.
"Start-Up" premieres new episodes on Netflix every Saturday and Sunday. – RC, GMA News