Filtered By: Lifestyle
Lifestyle
JA-CHI-BANG
This Korean design aesthetic will help you turn your small living space into a cozy home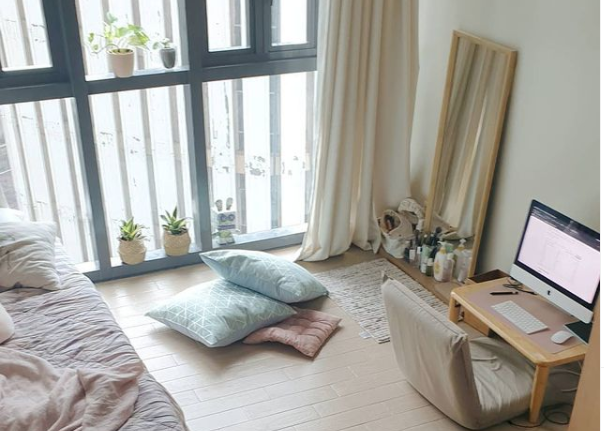 Your small apartment doesn't have to feel cramped and uncomfortable for long.
Like Seo Dal Mi's gorgeous room in "Start-Up" and Ahn Jeong Ah's super-sensible house in "Record of Youth," you can easily turn a tiny living area into a cozy nook that will help you relax and get all your work done in 2021.
But first, you'll need a little house inspo, so search for "ja-chi-bang" on Instagram or Pinterest now.
This Korean design aesthetic has been helping millennials achieve the K-drama home of their dreams through minimalist furniture, warm lighting and the smart use of space.
Because the pandemic has given us plenty of time inside our homes, it's also allowed us to assess what is missing, what needs to be done, and what else can be done inside our small living spaces.
But first, what is ja-chi-bang?
Ja-chi-bang is a Korean word for small studio apartments where people live alone.
Room inspos posted online vary from person to person, but each of them reflects the owner's creativity, personality and aesthetic.
And, with the rise of K-dramas and many young Filipinos purchasing condos, the ja-chi-bang craze also reached our shores.
On Facebook, a group called Home Buddies, has gathered a lively community of young Filipino fans of ja-chi-bang, where they share photos of their living spaces, ask for advice on where to get home pieces, or simply share their latest acquisition.
Frances Lim Cabatuando, who started the FB group, said those who want Korean minimalist homes usually go for neutral wall paint, minimalist wooden furniture, cozy textiles, warm lamps, and plants.
But despite the minimalist charm, home owners still like to add small trinkets or decor here and there that would give the space some personality.
"The idea is to make a really small apartment feel warm and cozy, even when you're just alone," Frances explained.
"You try to make your small space intimate and personal because it's your place," she added.
New year, new house
Going minimal can be both a practical and fulfilling way to welcome 2021.
According to Frances, one of the best tips for those who want to start a ja-chi-bang journey is learning how to let go of certain belongings to make room for things you really like.
"It's hard to let go of that stuffed toy you grew up with. It's hard to let go of a gift you don't really like anymore but was given by someone special. But a minimalist room is called such because it really has a few things! Just the basics and maybe a few unnecessary things that make you happy," she said.
"You might be surprised how close you are to achieving your dream minimalist room just by discarding things," she added.
People who live alone are also not obligated to fill up all the space they may have.
"We're taught to maximize the small space we have so we try to fill up every corner with containers, cabinets, etc, but having empty walls or corners will actually give you room to breathe," Frances said.
"Just because you see an empty corner doesn't mean you're wasting space. You're actually creating space."
You also have to remember that you're not alone.
Many Filipinos have been renovating their rooms and houses in the past few months since COVID-19 put everything on a standstill.
"The pandemic made us look into our homes and made us assess what is missing or what needs to be done," Interior Designer Katherine Anne G. Correa, the program chairperson of De La Salle-College of Saint Benilde Interior Design Program, explained.
"Making us decide that 'Oops, the space is not enough,' or 'I need to re-decorate because I feel stressed and I want a relaxing vibe for my home' — That feeling. Why? Because, nowadays, 90% or more of our time is spent at home," she said. — LA, GMA News
If you need more ja-chi-bang ideas and other house inspos, you can join Home Buddies on Facebook or follow Nobi Home on Instagram.