Filtered By: Lifestyle
Lifestyle
Who are these 2 teen Pinoys from the 1950s the internet is stanning?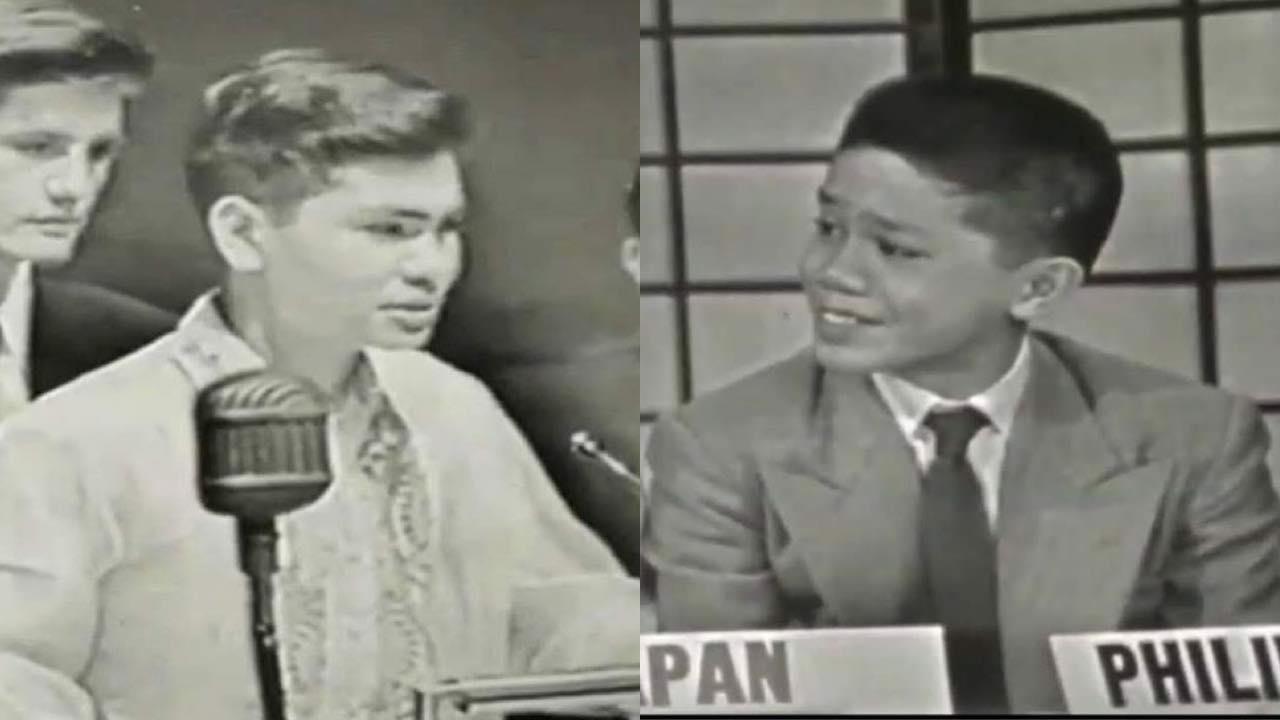 Thanks to technology, these Filipino debaters from the 1950s have recently gone viral for their views that are relevant to this day.
In the black-and-white videos that made the rounds on social media, then teenagers Raul Contreras and Johnny Antillon displayed wit and intelligence during televised debates and speeches recorded more than five decades ago.
Their eloquence and their values got them an entirely new generation of stans (fans in internet parlance), but who are they exactly?
Raul Contreras
Contreras went viral for his video where he spoke about justice and prejudice.
In a video uploaded by a YouTube channel named ArchiveMC, Raul could be seen debating with representatives from Japan, Indonesia and the United Kingdom.
"In the Pledge of Allegiance to the American flag, it mentions something about 'I pledge allegiance to the Flag of the United States of America and to the Republic for which it stands, one nation, indivisible under God, with liberty and justice for all.' Well, the last phrase just doesn't solve everything," he said.
"I mean, with this segregation problem here and the discrimination against colored people, how in the world could you have liberty and justice for all?"
Although the debate was held decades ago, many internet users pointed out that his arguments were still relevant today as anti-Asian attacks rose in many places all over the world.
In an interview with GMA News Online, development worker Kate Contreras said her father was indeed an eloquent speaker.
"Dad was always studying and reading (up) on everything. He was always curious and outspoken, maybe because he was also encouraged to be such in his family," she said.
At 15, he became the Philippine representative to the New York Herald Tribune Forum.
The daughter said her father studied at San Beda College, where he graduated magna cum laude with a degree in journalism and political science.
He later worked as an advertising and public relations specialist in New York before setting up his own firm Public Communications Associates Inc.
Contreras was named media bureau director under former President Corazon Aquino and in 2001, he received the Bedan of the Year award.
Despite all of his achievements, being a "doting grandfather" was Contreras' "greatest achievement of all."
"He was always very hands-on in parenting and I remain very grateful for that," said his daughter.
"He would drop everything when it came to family, not just our family but for his siblings and friends as well. Dad was a selfless person who was always willing to help and if any of his kids would fall flat on their face, he would be there to fight for us, to pick us up," she added.
The younger Contreras recalled how her "selfless" father taught his family to love their country.
"My dad would encourage us to go out in the streets to fight for what we believed in. He would always tell me, 'even if you are a voice in the wilderness, go out and fight for it.' But as I said, he was not perfect and he had his own set of prejudices especially when it came to suitors. No one was good enough for his daughters," she said.
Contreras passed away in April 2012 from kidney failure due to lupus.
The daughter said she got emotional after learning that her father went viral for his old debate videos.
"I got quite emotional seeing him live, and shocked," she said.
"I mean who gets to see their father at the age of 15, live at that, and not just through photos. Of course, I feel proud that his brilliance stood out in that debate, and how the issues are still prevalent to this very day."
Asked what her father would have thought if he saw how he became an internet sensation, she answered: "I think more than that he would have probably laughed at his younger self in the video because that would be proof that his hair was once all black. He was always a salt and pepper haired guy and my classmates would often mistake him as my grandfather."
She added: "But kidding aside, I think he would have been proud not seeing himself but more of the issues being resurrected especially today where there is so much prejudice going on."
Johnny Antillon
ArchiveMC also uploaded a 1954 video which showed Antillon debating on the effects of war. Along with other nationalities, the Filipino could be seen reading prepared speeches for the United Nations on the topic of war after having survived World War II.
"I still believe there is one thing we cannot do without: war. Perhaps my reasons are selfishly personal, perhaps I exaggerate the impact of war but I survived one war and I know how it feels. I know what it is to be afraid of nothing and yet everything. I know what it is to crouch in a shelter's corner, not knowing if the next bomb would be my own," he said.
Antillon said war gave the "necessary push to do many things," but he still hated it for its "general uselessness."
"I hate it because every time we have one, we rob ourselves of time which we could have used in building and not destroying," he said.
"I feel that we shall enjoy peace because I believe and I feel deeply that no nation shall start a war which none can possibly survive," he added.
"With the weapons now in our hands, if we start another world war, there will be no distinction between loser and victor."
According to Antillon's grandson Daniel Buenaventura, an online English teacher, Antillon didn't just speak for a better world but also pledged to give his family a normal life after suffering through the many effects of World War 2.
"The economy was really down. Families were recovering. I think it was a part of his life that he wanted to forget all the struggles," Buenaventura told GMA News Online. "The hardships he encountered as a child... just seeing sadness and carnage in the world after World War 2, I think his generation, it's safe to say, that they have the same focus on how to make their lives and country better."
"He was really encouraging us to be normal kids. The way he raised us was basically just to be normal, to have a compassionate heart, to be kind to other people. He never really focused on raising us to be someone like him in debate who aspired for bigger things. He just wanted us to be normal kids," he added.
Buenaventura said that his grandfather pursued a law degree in the University of the Philippines but he did not finish his studies. However, he became a successful businessman who owned a textile manufacturing company and also partly owned the now-defunct Harrison Plaza.
Antillon passed away back in 2010 at the age of 74 years old. If he were alive today, Buenaventura said that he would have loved to see his debate video go viral, mainly so his family would believe and get more evidence that he did, in fact, speak at the United Nations when he was younger.
"He would probably tell us, 'See, I told you guys I was in the UN. I was telling the truth!" Buenaventura said.
"He would probably be very happy. I'm very sure he'd watch it countless times to bring back memories," he said. "He would love to read all the comments. Pretty sure he would reply to some of them."
–RC/MGP, GMA News