Filtered By: Lifestyle
Lifestyle
Aswangs assemble: 'Lagim,' the new Pinoy card game, is going global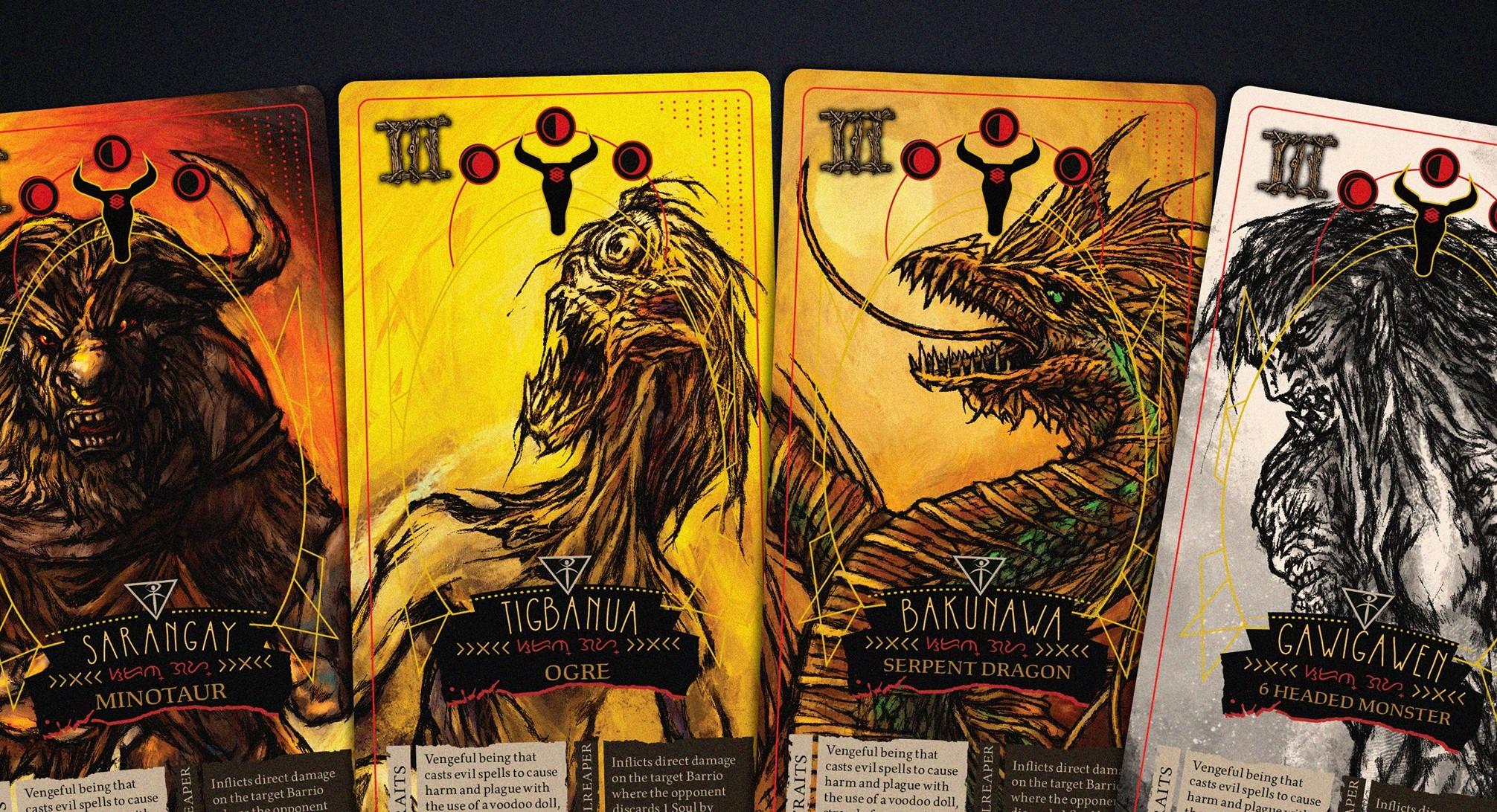 When I first heard about Lagim, it was at our family's third "board game night" in late 2020. Netflix burnout crept in after months of lockdown, and mom had already bought a stack of tabletop games—desperate to curb my 10-year-old sister's screen time.
"This looks good oh," my mom said while giving her iPhone from across the table. From it I read a Facebook post about Lagim, which, at the time, had just started delivering game sets in the Philippines:
"Unravel the dark and magical realm of Filipino folklore. The time has come to enter the game of Lagim. Gather your wits and strengthen your nerves, battle the terrifying monsters and beings in this epic game of strategy and luck."
Gutsy. Back then, the lockdown still had no end in sight. All sorts of businesses were calling it quits on social media, even those that had been around for generations—from 100-year-old-schools to restaurants where your grandparents had their wedding reception. Sure, a tabletop game sold online may not be your typical brick-and-mortar business, but then again, selling a tabletop game was not your typical business either.
Lagim's creators rolled the dice, staking a claim on thousands of living rooms bustling in the heat of a pandemic, unusually filled with (privileged) families like that of mine. They got sixes.
Six months since becoming available nationwide, the game has landed a TV interview, hit FullyBooked shelves, clinched a spot in the upcoming Los Angeles Comic Convention, even been bought by my mom.
And just this Friday, striking while the iron is red hot, Lagim has gone global with its worldwide debut through Kickstarter, where it will now accept orders from other countries.
Weeks ahead the global launch, having just come from another quality check for the game's Dwarf expansion pack and limited edition Bakunawa card—both available on the Kickstarter campaign—Augusto Ayo, Lagim's lead character concept artist, lets GMA News Online virtually into his design studio, loosened up and reflective, views on mambabarangs included.
What is Lagim?
Lagim—meaning terror or dread in Filipino—is a tabletop card game of strategy and luck. Set in the early 17th century Philippines, players must battle dark forest creatures and each other while defending their Baryos. The last surviving player wins.
Developed to promote original Filipino content and storytelling, it uses a basic tabletop game structure and mechanics as a springboard to boost conversations and interest in our local culture, traditions, and beliefs.
The local lore really shows. On top of classic Pinoy creatures like the "Manananggal" (Viscera Sucker), and "Nuno sa Punso" (Goblin of the Mound), some in-game actions are also distinctly Filipino, like the "Buntot Pagi" (Stingray Tail) and "Orasyon at Insenso" (Prayer and Incense) cards.
The idea was to create a card game that would showcase Filipino folklore to help empower and bring attention back to our heritage, bringing local fiction and folklore into a mainstream platform such as a card game, that serves as a functional art piece, that would successfully promote our culture to a wide variety of audiences, but especially to the younger generation.
Para kanino ang Lagim?
Originally, Lagim is generally for non-gamers, hobbyists, and people just looking to spend time and relax over a game with family and friends. Later on we realized that many of the buyers are collectors and art enthusiasts. So we are also gearing towards that market segment.
Interesting.
May percentage rin na mga professors and educators. I think they use it as support sa kung ano 'yung tinuturo nila—as parang inspiration, references, visual aid.
Ano ang nangyayari; what's up for Lagim? I've heard may Kickstarter launch kayo.
Ah yes, that's the next goal. So pag-launch sa KS, 'yung Basic Set is may upgrade na, like 'yung map. So much bigger and thicker map. And medyo maraming expansion na kasama—depende sa mga pledges. So, for example, puwede kang bumili ng isang set na may kasama nang isang expansion card, among other collectibles.
May option din na kumuha ng Agimat na pendant. Maraming choices for the Kickstarter launch. We'll have five options to choose from.
Is it accurate to say that the Kickstarter campaign doubles as a global launch?
Yes. It's a global launch, global campaign—simultaneously to Europe, US, Dubai, UAE, and Canada. 'Yun 'yung pinaka-platform for those markets.
What's the hardest part in making the game?
For me, I think 'yung mechanics. Marami kaming back and forth. Although a big percentage of the development is kami-kami lang—'yung mag-eenjoy kami habang nilalaro 'yung produkto. The big challenge was the game rules and mechanics.
Fast break. May third eye ka ba?
Mayroon.
Favorite horror movie?
IT.
IT. 'Yung bago o 'yung luma?
'Yung luma.
Ano ang pinakanakakatakot na na-experience mo?
Noon ano, noong nakakita ako ng mismong—'di ko alam kung maligno or 'di ko ma-describe ano 'yung entity. Really saw the red eyes, and then 'yung hinga. That was way back, so many years ago. But firsthand experience.
Scariest place in the Philippines?
'Yung place ko kasi, I'm from Bicol. So, mayroon kaming spot doon na Balete tree. So every drive noong car, or jeep, 'pag dumadaan kami doon, sasabihing 'wag titingin. Baka kasi may makita. So tumaga sa isip ko na napaka—parang mysterious and eerie nung Balete tree na iyon. So I think siya 'yung—till now, siya 'yung scariest place.
What's your favorite card in the Lagim deck right now?
Mambabarang. Pinaka-first character na dinevelop ko. May love at first sight ako sa mambabarang. (Laughs.)
I didn't have formal visual inspirations for her. 'Yung mambabarang, sobrang marami kasing ano eh—not from personal, but more on kakilala mo and may magsasabi sa iyo na, "'yang mambabarang parang ganito, ganyan." Through time, nakaka-create ka ng mental image.
Since—she's the very first character na dinevelop ko. The Mambabarang was the Pandora's box for me. Matapos niya, tuloy-tuloy na.
You've said earlier na may third eye ka. Mayroon bang card dito na you drew with your personal experience. I mean, 'yung visuals niya is kung paano mo siya nakita? May nakita ka na ba sa mga cards na ito?
Wala. Hopefully, wala akong makita diyan sa totoong buhay. Knock on wood! (Laughs.)
Getting back, do you think the pandemic—kahit paano—either helped or stifled the marketing of Lagim?
Mayroon kaming parang—kung wala sanang pandemic, we could have the physical launch, parang event sana. Siguro mas broader 'yung naging exposure ng game, but who knows. We worked within kung ano ang dinala ng pandemic, so 'yan 'yung parang exposure na namin: purely on digital—sa mundo ng Facebook, Instagram.
The art of Lagim is rather very bold, striking. Can you guide us through the style and your art process?
'Yung basic inspiration and influence art style is 'yung romanticism and gothic era ng—medieval era ng art scene. Parang ito 'yung mapapansin sa mga illustration and cards. Nandoon 'yung mga colors, based dun sa era—'yung parang movement nung art na iyon.
Ang basic training ko rin for illustration is I used to do a lot of illustrations for skateboard graphics and snowboard graphics. Which—medyo—ang styles kasi doon is medyo hardcore graphics, malapit na doon sa direction ng Lagim. So, hindi naman nahirapan doon sa pag-create ng mood and 'yung poses and 'yung mga characters and 'yung mga expressions.
Any message regarding the Kickstarter Launch?
Please do support us in our KS Launch. We'll be offering more upgrades and components. And do support 'yung Filipino concept storytelling. Hopefully, when you support us in the KS launch, it's also a way for us to launch more titles in the future.
Lagim is basically a—well, it's a boardgame. But it's also something that Filipinos can be proud of. It can serve as a bonding item that can be experienced and enjoyed with family. And at the same time, it's a collectible piece that represents Filipino history. And yung sense of pride na we have thi—it's a Filipino product that can go side-by-side with international brands. It's basically parang an heirloom na you can pass it from generation to generation na—at the same time, you're promoting local storytelling and original Filipino content sa mga kids mo, sa mga susunod na mga generations. So hopefully ganoon 'yung pinaka-world ng Lagim. – RC, GMA News