Filtered By: Lifestyle
Lifestyle
5 comforting reads from South Korean authors to get you through this rut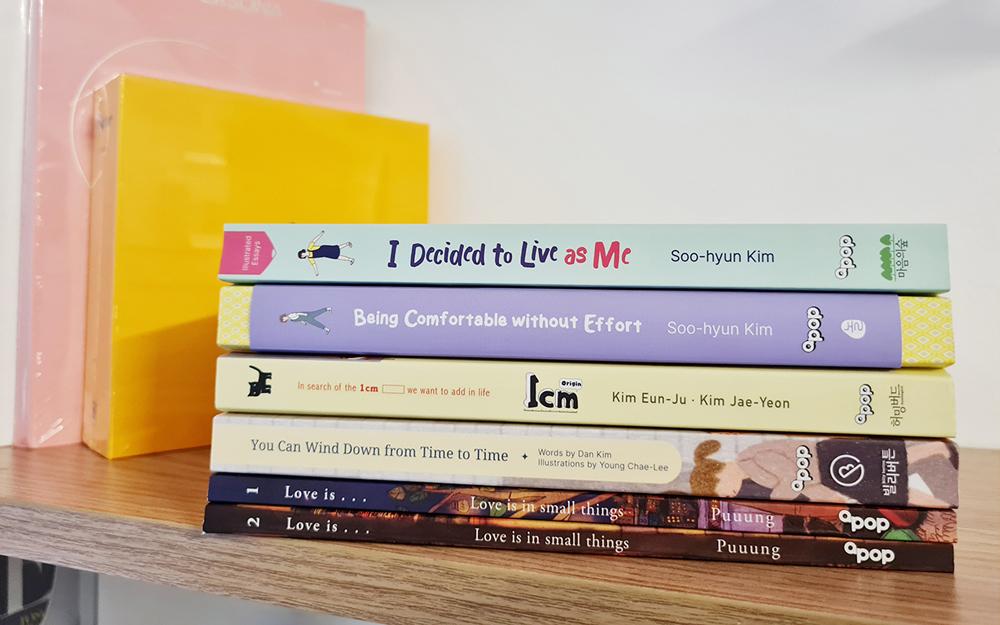 Finding silver linings isn't easy these days. A huge chunk of our lives have been migrated online, and when the boundaries of work and personal are blurred, self-care gets tougher.
Perhaps you used to take your surfboard to the beach on weekends to unwind, deactivate your socials to escape FOMO-inducing posts, or grab a drink with friends to process current events. These discrete aspects are now but compartmentalized into windows on the screen.
If there's one thing the pandemic hasn't changed, it's books. Then and now, we can enjoy them the same way and soak up the author's words, wherever we may be.
As it turns out, in these quarantine times, South Korean books are just as filled with nuggets of relatable wisdom and slice-of-life lessons as K-drama and K-pop. Here are five titles to get you started.
1. "I Decided to Live as Me" by Kim Soo Hyun
No, not Kim Soo Hyun the actor. But the writer and illustrator Kim Soo Hyun, whose collection of essays won the runner-up prize of a Korean e-publishing competition. It was when her "I Decided to Live as Me" got the tacit endorsement of BTS' Jungkook that more people around the world discovered this gem.
Jungkook was seen reading it in Malta on the travel reality show "BTS Bon Voyage," and it has since sold over a million copies and translated in several languages.
Whether you're ARMY or not, the heartfelt advice and cute illustrations embedded in "I Decided to Live as Me" are bound to pull you in. There are no "Live laugh love" mantras or "You do you" clichés in this book.
It's divided into six parts, and the chapter titles are items that make up an adulting to-do list. Some of these are: "Don't let your life get hurt by passersby," "Eliminate numbers from your life," "Don't succumb to the prescribed answers," "Be fully sad," and "Don't be a good person just to avoid being hated."
We're always told by self-help books to be ourselves and live authentically. This book's advice might just be the one that sticks.
2. "Being Comfortable Without Effort" by Kim Soo Hyun
"How can I be myself, and also comfortably form a relationship?" In her follow-up book, Kim Soo Hyun grapples with this and other dilemmas that tend to come when you're trying to be more honest while being conscious of how it would affect the people in your life.
Like her first title, "Being Comfortable without Effort" is divided into six parts, each one a "relationship prescription." The book is a manual for finding the balance between being who you are and making compromises to coexist harmoniously with family, friends, a romantic partner, or members of your community.
Notable chapters include: "The skill of letting it slide lightly," "Have the courage to disappoint," "Delusion that you know what they feel," "Even late apologies are good," and "We can't repair human beings."
The title of the book may be a misdirect: "Being Comfortable without Effort" is only possible when we do put in a healthy dose of self-respect and empathy—understanding and loving ourselves, so we can relate better with others.
3. "1CM Origin" by Kim Eun Ju and Kim Jae Yeon
Author Kim Eun Ju works in advertising as a copywriter and says she "absolutely hates stereotypes." Illustrator Kim Jae Yeon works as an art director (and loves cats, as seen from his cover art). Their collab is part-essay collection, part-interactive book, and each chapter invites you to see how just an extra centimeter can change your outlook about a lot of things in life.
"To think + You will see a new world when you move 1 cm away from stereotypes" is self-explanatory. "To love + If our faces get 1 cm close, the next to come is a kiss" talks about the ups and downs of dating and romance. "To open + Look 1 cm deeper into people" tickles the mind with truths about humans that we already know but often take for granted. "To relax + To breathe 1 cm more in our daily life" good-naturedly pokes fun at things we unnecessarily worry about—indeed, no one dies just because we don't take the boss' calls on a Friday night. "To grow + You're growing up 1 cm everyday" reminds us that all our experiences add up to make us better today than we were yesterday.
You can treat "1CM Origin" like a journal and doodle on the pages. There are even sections that instruct you to fold the paper or fill in the blanks. However you decide to read this book, you're likely to leave with a perspective that's 1 cm fresher.
4. "You Can Wind Down from Time to Time" by Kim Dan and Young Chae Lee
This book is exactly what you'd expect from a writer who runs a coffee shop and loves children's literature. "You Can Wind Down from Time to Time" reads like a pre-pandemic trip to your favorite café, the one where the baristas know your drink and your favorite spot to chill in. It's comforting in its familiarity, but every visit is still a different experience.
When being an adult gets too tiring, Kim Dan turns to the fairy tales and children's stories we loved growing up — not as a means of escape, but as a reminder that we can choose to approach life from that childlike point of view.
She uses Shel Silverstein's "The Giving Tree" to marvel at her mother-in-law's love language, "The Emperor's New Clothes" as a comical observation on those influencers that are also just faking it, and "The Wonderful Wizard of Oz" to illustrate how important it is to have a space we can truly feel at home in, away from the chaos of the world and all the strange characters we meet.
Illustrator Young Chae Lee's art is also reminiscent of the books we read as kids. "You Can Wind Down from Time to Time" takes us back to simpler times, and the ordinary comforts we may have forgotten to cherish.
K-pop fans will probably know of this as the book EXO's Chanyeol gave to rapper friend Zico as a gift. In the latter's Instagram story, he thanked Chanyeol for the book saying he'll enjoy reading it.
5. Love Is… (Parts 1 and 2) by Puuung
Anyone who's seen a K-drama can probably name a romantic trope or two. A girl walking away, but not before the boy grabs her arm and pulls her closer for a hug and/or kiss. A chaebol heir's grand gesture, like closing down an entire theme park just so they can go on a date with their person.
Animator-illustrator Puuung's "Love is…" series eschews these dramatic notions of love in favor of the small things. Her work first appeared on the online art community Grafolio, and has since become an Internet sensation—the 16-minute animated version currently has 14.9 million views.
The books were further popularized by the K-drama "W: Two Worlds" starring Lee Jong Suk and Han Hyo Joo, which showed their characters reading "Love Is…"
"I feel love is something that emits light from small things and comes in ways that we can easily overlook in our daily lives," Puuung, whose real name is Park Dami, writes. "So I work to find little moments of ordinary love and translate them into illustrations."
You don't have to be straight and in a romantic relationship to appreciate them, either. Many of the scenarios on "Love Is…" can apply to all forms of love (including love for our pets!). At a time when most physical connections are impossible, Puuung's books can be a source of warm fuzzy feelings. •
All books are in English translations, available on apopbooks.com
— LA, GMA News