Filtered By: Lifestyle
Lifestyle
Filipino members of the LGBTQ+ community join the 25th Amsterdam Pride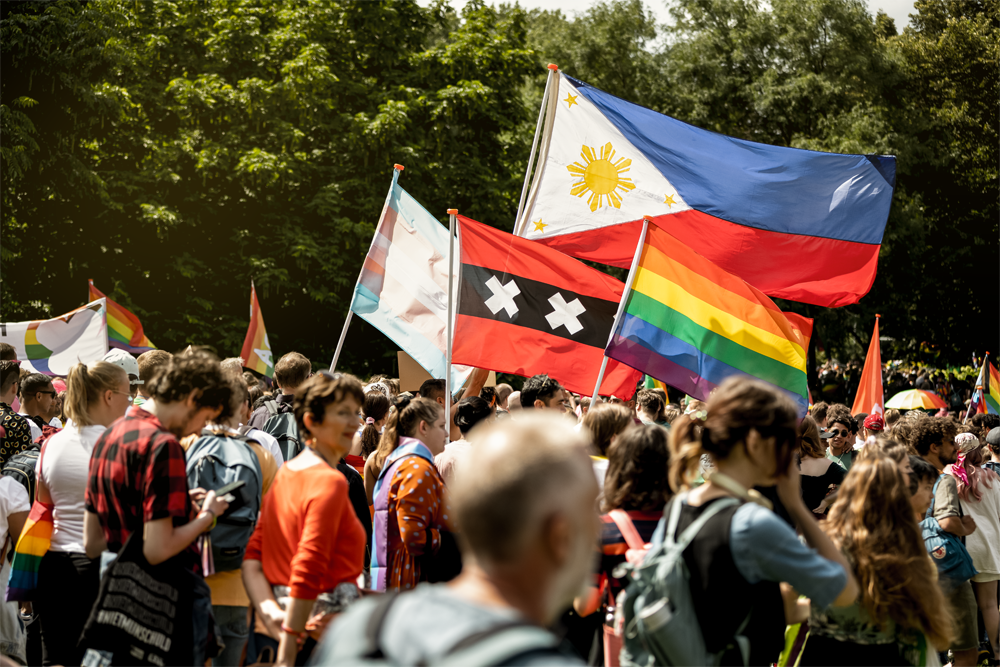 The world-famous Amsterdam Pride Parade pushed forward this year, after going on hiatus last year due to the pandemic. For Filipino members of the LGBTQ+ community, it's a chance to celebrate their individuality and promote the diversity of Amsterdam's LGBT community.
On August 7, Amsterdam capped the 25th anniversary of Pride in the historic city center that drew around 10,000 participants carrying rainbow flags and donning different, fabulous costumes. Though the traditional boat parade on the city's canals remained cancelled, the Amsterdam Pride Walk returned this month with the theme "TAKE PRIDE in us." It is part of the protests against oppressive punishments against homosexuality still being practiced in many countries.
Around 60 Filipino LGBTQ+ members and supporters joined the parade waving the rainbow flag, proudly carrying the Philippine flag as well, as they donned Filipino costumes and accessories.
Chanting Filipino songs while shouting "Mabuhay ang Pilipinas," the group paraded for five kilometers around the city for nearly three hours.
"The Pride Walk means supporting the LGBTQ+ community, acceptance, and showing the world who I am and hopefully letting the younger generations know that it is super okay to be gay!" Edwin de Vega said.
Amsterdam Pride: How did it start?
Since its inception in 1996, Pride Amsterdam is celebrated through a series of festivities around the city including a canal parade, dance parties, film festivals, sporting events, debates and culture, a Pride Walk and others.
Unlike the US, the Philippines and a host of other countries celebrating Pride Month every June — in commemoration of the Stonewall Riots, if we may add — the Netherlands instead holds Pride Amsterdam every August, which focuses mostly on the freedom and diversity of the LGBTQ+ community.
The first Pride Amsterdam was celebrated in the first weekend of August in 1996 in celebration of the LGBTQ athletes of the Gay Games.
And of the Stonewall Riots, the Netherlands has what they like to call, the Pink Saturday. It takes place in different cities across The Netherlands every year, with Leeuwarden becoming this year's host city, celebrating it on June 19.
The Netherlands is internationally known as a safe space for the LGBTQ+ community, becoming the first country to legalise same-sex marriage way back on April 1, 2001, when the four same-sex couples were married in Amsterdam. The legalisation of same-sex marriage was accompanied by a new law that also allowed same-sex couples to adopt children.
Bayota: a 'tambayan' to welcome Filipino queers in Amsterdam
As part of the Pride month celebration, Filipino LGBT Europe also unveiled the first ever tambayan of Filipino LGBTQ+ in Amsterdam this month.
Aptly named "Bayota," the tambayan is open to serve as a community center where Filipinos can meet and learn together.
"Bayota is from the word Bayot in Visaya (means gay in English). We aim to create a safe space where everyone is welcome to be themselves. Around three years ago, we have a group of Filipino LGBTIQ entrepreneurs that regularly meet every Monday nights for food, drinks and 'tawanan.' It was a support group for Filipino LGBTQ+ entrepreneurs here in Amsterdam. We exchange expertise and knowledge on how to do best practices in businesses and contacts," said Chris Sta. Brigida, chairman of Filipino LGBT Europe.
"With the opening of Bayota, we want to extend this fellowship to all our queersiblings in Amsterdam and Europe who will come and visit. We want this location to be a hub where we can meet new friends, share food and laughters, and to be a venue where we can grow and develop together."
The Filipino LGBT Europe has been active year-round in helping vulnerable Filipino communities who were affected by the pandemic. Every Friday during the "Bayanihan sa Amsterdam," the group offers vouchers and medical aid for hundreds of Filipinos. Together with the municipality of Amsterdam, the group has also held free vaccination programs for Filipinos who wish to be vaccinated
Lingua Franca: a film about a transwoman
The Filipino LGBTQ+ community kicked off Pride month with a summer evening outdoor screening of Isabel Sandoval's "Lingua Franca." It follows an undocumented Filipina trans woman who works as a caregiver for Olga, an elderly Russian woman in Brooklyn's Brighton Beach.
In 2019, Sandoval made history as the first transwoman of color to direct and star in a film screening. Since its debut, the critically acclaimed project has been nominated for the John Cassavetes Award at the 2021 Film Independent Spirit Awards. Lingua Franca won the jury award for best narrative feature at the Bentonville Film Festival.
"Lingua Franca is deeply personal to me and I set out to portray the lives and experiences of migrant Filipino transgender with dignity, humanity and complexity, something that is not very common in either Philippine or American cinema in the queer category," Isabel Sandoval said.
This year's Pride month celebration may be an unconventional one, due to the various restrictions caused by the pandemic. However, just like its historical roots and yearly traditions, it carries a deep message of community support for the LGBTQ+ community. This year, it focused on the call for recognition and justice for all victims of hate crimes around the world. — LA, GMA News