Filtered By: Lifestyle
Lifestyle
FROM HUMILIATION TO THREATS
80% of young teens in PHL experience cyberbullying –survey
Eighty percent of teenagers aged 13 to 16 have been cyberbullied through social media, according to a 2015 survey by child-care nonprofit Stairway Foundation Inc.
The survey, the results of which were released Wednesday, was the second study carried out by SFI "to address a gap in data concerning Child Online Protection (COP) in the Philippines."
About 1,268 school children aged 7 to 12 and 1,143 aged 13 to 16 were covered in the survey conducted in the National Capital Region; Silang, Cavite; Zamboanga Sibugay; Bayawan City, and Bacolod City, Negros; Cebu City; and Tiu, Batangas.
While 80 percent of teenagers are cyberbullied through social media, 60 percent of their counterparts in the 7 to 12 age bracket suffered the same abuse.
The survey also showed that 30 percent of children aged 7 to 12 and 40 percent of 13 to 16 were aware of peers who endured cyberbullying.
The survey also said three out of 10 children aged 7 to 12 were bullied through threats, two were oppressed through photo editing, one were humiliated or had their private conversations exposed, and three were either excluded or impersonated through fake accounts.
In teenagers, photo editing had affected three out of 10 students, while two out of 10 were either humiliated or threatened. One out of 10 also said they were bullied by having their secret conversations exposed, while two suffered impersonation or had experienced exclusion.
SFI notes that cyberbullying is "particularly repugnant and complicated" as the Internet "magnifies the problem in almost every aspect" and invades safe spaces.
"We must make children understand that cyberbullying shouldn't be ignored, and that it is never the victim's fault... We should also know that cyberbullying is a school concern," it wrote.
Trust for security
If pressed, only 60 percent of children aged 7 to 12 would confide to their parents while only 34 percent of 13 to 16-year-olds would tell their mothers or fathers of their negative experiences.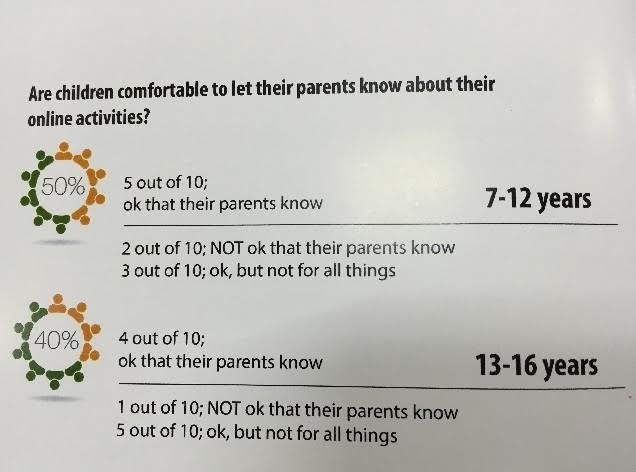 The survey also said 14 percent of pre-pubescent children preferred to talk to their friends about their online problems, 6 percent would head for their siblings, 5 percent would seek their teachers, and 15 percent would never talk to anyone.
Among teenagers, 33 percent would confide in their friends, 10 percent would talk to their siblings, only one percent would seek their teachers, and 22 percent would rather keep mum.
Of those surveyed, only 50 percent of children aged 7-12 and 40 percent of children aged 13 to 16 said they are comfortable with letting their parents know about their online activities.
In an interview, SFI executive director Lars Jorgensen explained that fostering trust would allow these students to report incidents of online abuse more readily and overcome the trend of older children being unwilling to confide in adults.
"We have to make sure that children will trust us also in this context. If you are being confronted with things you don't know how to do... if you are being exposed to somebody, a pedophile online, talk to a trusted adult. We must create that safe environment for the children so they have a safe place to go with their concerns," he said.
Safety modules
The SFI carried out its first survey in 2013 which motivated the creation of a program to address the "alarming" results from the study.
SFI teamed up with the Department of Education and the UK's Child Exploitation and Online Protection Centre (CEOP) and received support from the United Nations Children's Fund (UNICEF) to develop CyberSafe.
A pioneering initiative meant to augment DepEd's Child Protection Policy of 2012, the program branched out from planning an online safety curriculum to creating modules and lesson plans which educators and parents may use straightaway.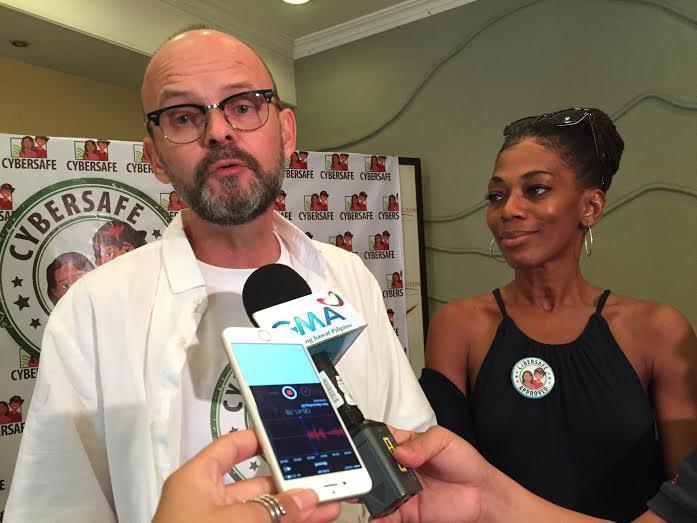 "We are manifesting the importance and the urgency of recognizing that our kids must be guided and supported, learning how to make the right decisions when they are faring in cyberspace," Jorgensen said.
For her part, SFI co-founder Monica Ray said, "And in order to do that, we need to train teachers, caregivers, parents especially- everyone who's involved with children, they need to have this knowledge in order to guide them properly on the internet and how to use it."
All modules will be updated periodically to cover new topics and eventually other grade levels and may be downloaded through the DepEd website and through the CyberSafe website for free.
Copies of the modules will be printed by April with messages from each organization and the United Nations Children's Fund, a proponent of the project under the #WeProtectInitiative. —KBK, GMA News