Filtered By: Lifestyle
Lifestyle
The old world glamor of Vigan
Vigan. It was one of those towns in Ilocos Sur that I used to hear about while we were on the road going to my father's hometown farther up north in the Ilocos region. The name conjured visions of an ancient Spanish-era colonial town replete with
"bahay-na-bato"
houses, with an
entresuelo
of red bricks and the topmost floor built of wood and windows made of
capiz
panes. It was one of those towns -- now a city -- that you just have to visit at least once in your lifetime. Personally, I wanted to explore it partly because my paternal grandmother's family reportedly came from Vigan. And so one fine Monday morning, my sister and I decided to take the next bus to Vigan -- a good eight hours away! Our journey started with the night bus to Vigan which leaves the Dagupan Bus Station on Aurora Boulevard at 9:30 pm every night. Lugging our packs filled mostly with the
chichiria
that my sister usually brings on one of our long travels, we settled for the night on comfy and capacious reclining seats in the bus. As usual, I had difficulty sleeping on a moving bus. But my wide-eyed, insomniac nature saved us from overshooting our destination, since the bus failed to call our attention to our stop at the Vigan town proper.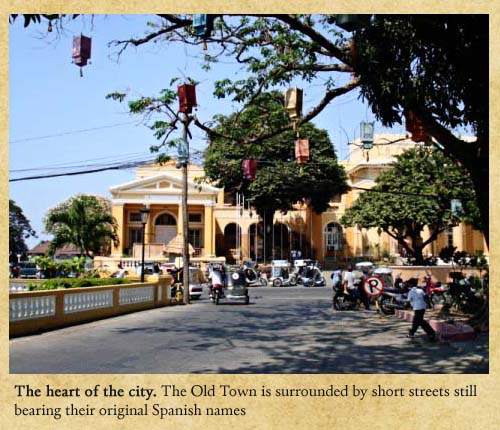 Arriving there around 5 am, my sister and I were surprised to see that a number of people were already jogging around the town plaza. But our main concern was finding our little hotel and getting some sleep in the old part of town. The town of Vigan is composed of 39 barrios scattered along three rivers -- Abra river, the Mestizo river and Govantes River. It is a vast city, but most visitors usually congregate in the heart of this place or what is called the "Old Town." The Old Town is surrounded by short streets still bearing their original Spanish names. But there are mainly four city streets that are of utmost priority in the ongoing restoration and preservation of Vigan: Calle Crisologo, Calle Plaridel, Calle V. de los Reyes, and Calle Salcedo – all of them remarkably paved with cobblestones.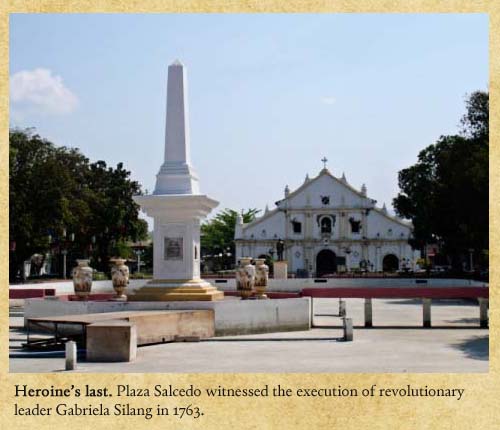 "Originally, most of these streets in the old part of town were made of cobblestones," said Ms. Angela Florendo Villanueva-Verzosa, one of the local proponents of the campaign to nominate Vigan as a World Heritage Site. "Right now, we are trying to recreate that era wherein the
bahay-na-bato
villas here (as the big houses are called in the early times) can be admired by all, and the streets can be home again to quite a number of
calesas
or horse-drawn carriages," she said.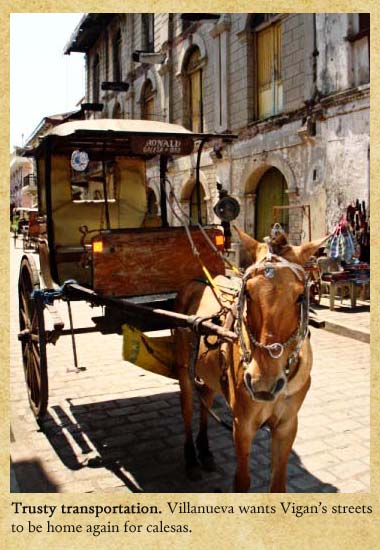 A World Heritage Site
Becoming a World Heritage Site was a long and arduous road for many residents of Vigan. To trace their journey, it is important to see how Vigan earned its illustrious reputation. Vigan's history started when the the Spaniards' center of trading and government, including its ancient diocese, was moved from Lallo, Cagayan to Vigan in 1758. Bearing the name "Ciudad Fernandina" at the time, Vigan grew from a small trading post to the most progressive city in the northern Philippines. In its heyday, the old city of Vigan housed a great number of the north's ruling elite, many of them scions of Spanish settlers and wealthy Chinese who migrated to Ilocos Sur and set up their businesses there. Ms. Angela Villanueva-Verzosa is one of the descendants of wealthy Spanish-Filipino families that continue to own ancestral homes in Vigan. Her
mestiza
features partly come from her great-great grandfather, a former Spanish administrator of Vigan who traveled from his Basque roots in Spain and settled in the city centuries ago.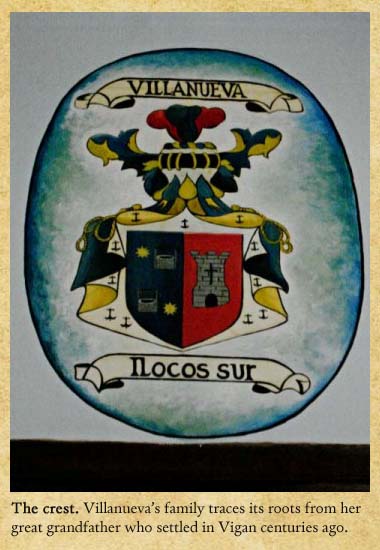 Like every old family whose roots are steeped in the history of Vigan, Ms. Angela's clan owns an array of bahay-na-bato houses in the center of town, near the cobblestoned Crisologo Street where most of the old Spanish colonial houses and other buildings are located.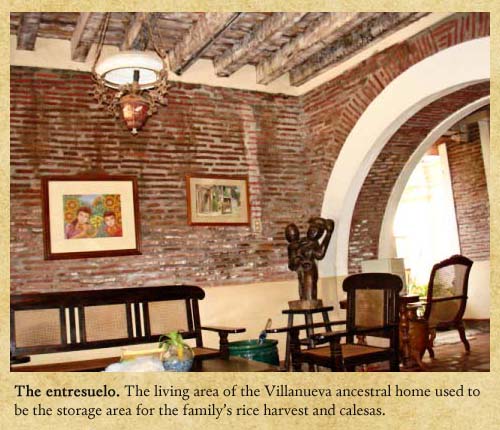 Ms. Angela graciously shows me her ancestors' house, reputedly more than 100 years old, which is undergoing renovation. The entresuelo which was formerly used to store the rice harvest and the calesa is now the living area, with an adjacent kitchen made of red bricks and the original wooden beams of the house.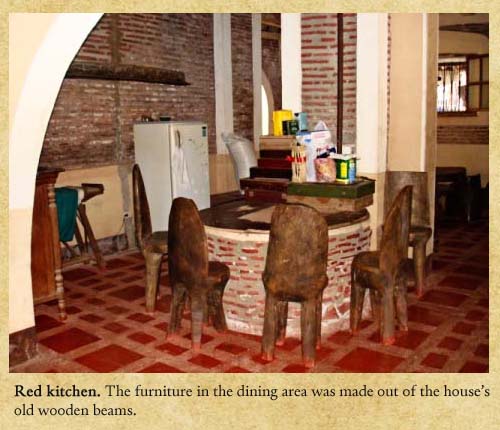 "There are about 200 ancestral homes here in Vigan," said Ms. Angela. However, she said only a handful of these houses have been renovated and most have been neglected. She herself came back from abroad after her father died to take care of their land and house. A former furniture shop owner, Ms. Angela is struggling to keep the local government authorities interested in maintaining Vigan's status as a cultural World Heritage Site. "Dr. Butch Zialcita -- he was the one who gave us the idea to preserve Vigan's ancient structures for the appreciation and enjoyment of future generations," she recalled. "We had to do the research, the asking around. Later on, after we won the title, a local tourism council was formed to undertake the further restoration and preservation of the city."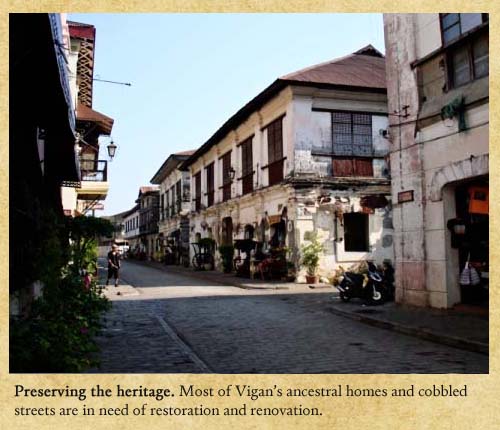 One of the things that need to be improved are the the cobble-stoned streets. "At the moment, we only have Calle Crisologo that is cobble-stoned. The others are still waiting to be renovated -- but it takes a considerable amount of funding to do that -- and the government does not have enough to generate that," Ms. Angela said.
The Sights of Vigan
Some of the must-see sights and activities for travelers are the following:
Calle Crisologo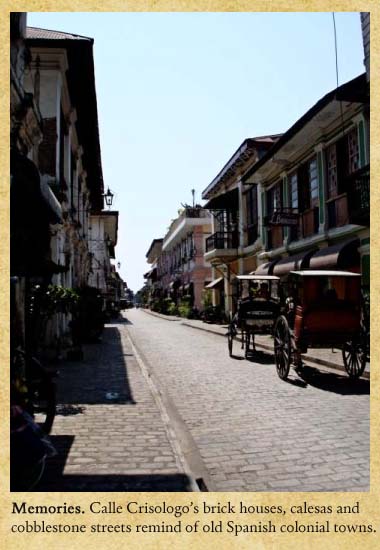 A five-minute walk from Plaza Salcedo where the bus from Manila drops you off, Calle Crisologo consists of three to four blocks of red brick houses with capiz windows -- a perfect representation of a Spanish colonial town. A cobble-stoned street and
calesas
passing by complete the look of bygone days.
Syquia Mansion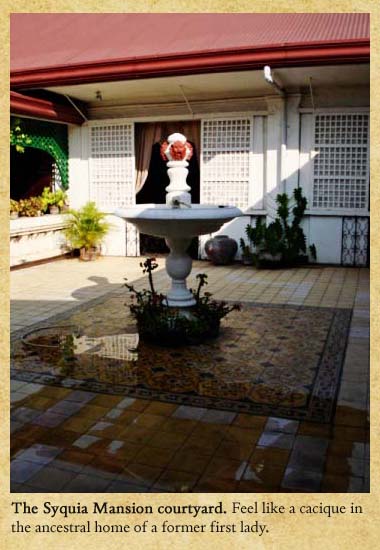 The ancestral home of Alicia Syquia, wife of the late President Elpidio Quirino, is on Quirino Boulevard, just two blocks from Crisologo Street. A caretaker takes visitors around the two-storey house, which is huge compared to modern houses in the cities. Personal items of Alicia Syquia are on display, and the feel of being a
cacique
during Spanish times is one reason for visiting this place.
Villa Angela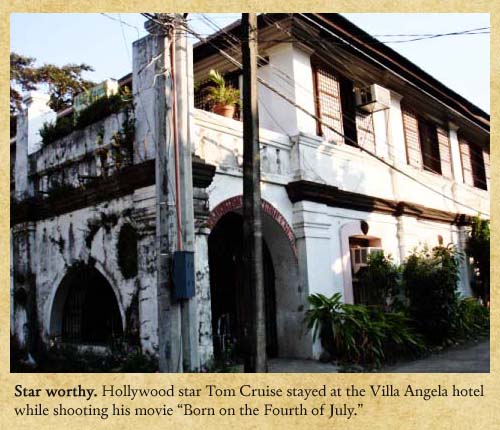 If I were asked what ancestral home-cum-modernized hotel I should visit in Vigan, I would name Villa Angela for its opulence, its gorgeous garden, and the fact that its rooms are huge enough to attract international celebrities like Tom Cruise who stayed there while shooting "Born on the Fourth of July."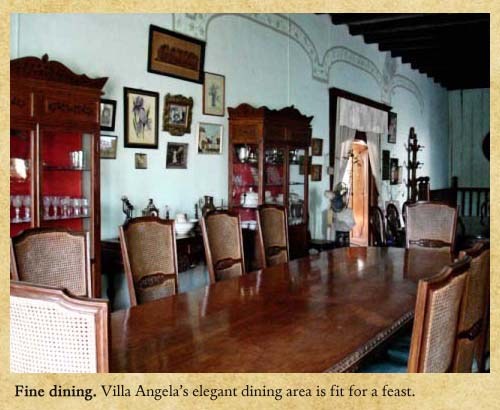 Located on Quirino Boulevard but still within walking distance of Calle Crisologo, Villa Angela has been around since the 1850s. Built by its owner Gobernadorcillo Agapito Florendo y Bonifacio, the house is the setting of local commercial films like "Jose Rizal" and "Gumising Ka Maruja."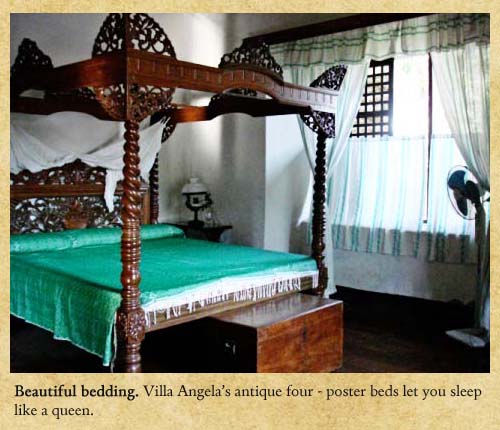 It also houses some of the biggest antique four-poster beds with matching drapes that I've ever seen. I can imagine myself sitting on a rocking chair and looking out the window of one of its rooms overlooking the picturesque courtyard. Sigh!
Empanada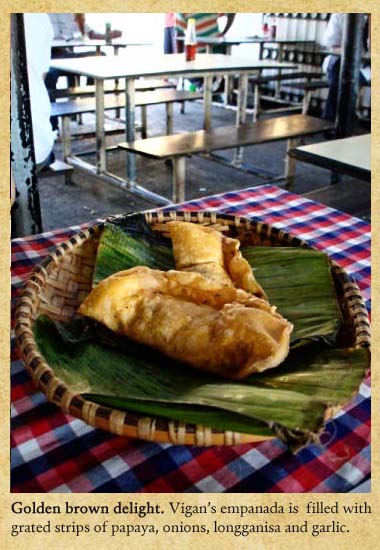 Food is always high on my list of things-to-do in any new place, and for Vigan, I just had to check out their
empanada
. To most Manilenos, an
empanada
is a flour-based, golden-brown pastry filled with raisins and ground meat. But in Vigan and the rest of Ilocos, an
empanada
is usually filled with grated strips of papaya, onions,
longganisa
, and garlic fried to a golden-brown crisp. You eat it with peppery or spicy Ilokong vinegar.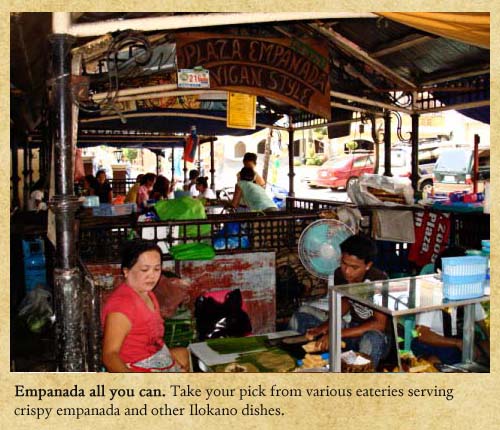 Around Plaza Salcedo, the main square of Vigan where the famous Gabriela Silang was put on trial and hanged, there is an "empanada plaza" -- stalls of empanada-churning eateries where you can also order the
Ilokano goto with callos
, a fine companion to your
empanada
.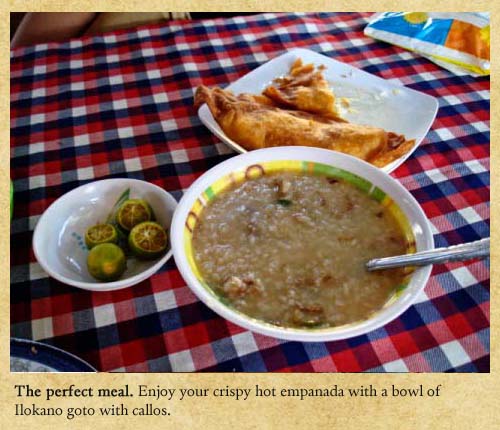 Shopping at Calle Crisologo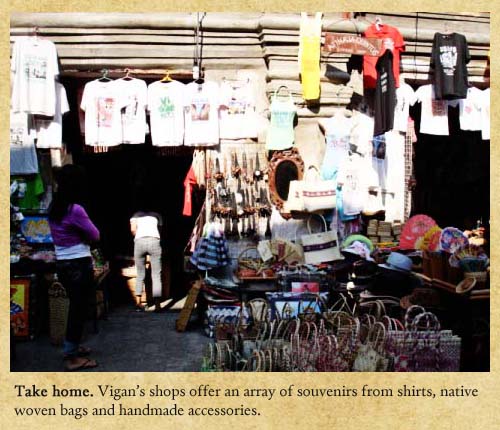 Even if you're not in the mood to walk under the hot sun, do pay a visit to the antique shops and craft stores along Calle Crisologo. Some of them, particularly Lucy's Antiques, boast of a sizable collection of
santo niños
and wooden stuff fit to grace your
sala
or even to put as a headboard for your bed.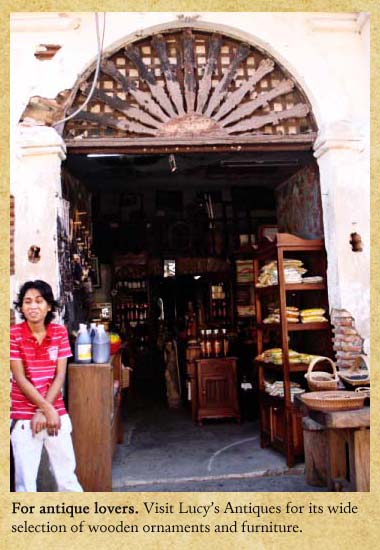 And then again, you could just pick up a t-shirt from the many souvenir stands to round off your stay in Vigan.
– YA, GMANews.TV