Filtered By: Lifestyle
Lifestyle
Beyond the volcanoes: a brief guide to Camiguin
"Camiguin is an island of prime treats and primal threats" was what the brochure said of the island-province.
Approximately 90 kilometers north of Cagayan de Oro City, I discovered during my recent visit to the island that it was once part of Misamis Oriental. For one, the province is literally "born of fire" since it has more volcanoes than municipalities – and it only has five of those.
With seven volcanoes, it has earned the distinction of having the most number of those formations per square kilometer than any other island on earth. Fortunately, only one volcano is active: Mount Hibok-Hibok. It means "that which heaves."
There's more to Camiguin than just volcanoes. To most locals, the place is the "island of your imagination."
Among DOT's top 25
While traveling around the island, it was revealed to me why the Department of Tourism (DOT) has identified Camiguin as one of the top 25 tourist destinations in the country. It's a perfect package and a real ecological tourism destination.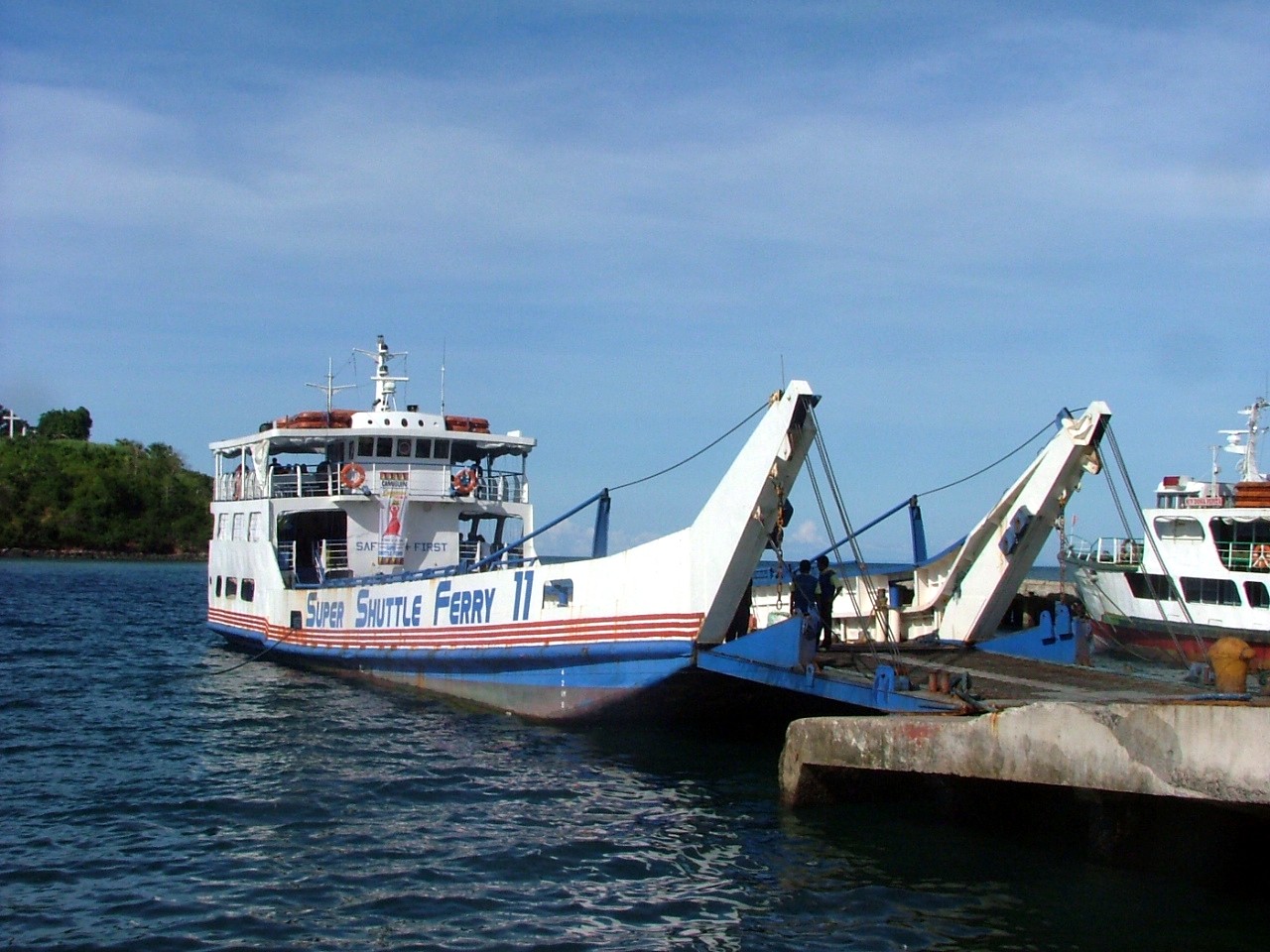 At Camiguin's Benoni Port
One of the province's tourist attractions is the sunken cemetery. A huge cross was installed in 1982 to mark the spot where the old cemetery sank when Mount Vulcan Daan erupted in 1871. Every year, a fluvial procession is held to honor the sunken graves; islanders bring flowers and candles as an offering to the dead.
Another must-see is Katibawasan Falls, some five kilometers southeast of Mambajao at the foot of Mount Timpoong. Enclosed by a massive, fern-swathed, granite mountain wall, the waterfall is a sight to behold: a seemingly singular stream of water drops 50 meters from a bulging source without touching the granite wall.
Also not to be missed is the Ardent Hot Springs. It's a government-run resort located at, of all the exciting plces to build on, the foot of still-active Mount Hibok-Hibok. The place has a four-tiered pool of varying depths and warmth levels.
If history is your thing, there are several centuries-old churches found in various parts of the island. One of the famous churches is Sagay's Sto. Rosario Church, which was built in 1882. A famous church located in Baylao is said to be miraculous during the volcanic eruption and claimed to have saved many lives.
Camiguin is known for two activities: Lanzones Festival and Panaad. Since it was during summer when I visited the island, I wasn't able to witness these two events. But I was told that the Lanzones Festival -– in honor of the tropical fruit that grows profusely in the island -- is celebrated every year in October with a weekend of street dancing, parade and pageants in the town of Mambajao.
During Holy Week, religious devotees from all over Mindanao and the Visayas go around the island on foot for two days and nights as part of Panaad – which means "promise."
Getting around town
The main mode of transportation in the island is the jeepney. You can ride one with other paying passengers going to a particular destination. Or you can rent one jeepney for a day at a hefty price, but that includes the driver's services and gasoline, too.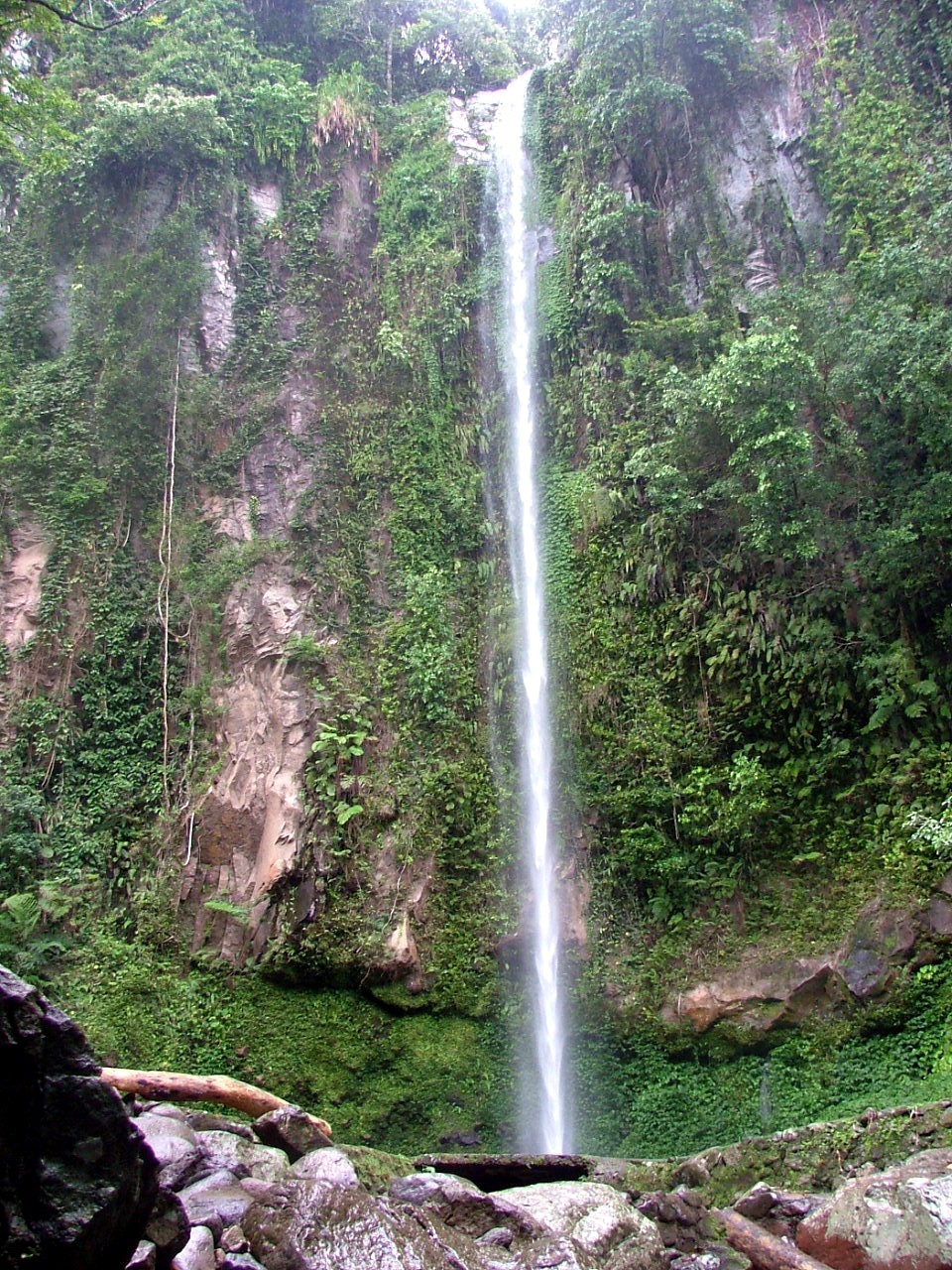 Katibawasan Falls is a sight to behold; a singular stream of water drops a sheer 50 meters without touching the granite wall.
Going around the island's 64-kilometer circumferential road on a motorbike is sheer fun – and highly recommended by locals. Motorbikes may be rented at reasonable prices in the capital town of Mambajao.
To get to Camiguin, you need to go to Balingoan, Misamis Oriental. You can take any of the hourly scheduled ferries (from six in the morning to five in the afternoon) across the channels of Mindanao Sea, which dock in either ports of Guinsiliban or Benoni. If you take the Benoni port, travel time is about one hour.
Camiguin is accessible by air and sea from Cebu City; but trips are limited only. Most fly in to Cagayan de Oro City, which is 84 kilometers away from the port of Balingoan.
For those who would like to take their own vehicles to Camiguin, some of the ferryboats at Balingoan Port can transport cars, pick-ups, vans, and even large trucks to the Benoni Port. However, a number of fees have to be paid to transport these vehicles.
As my travels ended, I was left with the impression that Camiguin is a place where you can simply revel in the marvels of nature without too many artificial distractions.
– KDM, GMA News