Filtered By: Lifestyle
Lifestyle
From the top of Mt. Pulag, the big picture
In July my mind was full of anxieties and doubts. I had so many questions about the work I was doing and whether I was choosing the right paths in my life. The loud and busy city was not proving to be a good backdrop for the reflection I needed, so when I was invited to go to Mt. Pulag in Benguet, I jumped at the chance.
The organizations that invited me, including Klasrum ng Pagasa and Juan Portrait, planned to go to a village to paint murals on the walls of their schools and take simple portraits for the villagers to keep. I wanted to help with those things but that was only part of the reason I decided to go. I needed to remember why I chose this crazy, unstable freelance path that I was on.
Mt. Pulag is an often-visited place, but groups trekking to the summit can easily overlook the village of Kabayan, a civilization existing on their own on Luzon's highest peak. Something about being so close to the clouds and far from everything else feels very spiritual. One of the men told me, "Kailangan kayo matuto ng Kalanguya, kasi Kalanguya ay ang salita sa langit."
When the organizations finished their work, my friend Geloy and I asked to be left behind. The villagers adopted us and we were privileged to see their daily way of life. They fetch water from a well, grow their own vegetables and livestock. I marveled at the kids who would walk three hours to school every day and the teachers who struggle through storms to teach them. The houses may be spread far apart, but I felt the sense of community. Attending a simple wedding became a village-wide affair, with everyone piling into one truck to go down the mountain.
The Kalanguya are not an openly affectionate group. I once tried to hug the woman who took us in when Geloy warned me: "Hindi sila sanay sa ganun!" They may not have been demonstrative, but we felt the kindness and love from the villagers in so many other ways. The men would share their local alcohol, tapoy, with us. This was a big deal to me because I knew it took three days to make and here they were serving us shot after shot.
They would also serve us their native delicacy, wat-wat (carabao meat), no matter how much we resisted. I remember a wedding when Geloy was handed a huge piece of wat-wat by one of the hosts. Having seen the carabao being cut up and its insides pulled out I was not excited to try it. I laughed at Geloy sitting and staring blankly at his gray, hairy slab of meat. "Ubusin mo yan," I taunted him. Then out of the corner of my eye I saw a man approaching me with another slab of meat. I dove into the crowd and wove between tables but he kept following me. "Thank you!" I said, trying to sound grateful when he finally caught up with me. I reluctantly took bites of the wat-wat, forcing myself to remember how hard the villagers worked to serve that dish.
The little things
Even as a photographer the place opened my mind to new ways of thinking. It is part of the ego of a photographer to always want the most complex or well-composed shot. One day a kid went up to us and asked if we could take an ID picture of him.
A smiling face in front of a bare white wall.
Equipped with a printer, we decided to open up that service to all interested villagers. The people would take an hour-long hike to visit us and ask, "Pwede po magpa-picture sa inyo?" It was in Pulag that I learned to appreciate the simplicity of a 1x1 photo. It is proof of identity, something very important to a remote group residing on a mountain top.
And as a photographer who makes a living out of creating images, it was a good exercise for me to forget the ego. It taught me to let go and just take photos that I knew they would appreciate and enjoy.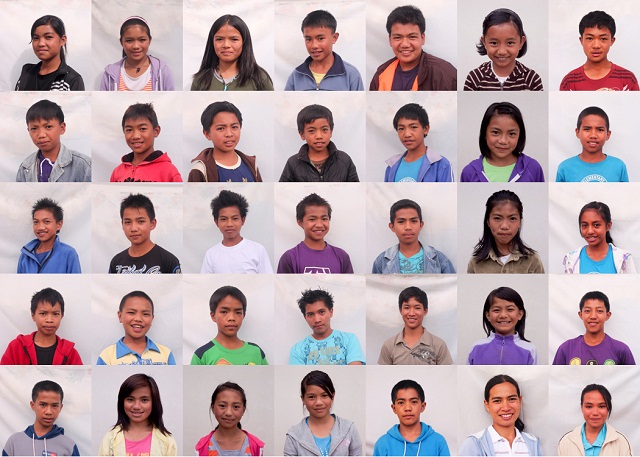 The photographer gave the children of Kabayan something they really needed, and something that most of us take for granted: ID photos.
The things that bothered me back in the city were becoming small dots on the horizon. The slow pace of the village allowed me to notice things – the littlest things suddenly became significant when they weren't surrounded by the distractions of the city. The fog in the morning rolling over you as you awake, the steam wafting from a hot cup of coffee, the wind whipping your face as you zoom up the mountain on a bike. The things that I realized I needed to feel alive. To remind me why I chose this path to begin with. I may not have a regular job, I thought, but I had the time to do this. I stood on the mountain, amid the rolling clouds and finally saw the bigger picture. It slapped me in the face.
I felt alive.
— BM/HS, GMA News