Filtered By: Lifestyle
Lifestyle
Tourist spots, resorts reel from Yolanda's wrath too
(Updated Nov. 13, 7:47 p.m.) Add to the list of casualties from Typhoon Yolanda's devastation a few of the most popular resorts and tourist attractions in the country, from El Nido and Coron in Palawan to Malapascua in Cebu.
Some of them got away with minimal damage, but others were not so lucky.
El Nido, Palawan
El Nido is an award-winning green resort well-known for being situated in the midst of
one of the hottest of the world's biodiversity hotspots
, as well as for protecting marine life and their habitats.
The four islands that make up El Nido Resorts in Palawan experienced Yolanda's battering winds and strong rains, but emerged with minimal damage.
The calm after the storm at El Nido.
Photo from
Shira Lee Coleman's Instagram
account
"Thanks to the selfless efforts of all our staff, the cleaning operations are almost complete," El Nido director of sales and marketing Joey D. Bernardino said in a press release.
"The neighboring Municipality of Taytay in Palawan suffered bigger losses, thus we are deploying our resources to distribute canned food, rice, towels, clothes, water and other relief goods to the residents there."
Taytay lies to the south of El Nido.
Coron, Palawan
Coron, which relies heavily on tourism for its income, may take six months to a year to get back on its feet.
The island is dotted with lakes, beaches, and lagoons
. Some of its reefs are popular with divers, who also frequent shipwreck sites.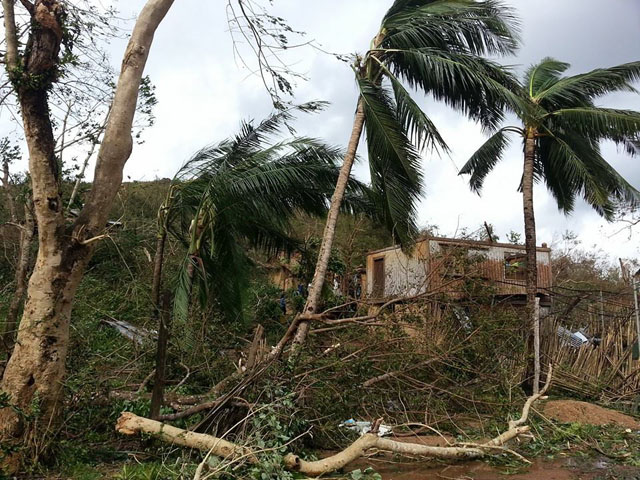 It may take six months for Coron to get back on its feet. YouScooper Al Linsangan
In a phone interview with GMA News Online, Coron Mayor Clara Reyes said an estimated 90 percent of houses and hotels in the area, 990 tourism pump boats, and two villages were destroyed by Yolanda.
Thankfully, since Coron is in a sheltered portion of Northern Palawan, they did not experience storm surges.
Malapascua, Cebu
"Parang ninakawan ka ng isang jewel na talagang hinahangad ng marami," said Manuel Manalili, manager of Malapascua Legend resort.
"Masakit sa amin ang nangyari pero wala tayong magawa," another resort owner said.
The residents said the power of Yolanda, the strongest recorded typhoon to hit landfall anywhere in the world, was something they have never experienced.
"Ninerbyos kami kasi ang lakas ng hangin. Yung mga bahay namin kwan na, (yung bubong) lumilipad, yung mga bangka inalsa at isinakay sa mga kahoy (napunta sa mga puno)," an elderly woman said in an interview.
Another resident said the beach sand appeared to be siphoned into a tornado.

"Umiikot yung mga lupa pataas paikot-ikot, umuusok," he described.

Some foreigners who were on the island when Yolanda hit also related their experience.
"It was horrible. I've never seen something like that," Lars Schnell, a German tourist, said.
Sven Bernhadt, another German tourist, added: "We (went) here (for a) vacation and we see all the damage here and the people fighting for their life. It is not easy."
Despite the devastation, people in Malapascua were optimistic that they will be able to rise again.
The television report said typhoon-stricken areas in Northern Cebu, including Malapascua, are now accessible.
The DOT speaks
Meanwhile, the Department of Toursim has issued a statement on the aftermath of the super typhoon.

It said on November 12 that tourist safety in all affected areas is its priority and that, notwithstanding this unfortunate incident, "the Philippines remains a safe and fun destination for all tourists."
"The DOT is focused on the safety and monitoring of tourist movement in all affected areas and has no reports so far of any endangerment," it said.
"The DOT's objective is to focus on quick recovery so that tourism income is restored at the soonest possible time. Bulletin announcements will be posted via the
DOT website
, while DOT overseas and regional offices are also on standby to assist potential travellers and those already in the country with travel information. Local tour companies are in constant communication with their counterparts abroad to provide updates on the situation," it also said.
The statement went on to say that that tourism establishments and activities remain in operation in other parts of the country.
It also listed affected tourist hotspots and that these remain accessible through their respective ports of entry. These include:

Boracay Island through Kalibo and Caticlan
Cebu through the Mactan International Airport
Bohol through the Tagbilaran Airport
Iloilo through the Iloilo and Bacolod Silay Airports
Puerto Princesa, Palawan through the Puerto Princesa Airport

"We rely on our partners, both in the private and public sectors, to embark on initiatives that will help us achieve normalcy and sustain the tourism growth, particularly in the affected destinations," concluded the statement.

"Filipinos have always been resilient and continue to be so now. The DOT is optimistic and hopeful that the Philippines will overcome and move forward from these difficult times."
This article will be updated as more news trickles in. — JDS, GMA News