Filtered By: Lifestyle
Lifestyle
Tales of love, lust, and murder at Las Casas Filipinas
Walking on cobbled streets amidst rows of centuries-old Spanish heritage houses at the Las Casas Filipinas de Acuzar resort in Bagac, Bataan can be both eerie and exciting.
Some 30 authentic principalia mansions and bahay na bato (stone houses) from the 19th century possess intriguing stories of love, lust, and murder during tumultuous periods in Philippine history. A stone house was equated with wealth as most people lived in wooden houses.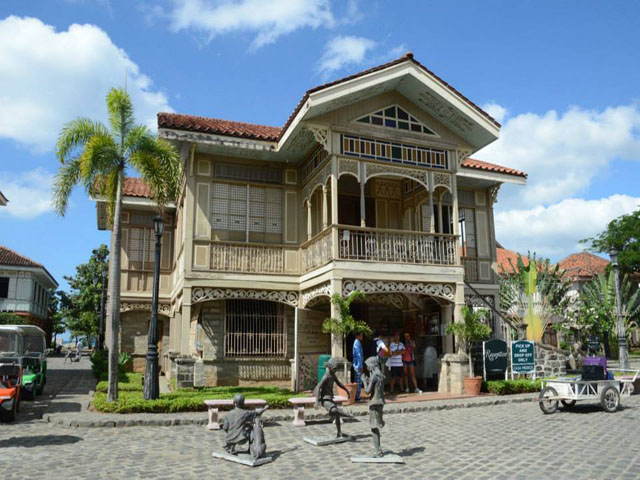 Casa Mexico, where guests at the resort are received. All photos by Riz Pulumbarit

According to tour guide Ronald Bon
, each house at Las Casas Filpinas harbors a different story.
Bon explained that these heritage houses were painstakingly transferred from their original locations in different parts of the country and carefully restored by the resort's artists.
Bon explained, "binabaklas po ang bawat parte ng bahay and then dinadala po dito isinasakay sa malaking truck and then dinadala po dito. Pagdating po dito, muli po siyang binubuo, para pong puzzle ang dating."
Guests are asked to remove their slippers as they enter the heritage houses. "Filipino tradition po kasi yan dito (sa Pilipinas), bilang tanda nang pagbibigay galang po natin sa may-ari ng bahay."
Spanish-era way of life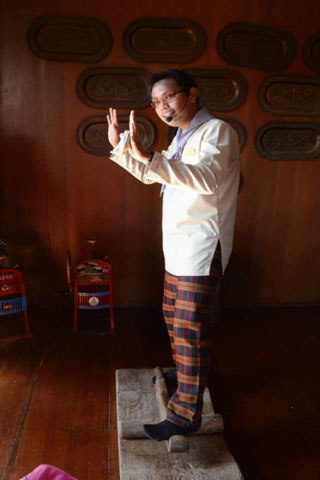 Tour guide Ronald Bon demonstrates why Spanish-era ironing could have been an excellent exercise machine.
A tour of the heritage houses gives a glimpse of the way of life of the Filipinos during the Spanish era, from 1521 to 1898, when the Philippines was under the Spanish rule.
A typical house of that time had passageways for the aliping saguiguilid—servants—who were not allowed in the main areas of their masters' houses and could only walk along the sides of the house.
Servants who were allowed to go into the main house were called aliping namamahay.
"Sila yung pinagkakatiwalaan ng mga mayayamang tao," Bon explained.
He also showed some of the antique appliances and furniture used during the Spanish era such as a vintage typewriter, sewing machine, radio, projector, coffee grinder, electric fan, and phonograph.
He likewise portrayed how a wooden ironing board—made of thick wooden board and a rolling pin—was used at that time.
With the difficulty of having to flatten clothes by rolling the pin with one's feet, Bon joked that it was not surprising that photographs during the Spanish era showed Filipinas with slim waists.
Bon also related how smiling for photographs during that era was frowned upon.
"Sa mga sinaunang Pilipino, bawal po ang nakangiti sa picture. Sabi po kasi ng mga matatanda noon, kapag ikaw ay nagpakuha ng larawan at ikaw daw ay ngumiti sa iyong larawan, ang ibig sabihin daw ay ikaw ay naglalandi o flirting," Bon said.
"Ganoon po kakonserbatibo noon ang mga sinaunang Pilipino," he added. "Unlike ngayon, bawal na po ang nakasimangot sa picture dahil meron na pong face detector yung ating mga digicam."
From campus to garrison: The house(s) of many ways
Every house in Las Casas Filipinas is full of memory, of amazing stories.
One of the featured houses at Las Casas Filipinas is the Casa Binondo 3, formerly located in San Nicolas, Binondo, Manila. For the first three-story house in the country, today's guests will have to shell out P150,000 per day.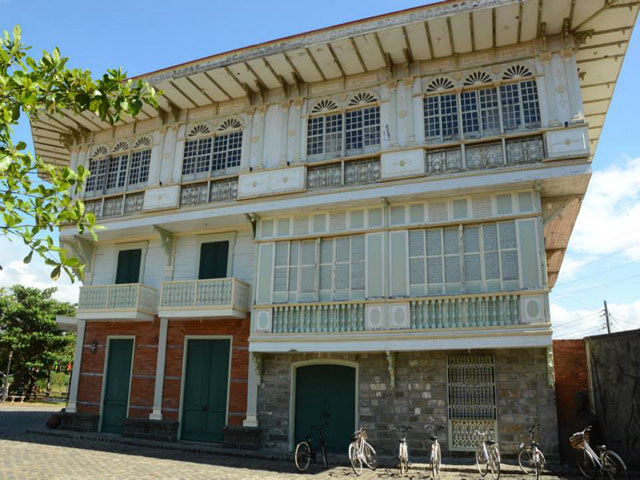 Casa Binondo 3: informal settlers had no idea they were breaking pure gold designs when they installed clotheslines here.
The house, built in 1890, was a floral bahay na bato, influenced by the neo-styles of the Renaissance, Baroque, and Byzantine periods.
Around 1914, the house was leased out to the Instituto de Manila, for the holding o elementary and high school classes. The school later transferred to its own building in Sampaloc and became known as the University of Manila.
After the Second World War, the house was leased to different tenants until it became abandoned and was taken over by informal settlers, who stayed there until 2009. Unaware of the value of the house, some 50 squatter families built structures inside the house, even destroying floral architectural designs made of pure gold by installing clotheslines.
The other houses, though cheaper in rates, are no less rich in history. One house, Casa Unisan, constructed in 1839, was the first stone house to be built in Unisan, Quezon.
Casa Unisan was owned by Antonio Maxino, whose entire family was murdered by a gang of thieves. Only youngest daughter Carmen survived after being hidden by a helper in a storage bin—a bayong—for dirty laundry.
Bon said Casa Unisan now houses one of the resort's restaurants, Café Marivent, where guests staying overnight get free breakfast.
Another house, Casa Hidalgo, built in 1867 in Quiapo, Manila, was designed by Felix Roxas y Arroyo, the first Filipino to practice architecture in the Philippines. Owned by Rafael Enriquez, the house was considered the most elegant during the Spanish regime.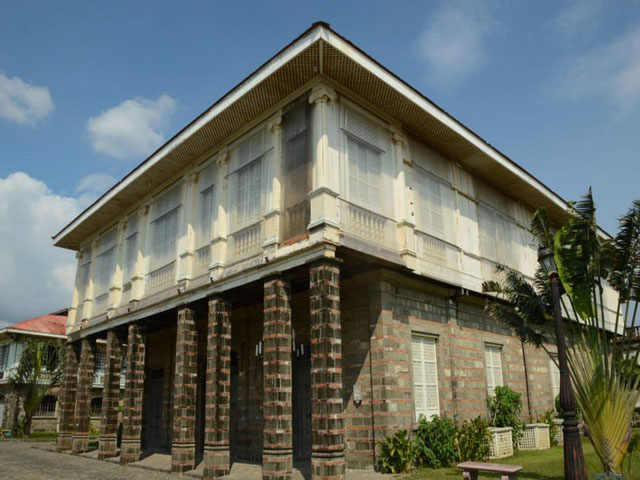 Casa Hidalgo: once the venue of the art scene in the Philippines.
In the 1870s, the Philippines' best young artists, such as Juan Luna and Felix Hidalgo, trained at the house's entrezuelo (mezzanine).
The mansion was also used as the first campus of the University of the Philippines' School of Fine Arts. Enriquez was the school's first director, serving from 1909 to 1926, a year before he passed away in 1927.
When the UP School of Fine Arts transferred to Padre Faura in Manila and later to Diliman, Quezon City, the mansion was neglected.
Casa Hidalgo eventually became a dormitory for boys and girls, a bowling alley, and even a shooting location for pornographic films.
"Then, much worse po, naglagay po sila dito ng abortion clinic," Bon lamented.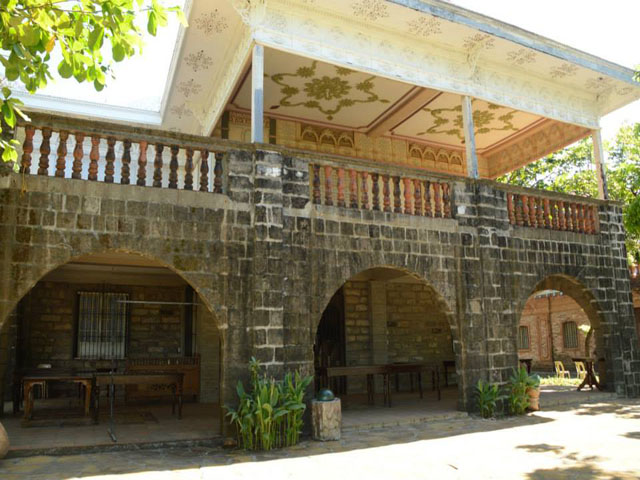 Casa Lubao was seized by Japanese soldiers and turned into a garrison during World War II. a
Another house with an interesting story is Casa Lubao, owned by the Arrastia-Vitug family and built in 1920. The house sat directly in front of the Lubao municipal hall. Before the Second World War, a Japanese man came to work as a driver for the family. It turns out that the driver was one of the many Japanese soldiers who infiltrated Filipino communities years before the war.
When the war broke out, the Japanese seized the house and used it as a garrison. Although Philippine history is ridden with horrors of Japanese cruelty, the Arrastia-Vitug family was spared, thanks to their driver, who turned out to be a Japanese colonel.
Day tour and spa
The rates for staying at Las Casas Filipinas depend on the houses where the guests will be staying.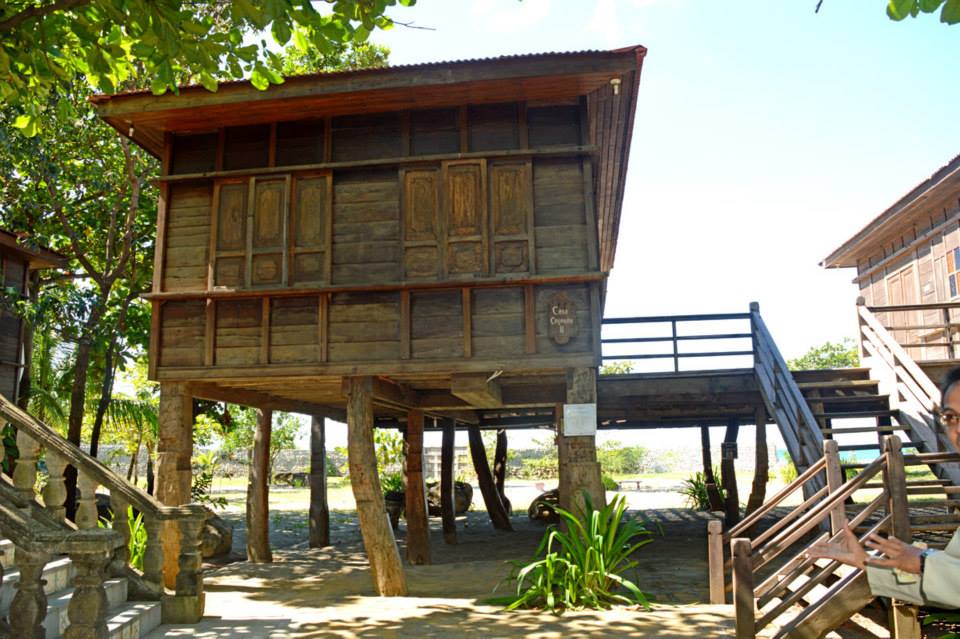 Casa Cagayan 2.
The lowest-priced house is Casa Baliuag, previously located just in front of the Catholic church in Baliuag, Bulacan.
In the 1950s, Casa Baliuag, which has elaborate adobe carvings, served as the municipal hall of Baliuag. Sadly, the house was later abandoned and some of its architectural details were either stolen or ruined.
At Paseo de Escolta, which is only a replica of typical commercial structures in Escolta, Manila in the 1900s, an overnight stay at a studio deluxe room, for two adults and two kids, starts at around P3,800 per day and goes up to as high as P7,500 per day.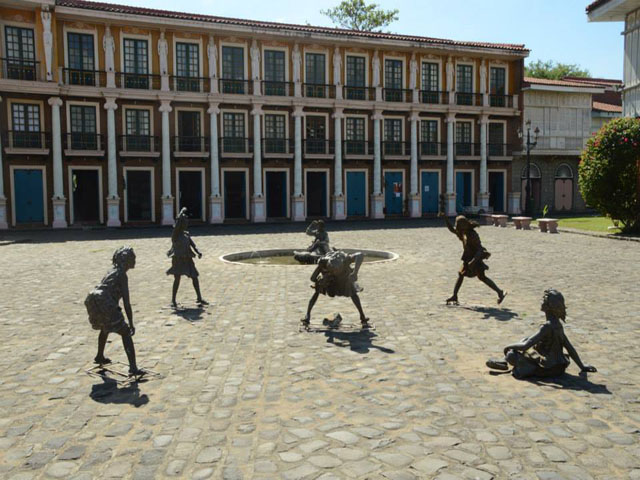 Casa Escolta: some parts are roomy enough for a big family.
Executive suites at Paseo de Escolta, good for six adults and two kids, range from around P7,200 per day to as much as P9,500 per day.
Staying in one of the heritage houses, which are all original antique structures, can range from around P16,000 per day to as high as 150,000 per day.
Guests will not run out of things to do at Las Casas. They can take a walking tour of the entire resort, shop for souvenirs at Plaza Escolta, have their photos taken wearing Spanish-era costumes, or take a dip in the resort's batis-inspired swimming pool. They can also go on bike or calesa tours of the 400-hectare resort.
One can also get spa treatment at the resort's Napiya Spa, which offers traditional hilot at P850 per hour. Hilot haplos (deep tissue massage) costs P1,200 per hour, while haplos paa—foot spa, massage, and pedicure—costs P700.
The resort is pet-friendly but you will have to pay an additional P2,500 per day should you bring your furry friends.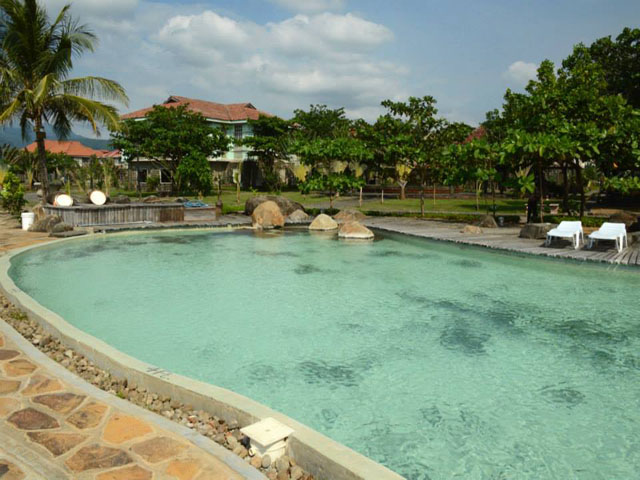 The batis-inspired swimming pool.
A visit to Las Casas Filipinas is a journey to our country's past. It gives guests a deeper appreciation of how earlier Filipinos lived. It gives Filipinos a sense of pride in their heritage and a longing to preserve cultural traditions for future generations. —
VC/HS, GMA News