Filtered By: Lifestyle
Lifestyle
5 things you should know first before quitting your job to travel the world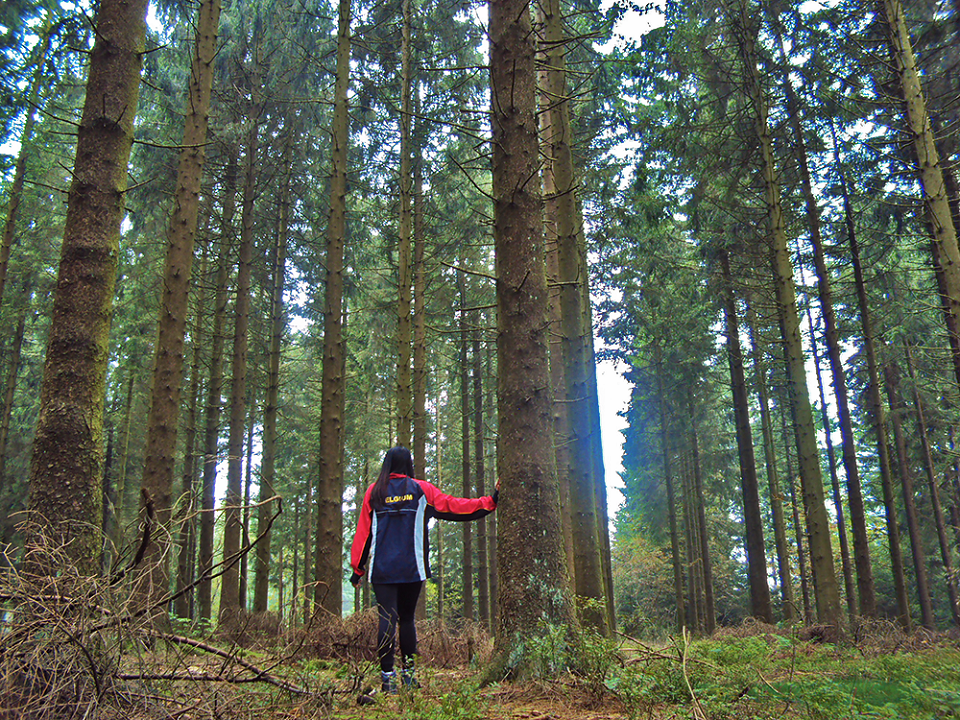 The author in a forest in the Ardennes, Wallonia, Belgium.
I graduated from university in 2011 and landed a 9-to-5 job in a big investment bank as a graduate trainee.

A year later, the future looked bright for me. I was the best performer on the team, I was earning just enough money to live by myself, I had a looming promotion, and an overseas transfer was expected too.

But I was terribly burned out and uninspired. I would always ask myself, "Is this all there is to it?"

What good was in these things if I was this miserable? If I was counting every hour until I could get home? If I was counting the days until the weekend? If I was always waiting for vacation, holidays, or long weekends? If I was wasting almost 5 hours of my day in traffic? If I was plagued by overtimes and unnecessary meetings?

It definitely wasn't the kind of life that fit me. So in April 2013, I left my corporate job to go after my real passion in life: traveling the world while working for myself.

It's July 2015 now, which means that it's been more than two years! Since then, I've flown around the French Alps as a paraglider, played around with elephants in Thailand, and more, as I managed to set up an online business at the same time to fund my travels.

If you are thinking of quitting your job to travel the world, there are some things you should first consider before taking the leap.

1. Know if you really want this kind of life.

What exactly are you looking for? You have to make sure that a traveling lifestyle is what you are really passionate about, or else you'll just end up hating your life again—a cycle that you must avoid. You should also determine that you are not using this as an escape when in fact what you might actually just need is a different kind of job, field, boss, or company.

(You can experiment first: try making short frugal trips to imitate a nomadic lifestyle.)

Though a nomad's life can be exciting and fulfilling, it's not as glamorous as you think. It's best that you lower any expectations because the start of this journey can be tough. It involves a huge amount of hard work and responsibility: you have to start again from the ground up, with no one to rely on but yourself.

It will take commitment, consistency, and motivation, so it's important to ensure that this is your own desire and purpose. You should never do this for someone else, or for appearances; that will make all of this meaningless! At the very core, you should do this for yourself because of your desire to grow and experience.

2. Realize that your plans might not work out.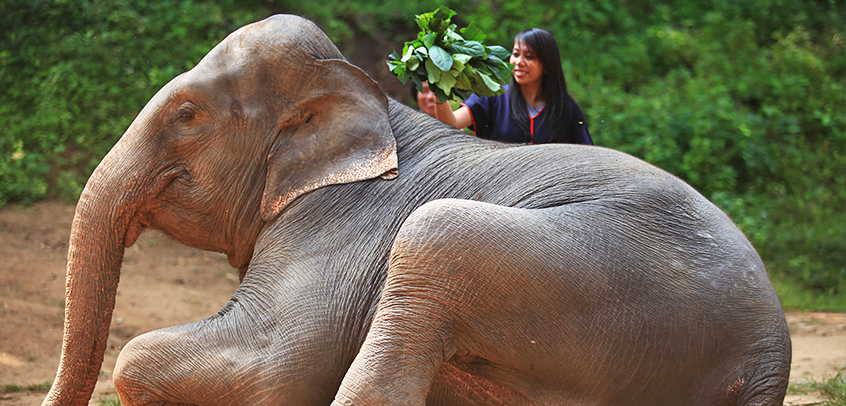 Practicing responsible elephant tourism in Chiang Mai, Thailand
This doesn't mean that you shouldn't plan. It's always important to have a plan to keep you focused on your goals. However, it's also important to know that certain things will not go according to how you want it to.

When I quit my job, I had this vision of backpacking around Asia while doing online work, but what actually happened was I ended up just hopping to neighboring countries for occasional trips as I stayed in the Philippines to work online. Months later, as I managed to kick off my online business, I found myself exploring Europe instead of Asia.

Not strictly abiding to a plan turned out to be a good thing for me and it could be a good thing for you too. If alterations should ever happen to your plans, don't stress about it. Be flexible and let things go; chances are, you might just end up doing far more interesting things if you open yourself to new ideas and different possibilities.

3. You have to ensure some security for the long term.

It's important to think of your future.

For instance, volunteering can take you to various countries and it can keep you going for years, but you wouldn't want to keep on working for farms, bars, or hostels for the rest of your life, would you?

To achieve your own security, you have to find what you're good at or at least find what you are interested in doing in order to establish a feasible goal and work on it.

Some people have the objective of being English teachers abroad so they could eventually set up their own school. There are others who make use of their hobbies like surfing, yoga, or dance so they could establish their own company as they slowly gain capital and reputation. Then of course there are those who take advantage of what the internet can bring—people like me who become digital nomads, travel bloggers, or entrepreneurs.

I started out as a digital nomad, offering simple services like customer service and data encoding. Then it turned into more complex things like SEO, graphic design, web design, and marketing. After a year of working remotely, I found a way to set up my online business with my partner, allowing us to live a sustainable traveling lifestyle.

It can be a fast process, though most of the time it can be slow; but like everything else, it's not a race but a journey. As long as you have an objective, you're bound to get it.

4. Know that it is never too soon nor too late to quit your job.

"Making a big life change is pretty scary. But you know what's even scarier? Regret."

That's why you should do what you love to do. If staying cooped up inside an office is not an ingredient on your recipe of achieving happiness in life, then by all means, QUIT. It's never too soon, never too late. In fact, there's NO right time. You just do it and make time for it. It's as simple as that.

We are never ready for anything anyway—may it be love, studies, career, or moving to a new place. It just happens if you let it happen.

When I voiced my concerns of quitting my job, my friends and especially my parents thought that I was going crazy or that I was throwing my life away. But I wasn't, because it was what I wanted. I have met far too many individuals who have looked back on their lives with bitter realizations that they are filled with regrets, missed opportunities, what-ifs. I didn't want to end up as one of them.

So if inspiration does hit you, go and quickly take steps to do what you should be doing. Our lives have an expiration date and it would be a waste to spend it on things that we don't love to do.

5. Know that a life of travel IS possible.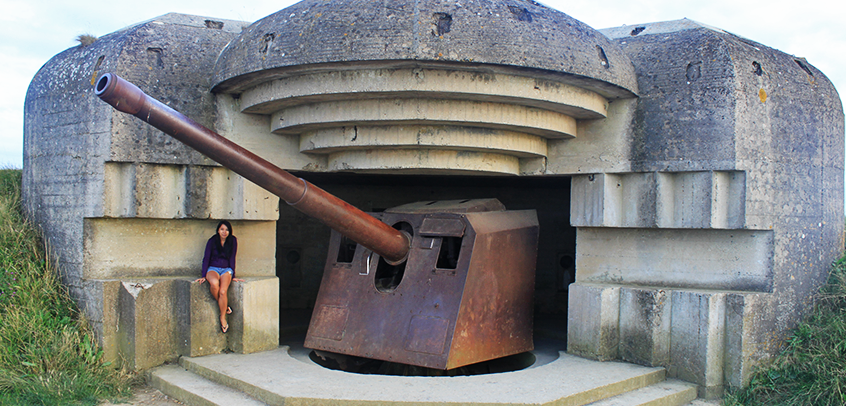 Checking out WWII spots in Normandy, France
No matter if you're broke and no matter if you only hold a Third World passport, there are numerous ways to make it a reality. You don't need to be rich either, because I'm not rich, nor did I come from a rich family.

With that in mind, how then did I make this happen? Hard work and sacrifice.

"If you don't build your dream, someone else will hire you to help them build theirs." - Dhirubhai Ambani

Other than the fact that I didn't want to work for anyone else anymore, I also knew that building my dream comes with a price. I was more than willing to give up some things in my life in order to achieve what I wanted.

It ranged from strict saving routines to working myself to the bone, and it was vicious…it was a real struggle, but I thankfully made it happen. Looking back, I have no regrets. Besides, with the way my life is right now, I can say with confidence that it was all worth it since I am now able to continually see the beauty of this world as I build up on experiences and myself.

If I managed to do this, then you can definitely do it too! It takes courage, but I know that YOU are not short of it. — BM, GMA News

Aileen Adalid is currently living in Belgium.