Filtered By: Money
Money
GMA Network, Coca-Cola collaborate vs. iron deficiency anemia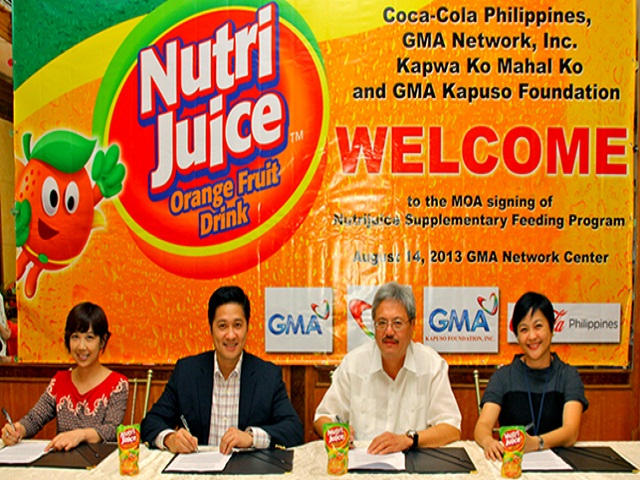 (L-R) Trisha Icasiano, Nutrijuice Program Lead, Coca-Cola Philippines; Atty. Adel Tamano, Vice President for Public Affairs and Communication, Coca-Cola Philippines; Felipe S. Yalong, Executive Vice President and Chief Financial Officer, GMA Network, Inc.; Ma. Teresa Pacis, Assistant Vice President for Corporate Affairs, GMA Network, Inc. . GreenBulb Public Relations
In a grand show of philanthrophic vigor, GMA Network Inc. and Coca-Cola held a memoradum of agreement signing at the executive suites of GMA headquarters Wednesday afternoon.
The agreement states that Coca-Cola is to provide the iron-fortified drink NutriJuice to over 3,000 student beneficiaries of GMA Kapuso Foundation (GMAKF) and Kapwa Ko Mahal Ko (KKMK), many of whom suffer from iron deficiency anemia (IDA).
Present at the signing on behalf of GMAKF were executive vice president and head of the Corporate Services Group, Felipe S.Yalong; assistant vice president for Corporate Affairs Ms.Teresa Pacis; and Kapuso Foundation executive director Mr. Winifred Avendaño. Director for Public Affairs and Communications Atty. Adel Tamano represented Coca-Cola.
Avendaño explained that, under GMA's socio-civic arms GMAKF and KKMK, 11 schools in Naravan, Ilocos Sur and three schools in Manila will receive the drink. Coca-Cola will facilitate the deliveries of NutriJuice and conduct orientations at the schools to kick off the 120-day feeding program.
"What will happen is, their feeding programs will be supplimented by Coke," explained Pacis. She then listed the beneficiaries of the program, before explaining the situation of KKMK.
"They have no formal feeding program," she added. "But they talked to the barangay captains who would be interested to roll this out."
The NutriJuice project will be integrated into the schools' already-existing feeding programs.
Collaborative combat of IDA
Iron deficiency is the most probable common cause of anemia globally
. It is caused by not eating enough foods with iron in it or one's body needing more iron than usual. Lack of iron causes tiredness, grumpiness, and a lack of concentration.
In the Philippines, anemia continues to be a serious health problem. Compounded with poverty, it makes the situation of school-age children more dire. The feeding program sponsored by Coca-Cola aims to alleviate the situation in part.
"We did weigh-ins and check-ups of children before the feeding program, and we will do so again after the time is up," said Pacis.
The NutriJuice project is
part of the ongoing Live Positively campaign of Coca-Cola
, under the initiative of sustainability.
"One of the things that we advocate is, of course, the [sic] healthy communities," said Tamano. "And of course, if you want healthy communities, one of the sectors that you target is the youth."
He hopes the 120-day feeding program, amounting to a full semester for most schools, will be successful.
Corporate responsibility
"Napakaganda ng move na ito because it means na enlightened na ang mga korporasyon, yung nararamdaman na nila ang tawag nila sa Ingles na 'Corporate Social Responsibility," said Dr. Orly Mercado, a media veteran, former senator, and producer-host of Kapuso Ko, Mahal Ko.
He lauded both corporations' efforts to not only focus on creating products to please consumers, but to advocate healthy eating habits among children.
"Ang isa sa pinakamalaking problema natin sa kabataan na nakikita natin dito eh talagang nahuhumaling sa matatamis na soda na, although hindi naman ganun kasama sa tao, pero by-and-large, it is not a nutritious, healthy drink," he noted.
"We're only too happy to provide the contacts and the assistance to be able to make this program a success," he added.
"I think this is a very good project for the Kapuso Foundation because they have already identified those beneficiary that needs to be considered," commented Yalong.
"With Coke coming in to this venture, it will address, partly, the malnutrition problem," he added.
He concludes with the hope that the project will suceed, and that all the parties involved will be able to continue it. —
VC, GMA News