Filtered By: Money
Money
Banking on logistics industry growth, JP Marzan Ventures to put up warehouse in Visayas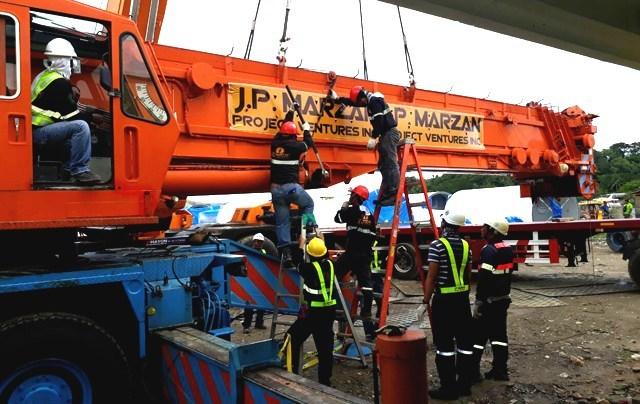 JP Marzan Project Ventures Inc. is set to spend at least P50 million to put up a warehouse in the Visayas region, banking on the growth of the Philippine logistics industry amid the coronavirus disease 2019 (COVID-19) pandemic.
Based in Cabuyao, Laguna, JP Marzan, a logistics and infrastructure service provider, is now looking to add a third warehouse. The company already owns one in Bulacan which caters to clients in the north, and one in Laguna to cater to those in the south.
"For the expansion, we're still finalizing everything because it requires 'yung mga design, 'yung needs ng clientele namin, so initially we're looking initially dito sa pag-construct, around P50 million. Sa ngayon at the Visayas area, just one warehouse muna," JP Marzan chairman Jesus Mari Marzan said in an online interview.
"It requires careful planning to make sure that 'yung mga intermodal types of transportation has to be there. Even sa pinakamalayong lugar, you'll be able to deliver 'yung mga pangangailangan ng mga tao, so you'll have to be aware of the situations in every corner of this country and you'll have to adapt also," he added.
The firm caters to mostly Japanese clients involved in electronics, the automotive industry, and manufacturing, but Marzan said growth is likely to accelerate in the coming year given the strong demand for e-commerce amid the lockdowns.
"I would say it's growing kasi the economy's opening up. Medyo nag-relax na 'yung mga IATF rules and regulations and you can see naman the drop, so business is slowly picking up," said Marzan.
Marzan said the company is just trying to survive this year, but he is much more optimistic for next year with the company looking at a "conservative" revenue growth of 5% to 10%, and a project pipeline cumulatively worth some P100 to P200 million.
"Based d'on sa mga projection din ng client namin, so we're just banking on that, so sabi nga you have to be positive and better to have that projection to keep challenging yourself," he said.
"This year is really just trying to survive. We still have time and we try to be positive kasi sabi nga, itong Christmas season stay inside, but people are still buying so we still have to deliver goods, we still have to deliver all these things," added Marzan.—AOL, GMA News