Filtered By: Money
Money
Economy to hurt from exit of POGOs, says property firm exec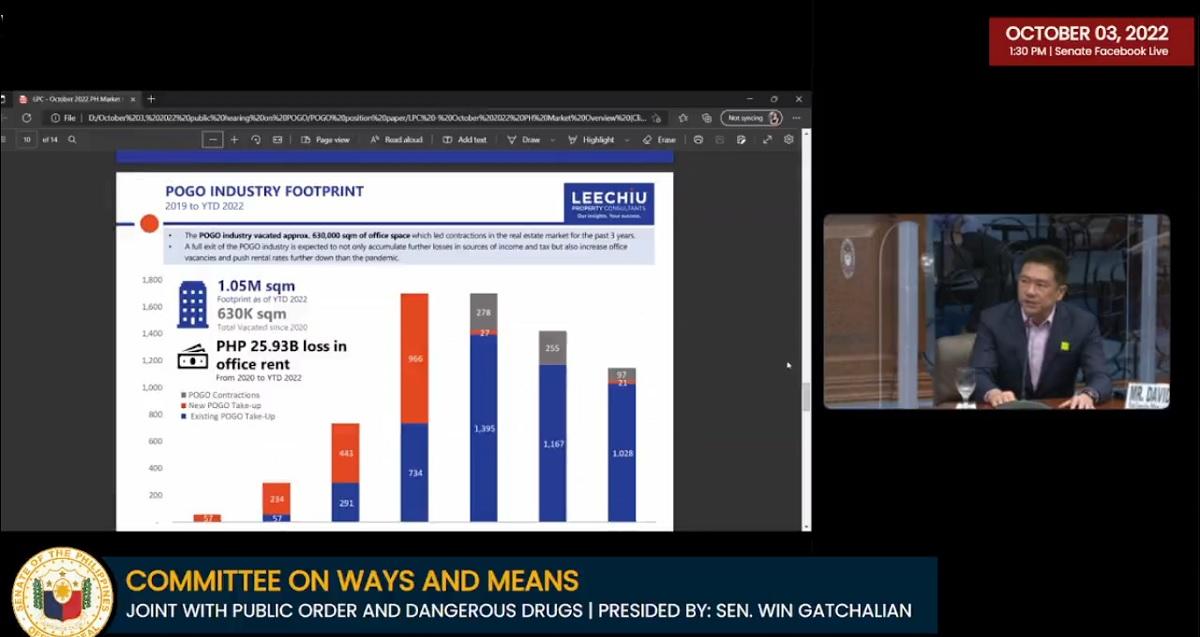 The exit of Philippine Offshore Gaming Operators (POGOs) would hurt the country's economy, the head of a real estate services firm told a Senate committee.
Leechiu Property Consultants CEO David Leechiu on Wednesday said the Philippines stands to lose over P100 billion should the POGO industry be forced out.
"The Philippines has significantly benefited from the POGO sector's economic impact to the Philippines and to the people," he said in a presentation before senators.
"If we shut it down abruptly, it will hurt us more as a country than not," he added.
According to Leechiu, the real estate sector would lose P47.5 billion, or P18.9 billion in annual office rent and P28.6 billion in annual housing rent.
Leechiu also said the country would also record estimated losses of P5.8 billion in annual taxes, P9.5 billion in annual electricity costs, and P5.25 billion in the revenues of the Philippine Amusement and Gaming Corporation (PAGCOR).
He said there would also be losses of P11.4 billion in annual expenditures, P952 million in daily spending, P52.5 billion in fit-out costs, and up to P57.1 billion in income taxes from foreign FTEs (full-time employees), as well as up 347,000 jobs lost.
The Philippine government last month announced plans to deport at least 2,000 POGO workers by October, in line with the crackdown on undocumented foreign workers in the country.
The government has reported a number of cases such as kidnapping and crime supposedly involving a number of individuals employed in the POGO industry.
"Obviously, we do not agree to anything illegal, we do not agree to anything violent, to crime, we don't agree to that, period," Leechiu said.
Finance Secretary Benjamin Diokno last month said the country should do away with POGOs, citing "social" and "reputational" risks.
Diokno said that revenues from POGOs have already started to decrease, estimated at P3.9 billion in 2021 from P7.2 billion in the previous year.
The DOF in September 2019 already threatened to shut down POGOs with tax liabilities, with uncollected withholding income taxes then estimated at P21.62 billion. A number of POGOs have since been closed.
On Sunday, the Bureau of Immigration also announced that it will cancel the visas of more than 48,000 Chinese employed by POGOs that have had their licenses revoked. — BM, GMA News