Filtered By: Money
Money
Metro Manila mall hours to be adjusted starting next week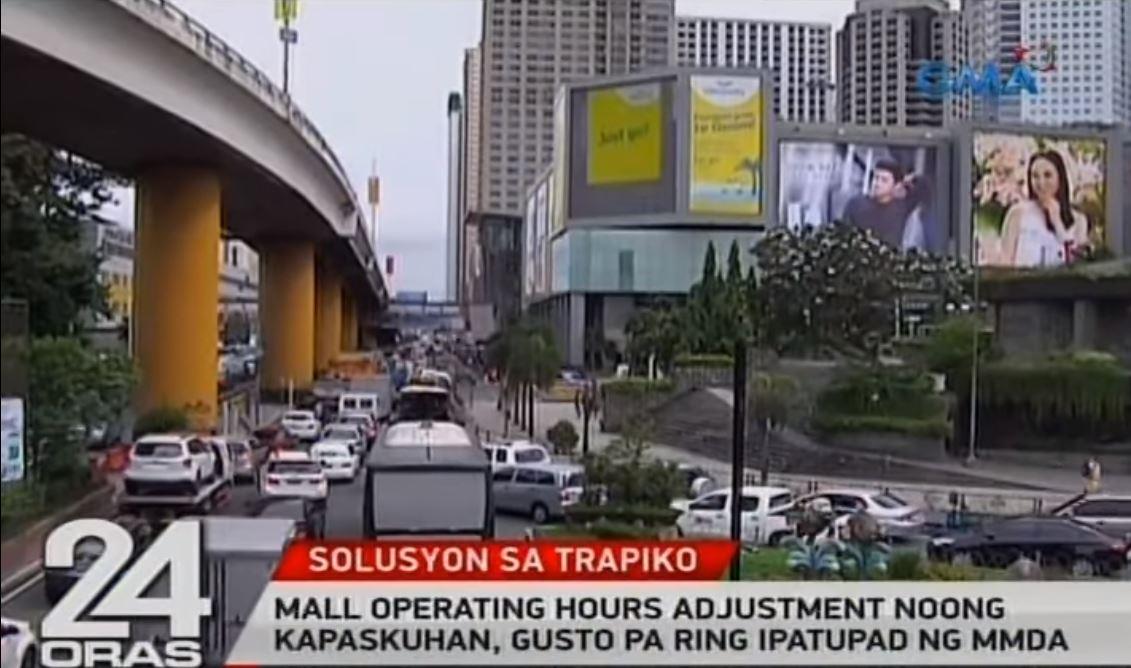 Mall hours in Metro Manila will be adjusted to a slightly later schedule starting next week, ahead of the Christmas holidays, the Metropolitan Manila Development Authority (MMDA) said Tuesday.
According to the MMDA, mall operators will adjust their hours to 11 a.m. until 11 p.m., following a meeting with major stakeholders earlier during the day, as posted by Super Radyo dzBB reporter Mark Makalalad.
The changes will be implemented starting next Monday, November 14, 2022.
JUST IN: Adjusted mall hours sa Metro Manila, ipatutupad sa November 14, 2022 ayon sa MMDA; Mga mall, inatasang mag-operate ng alas-11:00 ng umaga hanggang alas-11:00 ng gabi @dzbb pic.twitter.com/zJaePlIohg

— Mark Makalalad (@MMakalalad) November 8, 2022
"Starting November 14, malls in NCR will operate from 11am to 11pm instead of their usual operating hours. We have to implement remedial measures to reduce traffic congestion," MMDA acting chairman Romando Artes said.
The MMDA had a similar agreement last year, as it said an additional 50,000 vehicles were then expected during the "ber" months.
Aside from this, Artes said that mall-wide sales will only be allowed during weekends and deliveries will be allowed from 11 p.m. to 5 a.m. only.
"Mall wide sales will be only allowed during weekends. Also, deliveries will be during 11pm to 5am only. Exempted from the regulation are deliveries of perishable goods, restaurants serving breakfast, and groceries," he said.
Shopping mall operators were also directed to submit their respective traffic management plans, and indicate their mall sales and promotional events two weeks before the scheduled of such events.
"We will make a further study on their traffic management plan. We will deploy necessary number of traffic enforcers to man the traffic," Artes said.
He hinted the possibility of lifting mall operating hours restrictions earlier than January 6, 2023, depending on the traffic situation after Christmas.
"We will observe the traffic situation in the metropolis on December 26. If the traffic is normal and manageable, we will immediately lift the restrictions and announce it to the public," he said.
Artes also announced the temporary suspension of all excavation activities in Metro Manila's national roads starting midnight of November 14 until January 6.
These include road reblocking works, pipe laying, road upgrading, and all other excavation works, the MMDA said.
The following projects are not covered by the suspension:
Flagship projects of the government
DPWH bridge repair/construction
Flood interceptor catchment project (box culvert)
Asphalt overlay projects without reblocking works
Sidewalk improvement
Drainage improvement projects along the sidewalk and not occupying any part of the roadway
Footbridge projects
Emergency leak repair or breakage of water line by Manila Water and Maynilad Water Services
Project using trenchless or horizontal directional drilling method
New water service or electrical service connections
Road activities without excavation (traffic clearance only)
Traffic signalization projects
Meralco relocation works affecting major projects of the government.
— LA/AOL, GMA Integrated News