Filtered By: Money
Money
Ilocos Sur is helpless against illegal black sand mining — stakeholders
Illegal miners continue to extract black sand from Ilocos Sur, exporting the commodity out of the country placing coastal areas and the people at risk of erosion, according to a priest, an environmental group, and the Mines Bureau.
The group has brought their plea to the Mines and Geo sciences Bureau (MGB), whose geohazard mapping showed the coastal areas are vulnerable to wind and water erosion which makes sand mining a prohibited activity.
Black sand contains iron and metallic minerals for making steel.
In an interview with reporters, MGB director Leo Jasareno said black sand mining in Ilocos Sur is illegal. The bureau has ordered a blanket moratorium on permits for processing black sand in the province, the mining chief noted.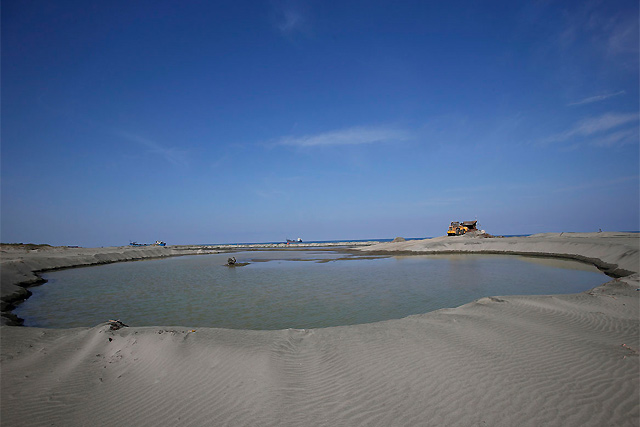 In Sta. Catalina, residents have been complaining of subsidence—a gradual caving in or sinking of an area of land—and coastal erosion of up to 100 meters from the beaches, according to stakeholders.
"Through letters and petitions, we have appealed to President Benigno Aquino III to put a stop to the illegal activity," said Melchor P. Ines, Ilocos Sur Collective Action for the Protection of the Environment (ISCAPE) convenor.
"Nothing is happening. We don't know what to do to stop this," he said.
Fr. Albert Rabe, parish priest of San Juan, Ilocos Sur also asked Jasareno to help put an end to the illegal activity.
Rabe and Ines also told reporters they have sought the help of Malacañang, and already wrote three letters to President Aquino. So far, the Palace has not responded to them.
Ines claimed mining companies continue to haul black sand from coastal areas and ship the commodity out of the country—likely a case of smuggling—while local officials turn their cheeks the other way around. The ISCAPE convenor alleged that some local officials are likely in connivance with the mining companies, considering that no action has been taken despite the repeated complaints and demands of residents to stop black sand mining in the area.
The illegal extraction of black sand along the rivers and beaches of Ilocos Region has been going on since 2008, Ines noted.
While black sand mining isn't illegal, Jasareno said Ilocos Sur is "... a no-go zone."
What is frustrating, according to the mining chief is that the National Bureau of Investigation (NBI) was already informed of the illegal activities going on in Ilocos Sur.
"We are waiting for the NBI to act on it," he said.
Jasareno identified Taiwanese-owned Wellresource Mining Co. as actively operating in Ilocos Sur. The bureau will pursue legal action against Wellresource and recommend that it be blacklisted before concerned offices, he said.
MGB Region I has been ordered to strictly monitor black sand extraction and transport activities in the province, Jasareno added. — VS, GMA News