Filtered By: Money
Money
LOOK: BSP issuing P50, P500 coins to mark Pope Francis visit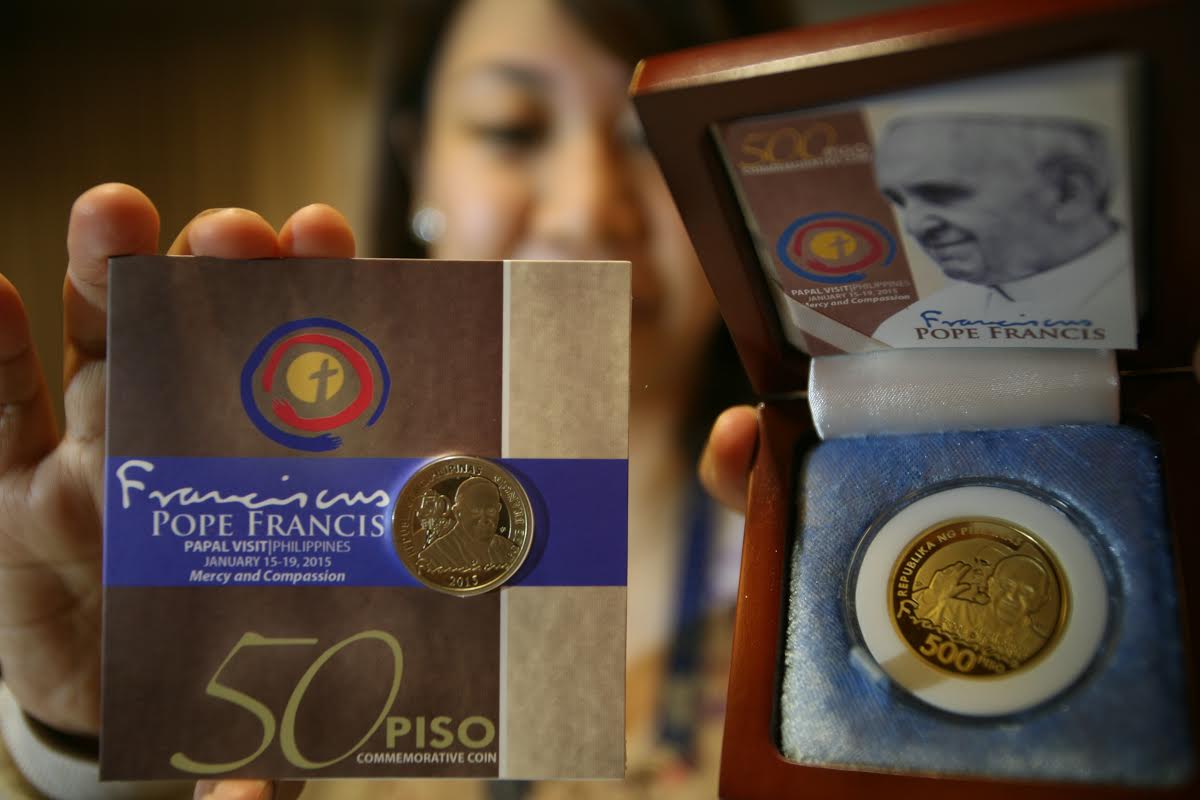 P50 and P500 coins to mark Pope Francis' papal visit. Danny Pata

The Bangko Sentral ng Pilipinas (BSP) on Wednesday said it is issuing limited edition P50 and P500 papal coins in light of Pope Francis' visit to the Philippines from January 15 to 19.
Both coins are legal tender and will be sold for P100 and P1,000, respectively, to cover production, packaging and other costs, the BSP said.
The coins are minted under a licensing agreement with the Vatican.
As a matter of policy, the BSP commemorates significant events in our country's history through the minting of coins, medals or overprints on our banknotes.
Papal commemorative coins were also issued for the 1970 visit of Pope Paul VI, and for the 1981 and 1995 visits of Pope John Paul II.
The P50 commemorative coin for Pope Francis is made of nickel brass while the P500 is made of nordic gold with gold plating.
The obverse side of both coins feature a portrait of Pope Francis, the markings "Republika ng Pilipinas," "Pope Francis," the signature of Pope Francis, the denomination, yearmark "2015" and the BSP mint mark.
On the reverse side is the BSP seal, the markings "Papal Visit/Philippines," "January 15-19, 2015", the logo of the Papal visit 2015 and "Mercy and Compassion."
The coins, however, will be available after the Pope's visit, beginning the last week of January 2015.
Submission of the reservation form is only until End-June.
"Please wait for a confirmation e-mail with the date when you can pay for and pick up the coins at the BSP. Please note that the coins are not available over the counter," the BSP said.
By May, P1,000 silver and P10,000 gold Papal commemorative coins will be made available. — Danessa Rivera/JST, GMA News