Filtered By: Money
Money
Yolanda-hit Leyte geothermal plant key to restoring power in Visayas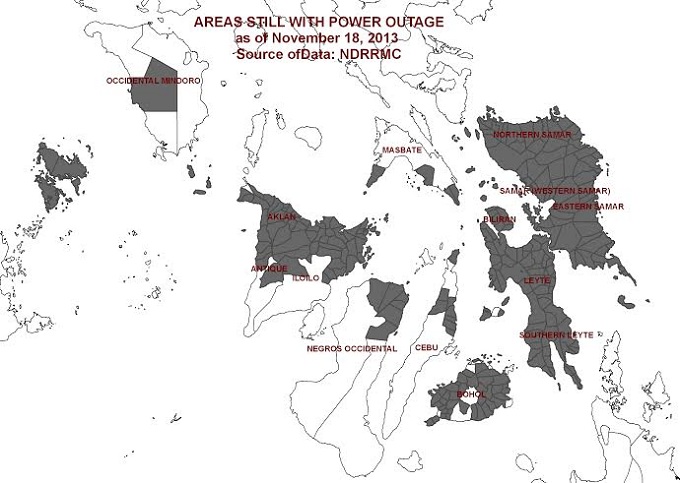 Map of areas in Central Philippines without power as of Nov. 18, 2013. GMA News Research
In the aftermath of super typhoon Yolanda, the power situation in the Central Philippines remains bleak unless a major geothermal power plant in Leyte, which provides around a third of the power requirement in the region, is up and running, according to Energy officials.
Unified Leyte, a geothermal power plant owned and operated by Energy Development Corp. of the Lopez Group, was damaged during the onslaught of Yolanda on Nov. 8, Department of Energy director Mylene Capongcol told GMA News Online.
"Yung cooling towers yung nasira, kaya 'di pa online," she said.
Energy Development told the Philippine Stock Exchange on Tuesday the main power plants supplied by the 650 MW facility – the 232 MW Malitbog, the 112.5 MW Tongonan, the 180 MW Mahanagdong, and the 130 MW Upper Mahiao – are out because of significant damage in the cooling towers.
Washington-based trade group Geothermal Energy Association noted that cooling towers prevent turbines from overheating, thus prolonging the life of the power plant.
"Operators are still assessing the damage and when it can resume operations," Capongcol said.
Packing sustained winds of up to 313 kilometers per hour and gusts of up to 378 kph, Yolanda raked the Central Philippines, flattening towns and cities and carving a wide swathe of destruction. In its wake, the Category 5 cyclone toppled 566 NGCP towers and poles and damaged seven substations.
The provinces of Samar, Bohol, Cebu and Leyte, along with Panay and Negros islands, were unplugged from the power grid.

Dec. 24 deadline
Power will be restored in the entire Visayas by December 24 , Energy Secretary Carlos Jericho Petilla told reporters in Leyte on Monday, saying it is a "very tight" deadline.
"Do you want my position if I don't make December 24? You will have it. If I make it (on) December 25, then I'll submit my resignation – if that is what you want," he said.
"Ang punto ko lang dito is kailangan ay medyo man lang kahit man lang Pasko ay may makikita kang ilaw – hindi madilim ang Pasko. Kasi the first sign of hope kung tutuusin parati, is always electricity. So iyon ang sisikapin natin," he added.
Department of Energy data shows that Unified Leyte in Tongonan has 610.2 megawatts in installed capacity and a dependable capacity of 481 MW.
Based on data from the Energy Department and the National Grid Corporation of the Philippines (NGCP), Unified Leyte supplies around a third of the 1,300 to 1,500 MW demand from the Visayas grid.
While NGCP is working to restore its damaged assets – electric poles, towers, and sub-stations – spokesperson and adviser for external affairs Cynthia Perez-Alabanza told GMA News Online some provinces in Central Visayas will continue to experience rotational power outages until Unified Leyte is fully operational and back online to the Visayas grid.
"Even if the lines are fixed, there is possible rotational brownout in typhoon-stricken areas because the major geothermal plant is down," she said in a phone interview.
50% of power to be restored

While demand from Samar and Leyte are still low after the typhoon destroyed thousands of houses, transmission lines are still down, making it difficult to supply electricity to vital facilities such as hospitals and government buildings.

Bohol, on the other hand, is powered by generator sets provided by electric cooperatives, the Energy Department's Capongcol noted. "Madami pang areas ang wala... kaya pa ng supply kahit wala yung geothermal plant," she said.
Petilla said restoring full power to Central Philippines will depend on several factors including access roads, materials, and manpower.
"Wala na tayong problema sa access... Accessible na lahat... na-clear na lahat. Number Two, ang materials – ang sitio ng electrification natin na mga materials, eh, i-ko-commandeer muna namin... Number Three, manpower... Ang dami na nating volunteers ngayon galing sa ibang mga kooperatiba," the Energy chief said.
As far as transmission lines are concerned, Leyte, Samar and Bohol remain isolated from the grid. Some areas in Northern Panay already have power, with 50 percent expected to be restored by the end of the month.
NGCP's Perez-Alabanza said they are struggling to fix transmission towers and poles, with 1,400 personnel deployed to expedite the repairs.

Crucial Ormoc station
The grid operator is also working on repairing its Ormoc substation – a crucial power transmission hub that feeds Eastern Visayas – and its Cebu line.
"Ormoc is the center or hub kaya very crucial and it is still down. Without Ormoc, power coming from Cebu to Bohol, from remaining geothermal plants, will not pass through," Perez-Alabanza said.
Apart from the substation, NGCP is looking at importing power from Luzon power plants that are connected to the grid.
"Pwede mag-import from Luzon kaso voltage, like water pressure, ay hihina dahil malayo. We need a power plant operating in Leyte to function. If this is up, it will provide an extra push for energization in the region," Perez-Alabanza explained.
At a press conference in Malacañang on Monday, Budget Secretary Butch Abad said
the government will "definitely" use Malampaya funds to help restore power
in areas affected by super typhoon Yolanda and fix damaged transmission lines.
Last week, the Energy Department said it is
deploying a total of 164 small generator sets
to areas hardest hit by Typhoon Yolanda in Central Philippines as immediate sources of power for relief operations.
— JDS/VS, GMA News