Filtered By: Money
Money
Duque: Revert to ECQ, MECQ to cause irreversible damage to PHL economy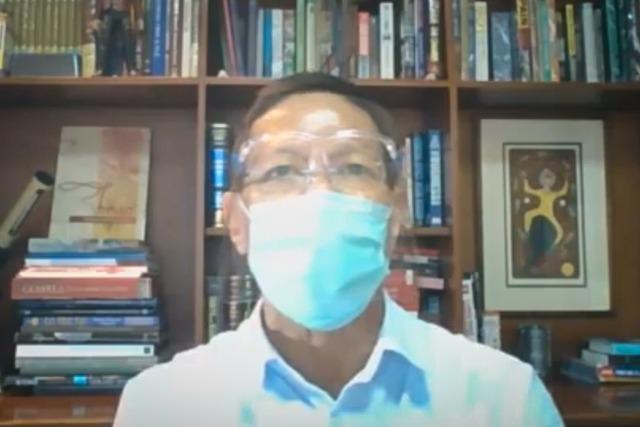 Health Secretary Francisco Duque III on Saturday said the Philippines can no longer sustain stricter forms of lockdown as this can have adverse long-term effects on the economy.
"We can no longer afford to revert to a higher quarantine status of MECQ (modified enhanced community quarantine) or ECQ because that will irreversibly injure if not damage the economy beyond repair," Duque said during the ceremonial launching of "Mask Para sa Masa" initiative in Quezon City.
The mask program is an inter-agency cooperation to provide 30 million domestically manufactured face masks to poor families.
Duque emphasized the need to expand the number and capacity of quarantine facilities "nang sa gayon, 'pag nagkaroon ng surge at bukas ang ekonomiya kayang i-manage 'yung surge."
During the second quarter, the Philippine economy plunged into recession, contracting by 16.5% —its worst performance on record since 1981.
Towards the end of the first quarter, the economy was in a standstill due to the implementation of strict quarantine measures —enhanced community quarantine (ECQ) in Metro Manila and other high-risk areas from March 17 to May 15, followed by a modified enhanced community quarantine (MECQ) until May 31.
Looser restrictions were then implemented under the general community quarantine (GCQ) starting June 1. Metro Manila and four other nearby provinces, however, were reverted to the stricter MECQ on August 4 and lasted until August 18.
For the whole 2020, economic managers are expecting the economy will shrink by 5.5%, taking into consideration the country's plunge to recession and Metro Manila return to stricter lockdown for two weeks.
Duque's remark came after the UP OCTA experts group said it will discourage the shift of Metro Manila to the most lenient form of community quarantine as more study and observation are needed to ensure that relaxing the lockdown won't result in a drastic rise in COVID-19 cases.
"Sa ngayon, hindi pa natin mare-recommend 'yan (modified general community quarantine) kasi puno pa rin ang mga hospitals natin eh. The moment na mag-MGCQ tayo baka mangyaring tulad dati noong nag-GCQ tayo," Professor Guido David of UP-OCTA Research Team said in an interview on Dobol B sa News TV on Saturday.
"Sa ngayon, tignan, obserbahan muna natin. Siguro ire-evaluate muna natin," David said.
Metro Manila's GCQ is supposed to end on August 31. The next lower status for the metropolis is a modified GCQ. —LBG, GMA News