Filtered By: Money
Money
IBON slams 'afterthought' P1,000 aid in NCR Plus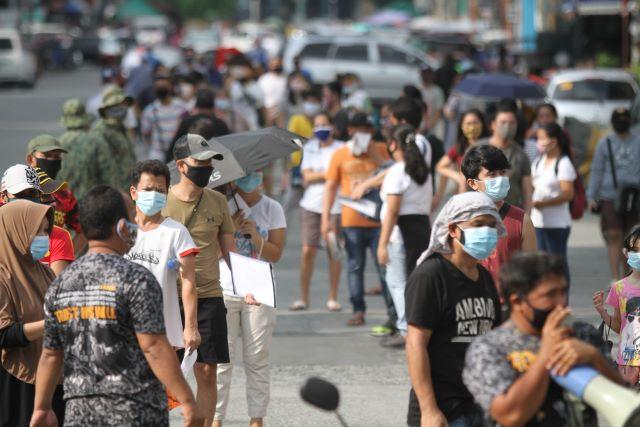 Militant economic think tank IBON Foundation on Wednesday slammed the P1,000 in financial aid that will be given to the affected population amid the enhanced community quarantine (ECQ) in Metro Manila and its four adjacent provinces.
In a statement, IBON said the financial aid is "so little that it is plainly just an afterthought."
"Giving assistance clearly only entered the government's mind when it once again resorted to an ill-conceived ECQ to try and contain the uncontrollable spread of COVID-19, said the group," it said.
The Department of Budget and Management on Tuesday released the order to fund the planned financial assistance to cover at least 22.9 million individuals affected by the reimposition of the ECQ in the National Capital Region Plus - Metro Manila, Cavite, Laguna, Rizal, and Bulacan.
Under the financial assistance, beneficiaries are entitled to receive either P4,000 for a family of four or more, or P1,000 each member for a family of three or less.
The assistance will be given either in cash or in kind based on the most efficient and effective mechanism to be identified by their respective local government units.
"The so-called supplementary Social Amelioration Program (SAP) is evidently hastily being put together just now," IBON said.
The group said after a year, the government has noticeably forgotten about giving aid and has not even bothered to make any contingencies or guidelines for providing further emergency cash subsidies.
Budget Secretary Wendel Avisado earlier admitted that the government cannot afford to distribute another round of assistance should the ECQ be extended in the NCR Plus.
"IBON also observed how the budget for this is not being determined by the needs of Filipino families being driven into deeper distress. Instead, the allocation for aid is decided based merely on the amount of leftovers from COVID-19 response funds that should have already been spent," the group said.
The financial aid will be funded by some P23 billion in unutilized funds that the government can tap from the Bayanihan To Recover As One Act, and will be enough to cover beneficiaries for more than a week.
As a result, said IBON, only a measly P1,000 is being allotted per individual including those who have already suffered joblessness, loss of incomes and livelihoods, and depleted savings after over a year of lockdowns.
"This is even less than two days of the NCR minimum wage of P537," the group said.
IBON added that the assistance looks even more meager compared to its estimated family living wage (FLW) of P1,064 as of February 2021.
The FLW is the amount needed by a family of five members each day to meet their basic needs.
"As it is, even the very few families getting the full amount of emergency cash aid under Bayanihan 1, Bayanihan 2 and this supplementary SAP would only have gotten around Php15,607 to help tide them over the 54 weeks of lockdowns since March 15, 2020," the group said.
"This is the sum of average assistance received under the SAP 1st tranche (P5,637) and SAP 2nd tranche (P5,970), and assuming a family gets the maximum P4,000 supplementary SAP today," it said.
IBON said that poor and low-income families in NCR Plus "deserve not just P1,000 but at least P10,000 in emergency cash subsidies to be distributed immediately, or ten times more than being offered after a year of lockdowns."
"This should even be given for at least three months and then to at least the poorest 18 million or even 22.5 million families," the group said.
"Substantial emergency cash subsidies will provide immediate relief to tens of millions of Filipinos as well as significantly spur aggregate demand to help the economy recover faster," IBON said. -MDM, GMA News