Filtered By: Money
Money
Economy can absorb BSP's 75 basis-point rate hike —Diokno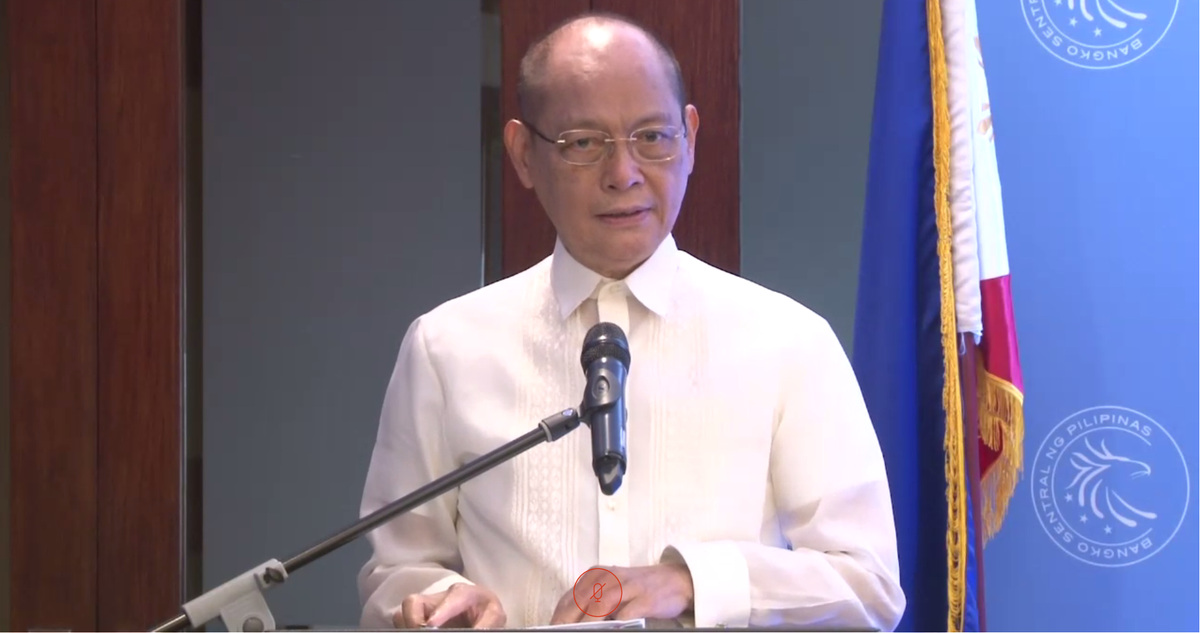 The economy is robust enough to absorb the Bangko Sentral ng Pilipinas' (BSP) surprise policy rate hike of 75 basis points, Finance Secretary Benjamin Diokno said Thursday.
"The [Development Budget Coordinating Committee's (DBCC)] target range for the GDP growth rate has been set to be able to incorporate the various pace of monetary policy normalization by the BSP," Diokno said in a statement.
The Finance chief made the statement after the BSP announced an hawkish 75 basis points' increase in key policy rates, bringing the overnight reverse repurchase facility to 3.25%, overnight deposit facility at 2.75%, and overnight lending facility at 3.75%.
The move is seen to slow down economic activity in a bid to temper inflation and brings the policy rates back to their pre-pandemic levels, or those seen in February 2020.
This is also the most aggressive rate hike of the BSP so far since the interest rate corridor was implemented in June 2016, and the first off-cycle adjustment since April 2020.
READ: Higher policy rates: How are you affected?
Interest rates are among the tools used by central banks to stabilize inflation through controlling money supply by raising borrowing costs.
Higher borrowing cost could make consumers and businesses spend less, therefore reducing economic activity or lowering demand and eventually lowering prices.
The Philippine Statistics Authority earlier reported that inflation—the rate of increase in the prices of goods and services—quickened to 6.1% in June from 5.4% in May and the downwardly revised 3.7% in June 2021.
This is also the fastest inflation print since the 6.9% recorded in October 2018 and the same reading seen in November 2018.
While higher interests could slow down economic activity, Diokno said, "remember [that] the economy was growing at that rate before the pandemic, when policy rate was at 4%."
The Finance chief was referring to the DBCC's adjusted economic growth rate assumption for 2022 at 6.5% to 7.5% gross domestic product (GDP).
"We estimate that the economy will be back to where it was before the pandemic by [the] middle of this year, or by the third quarter of 2022 at the latest. The BSP simply accelerated the normalization process," Diokno said.
The Philippines opened the year with a faster-than-expected economic growth of 8.3%, which compares with the 7.8% in the fourth quarter and the -3.8% the first quarter of 2021.
Diokno said that the national government will continue to adopt a gradual and calibrated path of fiscal consolidation to help sustain the strong growth momentum.
The Finance chief also said that the growth outlook is supported by the safe re-opening of the economy through loosened quarantine restrictions, as well as the positive impact of structural reforms, including the Corporate Recovery and Tax Incentives for Enterprises Act, the Financial Institutions Strategic Transfer Act, Rice Tariffication Act, and the amendments to the Foreign Investments Act, Retail Trade Liberalization Act, and Public Service Act. — BM, GMA News