Filtered By: Money
Money
Diokno touts Philippine gov't's infra strategy to attract US investors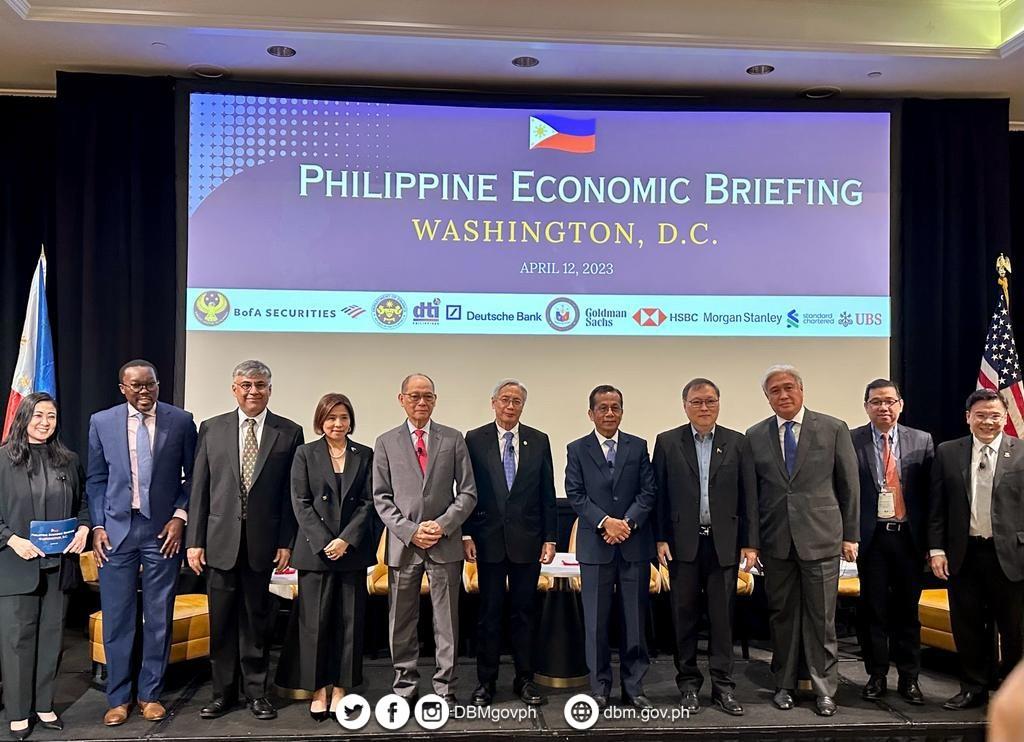 Finance Secretary Benjamin Diokno touted the Marcos administration's infrastructure spending strategy in a bid to attract American investors.
In a statement on Thursday, the Department of Finance (DOF) said Diokno briefed US investors on the country's growth agenda during the Philippine Economic Briefing (PEB), held on the sidelines of the World Bank-International Monetary Fund (WB-IMF) Spring Meetings in Washington, D.C., on April 12.

"Infrastructure spending is front and center of our growth strategy. We are committed to [reversing] the decades-long underinvestment in infrastructure: from 2001 to 2015, average infrastructure spending was only 2% of GDP," he said in his keynote speech.

The DOF said the government is determined to sustain high infrastructure investment for the next six years through the public-private partnership (PPP) mechanism, which will enhance energy, logistics, transportation, telecommunications, and water infrastructure in the country.

"Now, the spectrum of industries that foreign investors can participate in has grown wider than ever before. The economic liberalization measures that the Philippine government has enacted in recent years have opened up key high-growth sectors to international participation," said Diokno.

The amendments to the Retail Trade Liberalization Act (RTLA), the Foreign Investments Act (FIA), and the Public Service Act (PSA) relaxed restrictions on foreign investments in the country.

Likewise, companies engaged in solar, wind, hydro, and tidal energy are also welcome to invest in the Philippines' renewable energy (RE) sector now that it has been opened up to full foreign ownership.

The DOF said the Philippines also offers a simpler fiscal incentive system that is performance-based, time-bound, targeted, and transparent through the Corporate Recovery and Tax Incentives for Enterprises (CREATE) Law.

The agency said that from August 2021 to December 2022, total investment capital from approved priority activities with incentives under the CREATE Law has already reached P414.3 billion.

"[W]e invite you to take a look at our Strategic Investment Priority Plan, which identifies priority industries, projects, and activities that can be granted fiscal incentives under the CREATE Act," said Diokno.

The DOF said the SIPP serves as the primary basis for determining priority industries, projects, and activities that can be granted fiscal incentives under the CREATE Act.

National Economic and Development Authority (NEDA) Secretary Arsenio Balisacan told US investors that a total of 3,770 infrastructure projects with a funding requirement of $317.5 billion had been identified, to be financed through both local resources and investments and assistance from the private sector and development partners.
"Indeed, the Marcos administration has aggressively pursued several initiatives to encourage greater local and foreign investment and private sector participation in infrastructure development…we welcome and urge the investor community to consider placing its resources in the country's flagship infrastructure projects," said the NEDA chief.

Through the Medium-Term Infrastructure Program, the government will sustain infrastructure spending at 5% to 6% of gross domestic product (GDP) annually and program between $20 billion and $40 billion per year for infrastructure through 2028.

Budget Secretary Amenah Pangandaman said the Marcos government listed "194 high-impact and urgently-needed infrastructure flagship projects."

"These will be given top priority during the annual preparation of our government's budget," she said.

Speaker Ferdinand Martin Romualdez, meanwhile, said the Philippines' House of Representatives would pass measures to sustain the country's economic growth.

"We are committed to passing more measures that the Marcos administration may need to further enhance investment in the Philippines aimed at improving the lives of Filipinos. I urge foreign investors to stay the course with us and share the benefits of progress and development," Romualdez said during the PEB. —VBL, GMA Integrated News