Filtered By: News
News
Megamall robbery was carefully planned — police
Within a span of two minutes, six men last Saturday were able to rob two jewelry stores inside SM Megamall in Mandaluyong City.
On Tuesday, Mandaluyong police spokesperson Superintendent Cresenciano Landicho said the suspects carefully planned the robbery and may have done surveillance before conducting the heist.
"Base sa aming imbestigasyon, maaaring beforehand, nag-conduct na sila ng surveillance, inalam nila kung saan sila pwede pumasok at saan sila pwede lumabas," Landicho said in an interview with anchor Kara David on GMA News TV's News To Go.
"Kasi itong grupong ito, organisado, before sila mag-launch ng operation, gumagawa sila ng ganoon, they conduct surveillance muna," he added.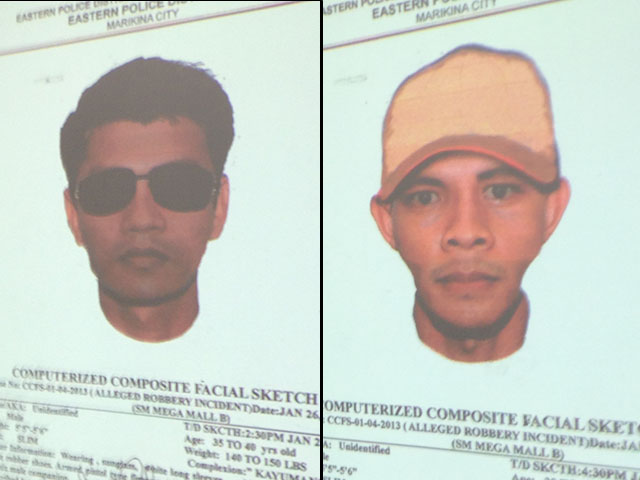 Police sketches of two of the robbers based on witnesses' descriptions. The man in the sunglasses carried the gun, said the police.
Police are now analyzing the mall's CCTV footage, which showed six suspects entered the mall via its supermarket entrance at 6:56 p.m., and entered and bought two wrenches from Ace Hardware at 7:04 p.m.
By 7:26 p.m., they proceeded to the jewelry stores at the upper ground floor of Building B and pulled off the heist after just two minutes, where they took 176 pieces of jewelry.
Landicho said the suspects fired a gun to startle mall goers so they can escape during the confusion.
The suspects then blended in with the crowd toward the exit before they could successfully escape from the perimeter, he said.
"Lahat gusto lumabas so doon sila so hindi na talaga mapapansin 'yung mga suspek kasi volume 'yung paglabas ng mga tao sa mall e," he added.
176 pieces of jewelry
Currently, 176 pieces of jewelry of the two robbed jewelry stores are now missing, the police said at a press conference Monday afternoon.
From the F&C Jewelry, 10 Saudi Gold rings, 21 earrings, 1 bracelet and 17 Saudi Gold chains have been reported missing, said Mandaluyong Police officer-in-charge Senior Superintendent Florendo Quibuyen.
On the other hand, 71 Saudi Gold necklaces, 52 Saudi Gold pendants and 4 Saudi Gold men's rings from the The Jeweler store are missing, Quibuyen added.
Police said the jewelry stores have yet to release the value of the missing 176 pieces of jewelry.
Security lapses
The Philippine National Police's Supervisory Office for Security and Investigation Agencies earlier said that lapses in mall security allowed several men to bring firearms into SM Megamall last Saturday.
According to Quibuyen, the CCTV footage showed that the man in the white, long-sleeved shirt was able to bring a gun into the mall despite the metal detectors.
"Nasa crotch 'yung baril, pero nakapasok. Mayroon silang hand-held [metal detectors]... hindi na-detect," he told GMA News Online.
For her part, Philippine National Police's Supervisory Office for Security and Investigation Agencies (PNP-SOSIA) Chief Inspector Vimelee Madrid said the laxity on the part of the mall security are now under investigation by the enforcement management division of SOSIA.
She said the mall security agency may account for the incident. "Iyon ang tinitignan po natin ngayon."
Lack of coordination
Meanwhile, Landicho said the police were able to respond to the incident within two to three minutes, but were unable to rush to the scene of the crime inside the mall right away.
He said the security at the entrance was not briefed about the incident, hindering responding policemen from reaching the area faster.
"Doon nagkakaroon ng delay rin dahil supposedly, ibi-brief kami kung saan o ano ang nangyayari sa loob. Dito sa instant case na ito, since napakalaki ng mall e, maski ang guard sa labas, hindi masyadong pamilyar kung anong nangyari sa mall," he said.
Asked by David if it is true that responding policemen were not allowed inside the mall immediately, Landicho replied: "Hindi naman sa ganon, kailangan kasi naming i-assess ang sitwasyon. Hindi naman pwedeng basta pumasok na wala kaming alam. Nasaan ba ang kalaban? Ilan ba sila? Ano ba ang mga armas nila? Syempre para pagpasok mo doon, alam mo ang gagawin mo."
Earlier, Quibuyen said there was a lack of coordination among the five different security agencies manning the security of the mall.
"Hindi masyadong smooth ang procedure ng mga security providers. Iba-iba kasi [ang agency], iba 'yung kontrata ng gate, sa grocery, department store, iba rin ata sa food services," he said at the press conference Monday.
In fact, because of lack of coordination, mall goers trapped inside SM Megamall at the time were the
first to call the police
, not the mall's security personnel.
Sketches of two suspects
Also on Monday, police released composite sketches of two of the suspects, based on descriptions given by employees of stores in the area.
Eastern Police District head Chief Superintendent Miguel Laurel said they found matches in their rogues' gallery of the suspects.
"May [sketch] based on description of employees ng jewelry store. Nakita natin may records ang dalawa," Laurel said in an interview on dzBB radio Monday afternoon.
One of the suspects was described as 5'5" to 5'6" tall, slim, and 30 to 35 years old. He was described as wearing a baseball cap and checkered polo, blue denims and white rubber shoes.
The second was described as 5'5" to 5'6" tall, slim, 35 to 40 years old, and wearing sunglasses, white long-sleeved shirt, blue denim pants and white rubber shoes.
SM statement
In a statement released Monday, SM spokesperson Ian Mathay said management is "cooperating with the Philippine National Police to ensure that the perpetrators of the robbery are arrested at the soonest time possible."
"We appeal for public cooperation as we continue to enforce our strict security standard operating procedures that include scanning through handheld metal detectors and physical inspection. Any act of negligence will be investigated and given proper action to help prevent similar incidents from happening in the future.
"We assure the public, including SM employees and tenants, that management invests on security prevention assets and policies including training, security devices and security personnel. SM Megamall management shall ensure that all Security personnel shall constantly perform their duties diligently to ensure safety and security at all times," the statement continued.
In a text message to GMA News Online, Mathay insisted that SM "has a substantial number of highly trained guards on duty at all times."
"They are given instruction to strictly enforce the use of handheld metal detector and conduct physical inspection of all mall goers," he added. "Further comments about security lapses will be reserved pending investigations." — Amanda Fernandez/RSJ/KG, GMA News