Filtered By: News
News
PNoy names Sereno new Chief Justice
President Benigno Aquino III on Friday chose Associate Justice Lourdes Sereno, 52, as the nation's 24th Chief Justice, replacing Renato Corona who was convicted by the Senate impeachment court in May. One of three Aquino appointees to the court, the UP Law valedictorian is expected to be Chief Justice for the next 18 years, or until she reaches the mandatory retirement age of 70. She is the first woman Chief Justice, and the second youngest ever.
"In the midst of this period of deep mourning for the loss of Interior and Local Government Secretary Jesse Robredo, the President is cognizant of his constitutional duty to appoint the next chief justice of the Philippines. He has therefore decided to appoint Associate Justice Maria Lourdes Punzalan Aranal-Sereno as the 24th Chief Justice of the Supreme Court," according to a statement by the Office of the Presidential Spokesperson.
"The President is confident that Chief Justice Sereno will lead the judiciary in undertaking much-needed reforms. We believe the Judicial Branch of government has a historic opportunity to restore our people's confidence in the judicial system," the statement added.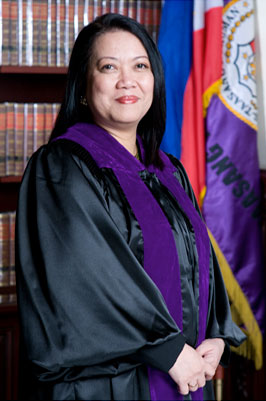 "She is very disciplined in her interpretation of the law, and makes decisions based on the national interest," said Tony Laviña, the Dean of Ateneo's School of Government who has known Sereno for more than 30 years. "I have always admired her tenacity to argue. She is pro-poor and a fighter. Her heart is in the right place." Hours after her appointment, Sereno emerged from the Supreme Court building in Manila and assured the public of her independence, saying that she would stick to her oath of office throughout her 18-year term.
"I assure our countrymen that I will keep my oath of office faithfully to the end of my term. That would be something they can rely on," Sereno told reporters as she was leaving the SC Friday night.
"Everyone can be assured that [independence] will be something they will see," Sereno added.
Dissenter during Corona impeachment trial
The eight-member JBC submitted its shortlist of recommendees on August 13, which included, besides Sereno, acting Chief Justice Antonio Carpio (with seven votes) and Associate Justices Roberto Abad, Arturo Brion, and Teresita De Castro.
Also included were Solicitor-General Francis Jardeleza, Ateneo De Manila University Law Dean Cesar Villanueva, and former Executive Secretary Ronaldo Zamora.
The 52-year-old Sereno will be replacing ousted Chief Justice Corona, who was unseated last May 29 after being found guilty of hiding around P200 million in several bank accounts. During the Chief Justice search, the most senior associate justice next to Corona - Carpio - took over as acting Chief Justice. Carpio was also considered a favorite for the job.
Sereno is one of President Benigno Aquino III's three appointees to the Supreme Court. The two others are Associate Justices Bienvenido Reyes and Estela Perlas-Bernabe.
Sereno was a known dissenter in Supreme Court resolutions related to the four-month impeachment trial of Corona. Sereno was a dissenter when the high court stopped the Senate impeachment trial from opening Corona's dollar accounts with the Philippine Savings Bank.
She also wrote a "partly" dissenting opinion when the high court ruled to give prosecutors in the impeachment court limited access to court documents. She branded the move a "censure and curtailment" of a justice's constitutional right to explain her opinion.
When she was publicly interviewed by the Judicial and Bar Council last July 27, Sereno openly expressed her preference that an "insider" or one of the sitting SC magistrates should be chosen to lead the high court instead of an "outsider."
She said choosing an outsider would be like sending a civilian to lead troops in war.
"Kung outsider ang ia-appoint, para kang nag-appoint ng sibilyan para pamunuan ang isang giyera," said Sereno.
In the same public interview, Sereno said she opposes a "personalistic" leadership of the SC, and instead advocates a "community-based" vision for the high court.
"Ang kaya kong dalhin sa Supreme Court ay isang judiciary na matapang at may accountability," she said.
The UP Law graduate assured the public she would neither get "bored" nor "burned out" if she gets selected the next chief justice and holds on to that post for 18 years.
She is one of the youngest aspirants for chief justice. Justices of the Supreme Court vacate their posts when they reach the retirement age of 70.
"Bakit ako magkakaroon ng burnout kung napaka colorful ng aking naging 52 years. Bakit po ako mabobore kung magaganda ang pahiwatig ng next 18 years?" she said.
She also said she will take on the task of leading much older justices.
"Ang pag-preside sa mga taong nakatatanda sa akin ay hindi na bago sa akin," she said, pointing out also that as far as the candidates are concerned, she is actually one of the more senior people.
Corona impeachment
During the Corona impeachment trial, prosecutors had wanted to send Sereno to the witness stand and testify against her fellow magistrate.
In a letter dated February 29, however, Sereno declined the request.
"I understand, however, that the termination of the presentation of evidence by the Prosecution Panel yesterday and reiterated today before the Impeachment Court has superseded your invitation," Sereno wrote in her letter to prosecutors.
The letter was not clear on whether Sereno would testify had the prosecution not rested its case.
The prosecution had used Sereno's dissenting opinions on the temporary restraining order (TRO) on the watch list order against former President Gloria Macapagal-Arroyo to prove Corona's partiality and how he tried to influence the outcome of the ruling.
Before becoming Associate Justice, Sereno was executive director of the Asian Institute of Management, consultant for judicial reform of the United Nations Development Program, and legal counsel of various government agencies including the Office of the President, Office of the Solicitor-General, Manila International Airport Authority, Department of Agriculture, Department of Trade and Industry, WTO-AFTA Commission, and the Philippine Coconut Authority.
She earned her undergraduate degree from Ateneo de Manila University and her law degree from the University of the Philippines Diliman, where she graduated cum laude and valedictorian.
Hacienda Luisita
On the Hacienda Luisita issue, Sereno said she was not necessarily against the farmers when she voted in April that the Cojuangcos should get just compensation based on 2006 valuation of the land and not 1989 as claimed by the farmers. Her vote, along with five other dissenting magistrates, lost against the majority's eight votes, who set just compensation to 1989 real property rates. "Formula sa computation at hindi halaga ng pera ang nakasaad sa aking dissenting opinion... Wala pong katotohan na nais ko pahirapan ang mga magsasaka," Sereno clarified. Sereno said that while she acknowledges there was "historic injustice" in the Hacienda Luisita land dispute, she cannot correct it. "The Supreme Court is not in a position to correct a historic injustice if it is not in conformity with the law," she said. "It is not our role to make policy choices. Our duty is to apply the law and make sure it conforms with the Constitution," she added.
New JBC search
With Associate Justice Ma. Lourdes Sereno's rise to the top judicial post, the Judicial and Bar Council (JBC) will once again have to look for someone to fill in her vacated post.
The eight-member JBC is mandated by the 1987 Philippine Constitution to screen applicants for vacant judicial and office of the ombudsman and deputy ombudsman posts, and come up with a shortlist from where the President will select an appointee.
JBC regular member for the academe Jose Mejia told GMA News Online that their council will now have to start a fresh search for a new Supreme Court associate justice due to Sereno's appointment.
"JBC has again to start the process of screening applicants for the vacant associate justice post," Mejia said.
There are only 14 Supreme Court magistrates, one magistrate short of the 15-member body due to the unseating of former Chief Justice Renato Corona.
Corona was ousted after being found guilty of betrayal of public trust and culpable violation of the Constitution for hiding some P200 million in several bank accounts while in public service.
Following Corona's removal, the JBC two months ago started the rigorous task of screening applications for the vacated chief justice post. Last August 13, the JBC finally came up with an eight-name shortlist.
Apart from Sereno, the shortlist also included acting Chief Justice Antonio Carpio (with seven votes) and Associate Justices Roberto Abad, Arturo Brion, and Teresita De Castro.
Also included were Solicitor-General Francis Jardeleza, Ateneo De Manila University Law Dean Cesar Villanueva, and former Executive Secretary Ronaldo Zamora.
Asked what she thought of President Benigno Aquino's decision to appoint Sereno as top judge, Mejia said she was "very qualified and deserving of the appointment."
For more information about Sereno, click
here.
— RSJ/HS, GMA News