Filtered By: News
News
Manila Zoo remains firm vs sending Mali the elephant to sanctuary abroad
(Updated 7:10 p.m.)
As pressure mounts from different groups and individuals, Manila Zoo remains firm on their stand against their lone elephant Mali's (full name: Vishwa Maali) being transfered to an elephant sanctuary abroad.
In a phone interview with GMA News Online Tuesday, veterinarian Donald Manalastas, division chief of the zoological division of Manila Zoo, insisted that Mali is better off in their custody.
Manalastas stresed that with Mali's age, the chances of the 38-year-old lone elephant surviving the trip to Thailand is low.
"Maali is 38 years old, matanda na siya," said Manalastas. "Ganito po ang mangyayari, ilalagay siya sa crate, ilo-load sa truck, ilalagay sa eroplano, pagdating ng Thailand, i-unload ulit at ilalagay sa isang quarantined area, tapos biyahe ulit sa truck, at transfer ulit..."
"Maselan ang proseso. Compare mo ito sa ating lolo at lola, hindi ba nahihirapan silang mag-travel? To think na komportable na sila niyan ah. Isipin mo, you will put Mali in that situation," he added.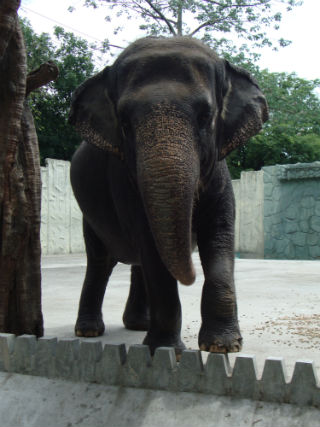 Mali has been in captivity at the Manila Zoo for 35 years. Photo courtesy of PETA
PETA's recommendation
Animal rights group People for the Ethical Treatment of Animals (PETA) had recommended that Mali be transferred to an elephant sanctuary in Thailand that can provide proper care, rehabilitation, and the company of other elephants.
Since then, PETA has received several support from local and international organizations and individuals for their call to transfer Mali.
In a statement released Tuesday, PETA said more than 40 animal protection organizations from around the globe—such as Earth Island Institute, Animals Asia, the Humane Society International, the World Society for the Protection of Animals (WSPA), the International Veterinary Society, and the European Elephant Group—have joined their call for Mali's transfer.
"Keeping a single female elephant in limited space in inadequate captive conditions is also severely damaging to the animal's mental health," said WSPA. "For such social animals to be deprived of social interaction with other elephants clearly causes the animal acute suffering."
According to PETA, Mali in her current environment is denied of everything that is natural and important to her. "But in a sanctuary, she would have acres in which to roam, rivers and ponds to bathe in, and the crucial company of other elephants," it added.

Can't survive the trip?

But Manalastas maintained that PETA couldn't give him a 100 percent assurance that Mali would survive the trip.
"Sinabi ko sa PETA, give me a 100 percent assurance na Mali will survive the trip. They won't give me a 100 percent she could survive the trip. Sabi lang nila, ilalagay daw sa state-of-the-art crate si Mali but they can't assure me that Mali will survive. Alam kasi nilang matanda [si Mali] at mataas ang risk," he said.

Refuting this, PETA said many elephants of Mali's age or older have been successfully transferred.

"Transporting elephants is a common practice, and if it's done carefully, it can be done without causing significant stress to the animal," said PETA in a separate e-mail to GMA News Online.

Assimilation

Another of Manila Zoo's concerns is the possibility that Mali won't be able to assimilate well back into the wild, said Manalastas.
"Kung hindi naman, kung mag-assimilate nga si Mali, ang problema baka ma-ostracize siya. Baka ayaw ng herd sa kanya," he added.

PETA, on the other hand, said wild animals retain their instincts despite many years in captivity.

"Science tells us that animals retain their natural drives, even after years or decades in captivity," said PETA. "A sanctuary will offer Mali acres in which to roam and explore, ponds to bathe in, fresh vegetation to eat, foraging opportunities, and, most importantly, the company of other elephants—all while under 24-hour supervision by elephant experts."
Protected contact training
Recently, Mali has been undergoing training from volunteers to address the potential fatal foot problems she is facing.
"We are addressing it; there are volunteers, Wild Life Experience, who conducts training—Protected Contact Training—which is a subtle way of training a wild life," said Manalastas.
"A month and a week ago nagsimula 'yung training. Tini-train siya to fix the foot problem," he added.

But PETA stressed that Mali will continue to suffer if it will stay at the zoo.

"At the Manila Zoo, Mali is already at risk of developing many health problems, and it has already been demonstrated that the veterinarians there lack the necessary experience in caring for elephants. All elephants at reputable zoos around the world have blood work performed at least once a year and receive regular foot care," it said.
See first before commenting?
Besides international groups, several popular individuals have joined PETA's campaign to transfer Mali. Among them are Brigitte Bardot, a popular sex symbol in the 1960's, and former The Smiths frontman Morrissey.
"On behalf of PETA Asia, I ask that you send Mali to a sanctuary, where she would have room to roam and be able to be among other members of her own species," wrote Morrissey in a letter to President Benigno Aquino III.
On the other hand, Manalastas recommends seeing Mali first before commenting.
"They are commenting without seeing Mali," he said. "They have written a letter to the President without seeing Mali. Tignan mo kung hindi talaga maligaya si Mali."
"'Yung mga foreign group na 'yan, hindi pa nakikita si Mali. Unfair for us na sinasabing lonely siya. She is not lonely. Iba 'yung alone sa lonely. You can be alone but not lonely. Hindi porket nag-iisa ka, lonely ka na," he added.
"Nag-request na kami sa Office of the Mayor for the renovation and upgrade ng encloser ni Mali," he added.

Elephants need to be around other elephants

According to PETA, the company of other elephants is extremely important to the well-being of an elephant.

"For elephants, the herd is everything. Females stay with their families for their entire lives, and males stay until their pre- or early teens. These complex and social animals need other elephants in order to live a fulfilled and happy life," said PETA.

"Housing an elephant alone is unanimously condemned by experts worldwide, and in fact, no zoo association approves of keeping a female elephant alone. Sanctuaries routinely introduce elephants—many of whom have spent decades alone—to their herds with great success," it added.

"At a sanctuary, Mali will be able to choose how she spends her days and whom she spends them with. She will start out with a 5-acre pen (she now has about one-quarter of an acre) with hills, a pond, and elephants around her separated by a fence, whom she can interact with if she chooses. After she gains confidence and learns from the other elephants, she will have 500 acres to play in and interaction with animals of her own kind," said PETA.— RSJ/KBK, GMA News