Filtered By: News
News
Youth wins: Younger crop of candidates prevails in polls
While much was made of the "Catholic vote" during the run-up to this year's elections, another factor appears to have had substantial impact in influencing people's votes: the age of the candidate. With most votes in, the people have spoken—and they want a younger set of senators to lead the legislature. The candidates that have so far made it into the "Magic 12" have an average age of 46.4 years old, significantly lower than the average age of incumbent senators of 58 years old. Even the average age of all 33 senatorial candidates—53 years old—is lower.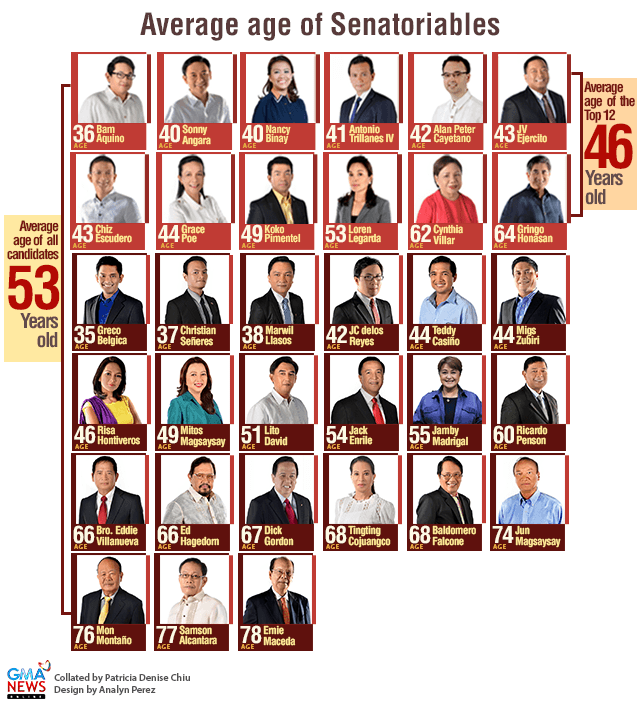 Eight of the "Magic 12" are in their 40s while the youngest, presidential cousin Bam Aquino, is only 36. Gringo Honasan, 64, and incumbent senator Manny Villar's wife Cynthia, 62, were the only two candidates past 60 who broke into the Top 12. Both are also at or near the bottom of the tier.
The incumbents
Among the sitting senators of the 15th Congress, reelectionist Senator Antonio "Sonny" F. Trillanes IV is the youngest at 41. Trillanes is also in the list of Top 12 candidates with the most votes so far. Meanwhile, the 15th Congress also has two octogenarians—Senate President Juan Ponce Enrile, 89, and Senator Joker Arroyo, 82.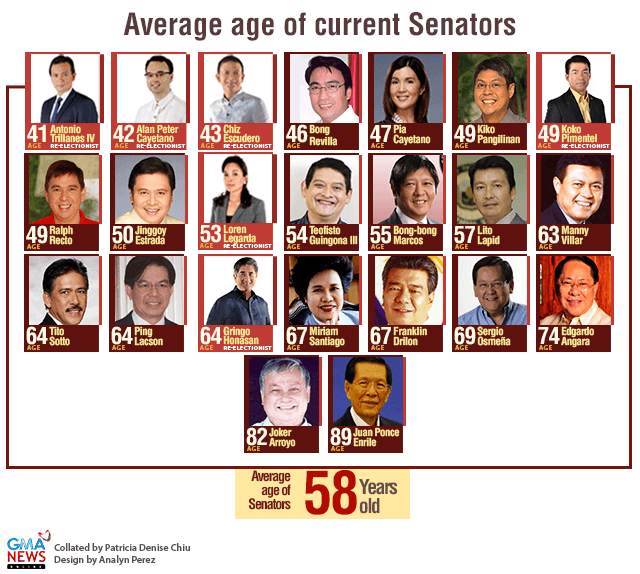 The youth vote
Ateneo de Manila University (ADMU) political science professor Benito Lim said the preference for younger candidates may stem from the fact that most voters this time are middle-aged and younger. "Sa mga mukha pa lang nila, kita na, majority of them are young," Lim said of the senatoriables in the Top 12. "Ganito kasi majority of voters are young, or middle-aged and below, around 35 or younger," Lim told GMA News Online in a phone interview. Lim attributed the trend of young voters voting for young candidates to voters' desire for change. "It's because of their [the voters'] experience, and what happened in the past. You have all these older candidates who promised everything when they ran, but nothing happened," Lim said, adding that recent events leading up to the May 13 midterm polls may have also pulled the public's favor towards the younger set. "[The younger set is] more adventurous, at wala pa silang ginagawang masama," Lim said, adding that on the contrary, some notable young candidates have gone head to head with the more senior senators. "If you remember, sila Trillanes, Loren, Cayetano, pati si Grace Poe, they took a stronger stance. Both Trillanes and Cayetano went against Enrile very publicly," Lim said. Meanwhile, Lim believed that it was Poe's refusal to be cowed by UNA that helped her gain a lot of votes. "Lumaban siya kila Binay at Estrada, pinakitang hindi siya utos-utosan. She exhibited independence," he said.
— BM, GMA News