Filtered By: News
News
Sandiganbayan Justice Gregory Ong dismissed over Napoles link
(Updated 3:25 p.m.)
Voting 8-5-2, the Supreme Court on Tuesday dismissed Sandiganbayan Associate Justice Gregory Ong from service over his links with alleged pork barrel scam mastermind Janet Lim-Napoles.
At a press briefing, SC Public Information Office chief and spokesman Theodore Te said the Supreme Court sitting en banc found Ong guilty of gross misconduct, dishonesty and impropriety.
Te said Ong's dismissal came with the "forfeiture of all retirement benefits, except accrued leave benefits, if any, and with prejudice to reemployment in any branch, agency or instrumentality of the government including government-owned and controlled corporation."
The SC said its decision was "immediately executory."
The SC earlier this year initiated an administrative case against Ong following reports of his links with Napoles. Leading the investigation was SC Associate Justice Angelina Sandoval-Gutierrez, who was recently appointed by President Benigno Aquino III as member of the Judicial and Bar Council.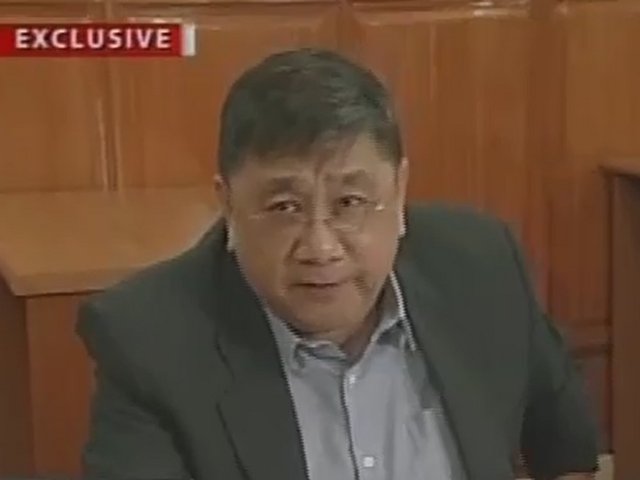 Sandiganbayan Associate Justice Gregory Ong
During the investigation, Ong was made to explain why he had been identified by Marina Sula and Benhur Luy, whistleblowers in the alleged pork barrel scam case, as a Napoles contact.
Sula had said in her affidavit that she had seen Ong visit Napoles at her office at the Discovery Center in Ortigas. She said she saw the two conversing in the office conference room.
Kevlar helmets
Ong is the chairman of the Sandiganbayan's Fourth Division, which had acquitted Napoles in a malversation thru falsification of public documents case. The case involved the sale of 500 Kevlar helmets to the Philippine Marines in 1998.
After her investigation, Gutierrez said that Ong had acted as contact of Napoles in connection with the Kevlar case while it was pending in his division. "Ong, being Napoles' contact in the Sandiganbayan, fixed the Kevlar case resulting in her acquittal," said Gutierrez.
She added that Ong had received an "undetermined amount of money" from Napoles prior to the promulgation of the decision on the Kevlar case. This made Napoles confident of her acquittal, Gutierrez added.
Ong also allegedly went to Napoles' office where she handed him 11 checks, each amounting to P282,000.00 or a total of P3,102,000.00 "as advanced interest for his P25.5 million BDO check she deposited in her personal account."
Gutierrez said Ong visited Napoles' office on two occasions after participating in the decision in the Kevlar case.
Contrary to Ong's claim, Gutierrez also found out that he attended Napoles' parties and was photographed with Napoles and Senator Jinggoy Estrada, an accused in the pork barrel scam case.

Partygoer
Gutierrez also emphasized Ong never mentioned his visit to Napoles in his letter to Chief Justice Maria Lourdes Sereno dated September 26, 2013, in which he denied attending any party or event hosted by Napoles or her family.
Gutierrez also noted how Luy and Sula "testified in a candid, straightforward, and categorical manner. Their testimonies were instantaneous, clear, unequivocal, and carried with it the ring of truth."
She said the testimonies that the two made before her were consistent with their testimonies before the Senate Blue Ribbon Committee. She described the whistleblowers as "credible, honest, trustworthy and untainted with bias."
The SC en banc adopted Gutierrez's findings.
"While the evidence was insufficient to sustain the bribery and corruption charges as both Luy and Sula did not witness Ong actually receiving money from Napoles, the Court nonetheless found credible evidence of Ong's association with Napoles after the promulgation of the Kevlar case," said the SC PIO.
The SC said it couldn't merely consider Ong's misconduct as being "simple because his association with Napoles had dragged the judiciary into the pork barrel controversy which initially involved only legislative and executive officials."
Grossly improper visits
The SC said Ong's visit to Napoles' office was grossly improper and in violation of Section 1, Canon 4 (Propriety) of the. New Code of Judicial Conduct, stressing that a judge must not only be impartial but also appear to be impartial. "Fraternizing with litigants tarnishes this appearance," said the SC.
His dishonesty, meanwhile, was in violation of Canon 3 (Integrity) of the New Code of Judicial Conduct.
"(The SC) concluded that Justice Ong was no longer fit to remain as a magistrate of the special graft court," the SC PIO said.
Napoles, currently detained on illegal detention charges and is facing separate graft and plunder charges, is accused of using bogus non-government organizations to misuse lawmakers' Priority Development Assistance Fund (PDAF), the formal name of pork barrel.
Assistant Prosecutor Rohermia Jamsani-Rodriguez had alleged that the anti-graft court's Fourth Division simultaneously heard two cases together, with Ong hearing one case by himself, while the two other magistrates heard the other.

The Sandiganbayan's Fourth Division compromised their ability to function as a collegial body when its three members heard two cases simultaneously, the Supreme Court said in its ruling.
—
KBK, GMA News