Filtered By: News
News
PHL press caught out by last-minute execution reprieve
(Updated 5:39 p.m.) Several Philippine newspapers were caught out Wednesday by a last-minute reprieve for a young woman facing execution in Indonesia, running front-page headlines bidding her farewell and accusing the government of failing to save her.
"Death came before dawn," read the Philippine Daily Inquirer's dramatic headline, above a large photograph of condemned Filipina maid Mary Jane Veloso, 30, whose plight has captivated the nation.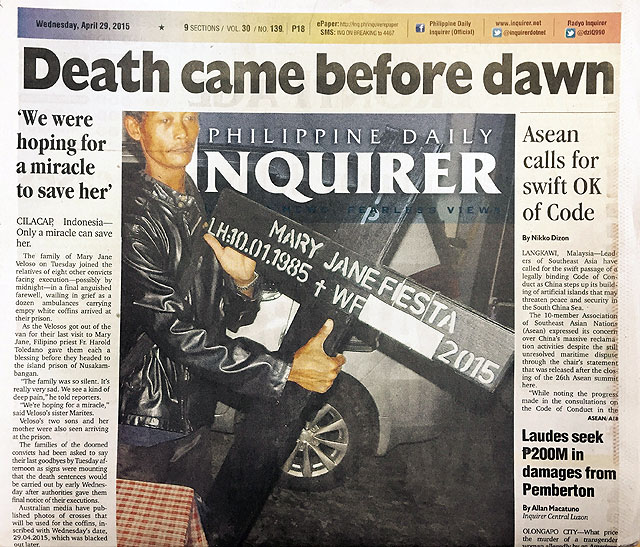 Manila's best-selling Filipino-language tabloid Abante ran a black-themed front page together with a picture of Veloso, head bowed, and a headline in capitals that translates as: "Farewell, Mary Jane."
Indonesia defied global anger to execute seven foreign drug convicts and a local man by firing squad in the early hours of Wednesday, but spared Veloso at the 11th hour in a decision her ecstatic family welcomed as a "miracle."
Veloso claimed an international trafficking gang tricked her into bringing 2.6 kilograms (5.7 pounds) of heroin to Indonesia from Malaysia five years ago as she chased a nonexistent job as a domestic worker.
Indonesian President Joko Widodo granted an 11th-hour reprieve after a woman suspected of recruiting Veloso turned herself in to authorities in the Philippines.
However the news of the canceled midnight execution came too late for most Filipino newspapers rushing to put out their final print editions.
"PNOY IS TO BLAME," the tabloid Standard's headline read, referring to criticism over the supposed "negligence" of the government of Benigno Aquino III, using media shorthand for his nickname—President Noynoy.
More eggs on more faces. Manila subStandard can make a huge omelette. Lol. Disgracegful spin that boomeranged. pic.twitter.com/kZ0gVxtxZr

— Jim (@Jimparedes) April 29, 2015






"All hopes fade," the Manila Times concluded, while the Manila Bulletin reflected the drama across three editions with the evolving headlines "We're hoping for a miracle", "No delay in execution" and finally, "Veloso granted reprieve".
The erroneous print-edition headlines swiftly became fodder for ridicule, with the online news site Coconuts Media running an item chiding the media for "killing" Veloso.
One Facebook user posted a composite picture of the front page snafu together with one of US president-elect Harry Truman holding a copy of the famous Chicago Tribune headline "Dewey Defeats Truman".
"Proof that journalism hasn't really changed much in the past six decades," the caption read.
Newspapers air their side
Manila Bulletin associate editor Ed Bartilad stressed that the paper's third and last print edition bore the headline about Veloso's reprieve. The "No delay in execution" was the broadsheet's second edition, while the first one said, "We're hoping for a miracle."
Meanwhile, an editor from Abante who refused to be identified said that they had no choice since they close their stories at 12 midnight. Thus, they had no time to change the headline. The news on Veloso's delay in execution came during the first hours of Wednesday.
A statement of the Philippine Daily Inquirer said that they "deeply regret" running an erroneous headline on their print edition.
@Jimparedes Thanks for the feedback. Our statement on the matter. pic.twitter.com/I3PZ7uy0AJ

— Phil. Daily Inquirer (@Team_Inquirer) April 29, 2015


But they emphasized that their other platforms such as mobile, radio, social, and web have been updated on Veloso's last minute reprieve.
"We promise our readers to do a better job. We are revamping newsroom processes to better inform and serve our readers and stakeholders.
"We share in the nation's joy: Mary Jane lives!" its statement wrote.
On the other hand, The Manila Times stood by its headline "All hopes fade," saying there is nothing wrong or erroneous about it.
"While our banner did say that hopes were fading, our standfirst or deckhead read 'Recruiter' surrender may be Mary Jane's 'last chance - Aquino'," The Manila Times Managing Editor for Print and Online Ares Gutierrez said in a statement.
Guiterrez added that at the time he signed off the page to the press, cable channels and wire services as well as their other sources were reporting that the executions will go on as scheduled. But, the Times made sure not to refer to the executions in the past tense because they have not happened yet, he said.
"Like the other newspapers, we have a press deadline to meet. The actual execution and the announcement of the decision to spare Mary Jane happened very early in the morning which was way past our regular deadline as well as the remat cut-off that was set specially set for last night's situation," he added.
Nonetheless, our Web team stayed up til the wee hours to monitor the developments in Indonesia and we were able to break the reprieve at 2:32 am (our time stamp). The Times also updated the banner story on it's website's landing page first thing in the morning," Gutierrez also said.
"All editors and reporters who were on board covering the Mary Jane Veloso case had a tough night. Judgement calls had to be made. We at the Times believe we made the right call," he stressed.
— Agence France-Presse with Trisha Macas/KG/RSJ, GMA News

Photo of Philippine Daily Inquirer front page by GMA News