Filtered By: News
News
FOR BARANGAY, SK ELECTIONS
Comelec destroys over one million excess, spoiled, defective ballots
The Commission on Elections on Friday destroyed 1,056,154 excess, spoiled and defective ballots that were printed for the barangay and Sangguniang Kabataan elections scheduled on Monday, May 14, 2018.
Comelec Printing Committee Vice Chair Ma. Victoria Lucero said 511,401 of these ballots were for the barangay election while 544,753 were for the SK election.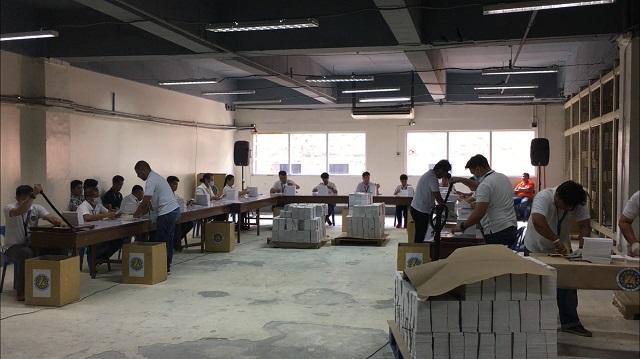 A total of 1,056,154 excess, spoiled, and defective ballots were destroyed on Friday, May 11, 2018 by the Commission on Elections. Tina Panganiban-Perez
The excess SK ballots included those printed in 2016 and 2017 for voters who are now over 30 years old and can no longer vote for SK candidates.
Many of the ballots were for Luzon and Visayas voters.
No ballots for Mindanao were printed in 2017 after elections were suspended there because of the imposition of martial law.
Lucero said each ballot costs P3.00, which includes expenses for the paper, ink, electricity and use of the National Printing Office (NPO) facilities.
NPO will replace defective and spoiled ballots.
The ballots were kept "under lock and key" in the NPO storage facility under tight guard of Comelec security personnel 24/7.
Lucero assured the public that no excess, defective and spoiled ballots will be illegally brought out of the NPO and be used in Monday's election.
Comelec personnel are frisked before leaving the area where the ballots are being destroyed. There are CCTV cameras in the area also.
Lucero explained, "Only Comelec can destroy ballots with notice to citizens' groups and the media to build confidence."
The destroyed ballots will be stored by the Comelec. —KG, GMA News