Filtered By: News
News
PHL, Indonesian navies wrap up coordinated border patrol activities
The first leg of the Border Coordinated Patrol of the Philippine and Indonesian navies has ended, with the aim of securing the common border between the two countries and stop maritime and sea crimes including smuggling and piracy.
The patrol ships of both countries were expected to have reached their final point in the territorial waters of Indonesia along the Celebes Sea on Saturday.
The Philippines and Indonesia have increased their coordinated border patrol activities this year to suppress smuggling and human trafficking in the high seas in both countries.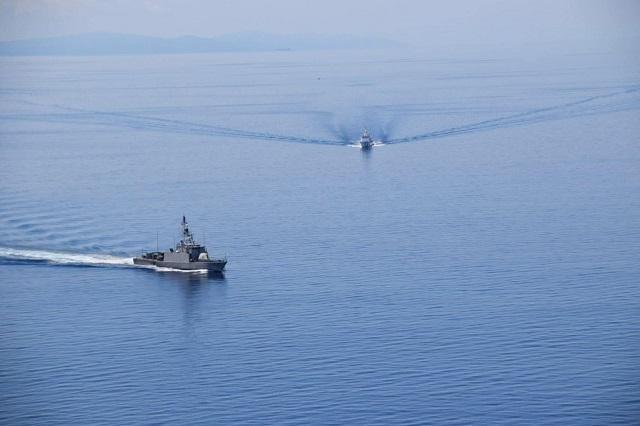 Naval ships of the Philippine Navy and the Indonesian Navy conduct patrol and sea maneuvers during their Coordinated Patrol on May 4, 2019. PIO EastMinCom
The Border Coordinated Patrol was formally opened on May 2 at the Pinnacle Hotel, Davao City, and the send-off ceremony was held last May 4, which signaled the start of the first leg of the activities.
The second and third leg of the activities in the middle of the year will focus more on maritime and security patrol activities, while the fourth leg will be a combination of exercises and border patrol activities, the Armed Forces of the Philippines said in a statement.
The Philippines and Indonesia signed the Border Patrol and Border Crossing Agreements in 1975 aimed at improving maritime security cooperation.
"This coordinated naval operations which we are conducting annually, strengthens the bilateral cooperation of the two countries in securing the border and, as we increase the frequency of our coordinated plus our unilateral and independent patrol, we will be able to deter, and curb sea crimes; and prevent terrorists from using the border as transit point" said Lieutenant General Felimon Santos Jr., commander of AFP's Eastern Mindanao Command. —Jamil Santos/KG, GMA News