Filtered By: News
News
Duterte orders PHL Navy: Blow pirates in Sulu Sea, Celebes Sea 'to kingdom come'
President Rodrigo Duterte instructed the Philippine Navy to rid Sulu Sea and Celebes Sea of pirates in order to reduce incidents of piracy in those waters.
In his speech during the celebration of Bonifacio Day in Caloocan City on Saturday, Duterte said Chinese trawlers have been sailing international waters and nobody could stop them while they are in the high seas.
"But if you commit piracy or piracy if you may, then that gives any nation the right to blow you—to blow you to the high heavens. And we are beset with piracy in the Celebes, Sulu Sea, and the Indonesian waters," he said.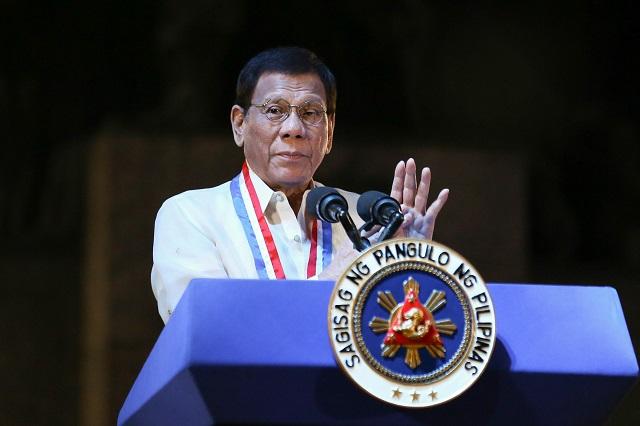 President Rodrigo Roa Duterte delivers his speech during the commemoration of the 156th birth anniversary of hero Andres Bonifacio at the Bonifacio Monument in Caloocan City on Saturday, November 30, 2019. Albert Alcain/Presidential Photo
"And my orders to the Navy, I repeat, my orders to the Navy, is that if they are positive that they are pirates, you blow them to kingdom come. Patayin mo na lahat at matapos na ang problema ko at ng Pilipino," he added.
Duterte said he already talked with Indonesian President Joko Widodo and Malaysian Prime Minister Mahathir Mohamad on the problem of piracy in waters surrounding their countries.
"I said it's high time that we form a task force, not really intruding into the waters of other countries but just patrol your areas incessantly and accurately," he said.
"And I will do my share in the Sulu Sea and the sea in here, Jolo," he added.
In 2017, the Philippines and Indonesia jointly patrolled the Celebes Sea to stop Islamist militants from reaching Mindanao.
The joint patrol aimed at strengthening border security and improving interoperability.
Prior to that, the Philippines, Indonesia and Malaysia also jointly patrolled their common maritime borders in the Celebes Sea and Sulu Sea. —Erwin Colcol/KG, GMA News