Filtered By: News
News
Leachon: Reduction of one-meter physical distance in public transport reckless, might increase COVID-19 cases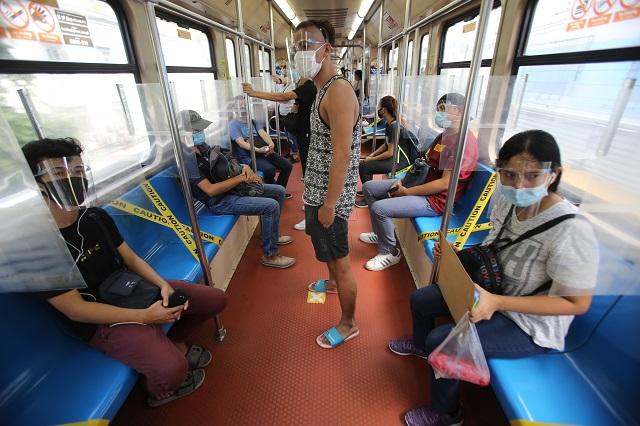 The gradual reduction of physical distancing in public transport implemented by the Department of Transportation is reckless and might increase COVID-19 cases in the country, a former adviser to the Inter-Agency Task Force warned Monday.
Dr. Tony Leachon was referring to the policy reducing the required physical distancing in public transport from one meter to .75 meters this week, .5 meters next week and .3 meters next, next week to supposedly optimize physical distancing and allow more people to go to work amid COVID-19 pandemic.
"The move of the DOTR is not aligned with the mandate of other agencies. The mandate of the DOH is to require one-meter distance based on WHO standard. DILG has the mandate to separate COVID-19 patients and send them to hospitals or quarantine facilities. Imagine DOH and DILG doing their job to reduce the virus transmission and here you have DOTR opposing the views of leading agencies," Leachon said in an ANC interview.
"This will be risky, reckless, counter-intuitive and will derail the flattening of the curve in the National Capital Region which will aptly affect the entire Philippines. We have flattened the curve, but that is not completely irreversible. We will cause resurgence of cases if we are reckless in our measure," he added.
Leachon said that the one-meter physical distance between individuals is the bedrock of preventing virus transmission, and that wearing a face mask or face shield is just a complement to this basic preventive measure.
"The one-meter social distancing is backed by international safety standards. You cannot bend the rules to perk up the economy," he said.
Instead of reducing one-meter physical distance between individuals, Leachon pitched that the government must deploy more jeeps and buses, as well as require government offices to provide shuttle service for their employees amid the COVID-19 pandemic.
"There will be no reopening of the economy unless you reduce the virus transmission. That is a basic tenet in epidemiology. We always welcome the opening of the economy, but not at the expense of health standards," he added.
The Health Department already issued a statement early Monday calling on the public to follow one-meter physical distancing protocol.
Interior Secretary Eduardo Año also said providing additional mass transport vehicles for commuters is better than reducing the physical distancing among passengers.
DOTr Undersecretary Artemio Tuazon, in an interview on Unang Balita, said The implementation of reduced physical distancing is based on studies of experts in railways and medical fields.
The Philippines has recorded 261,216 COVID-19 cases thus far. Of this number, 207,568 recovered while 4,371 died.
The number of active cases is at 49,277.—AOL, GMA News