Filtered By: News
News
Efficient vaccination needed amid surge in COVID-19 cases —OCTA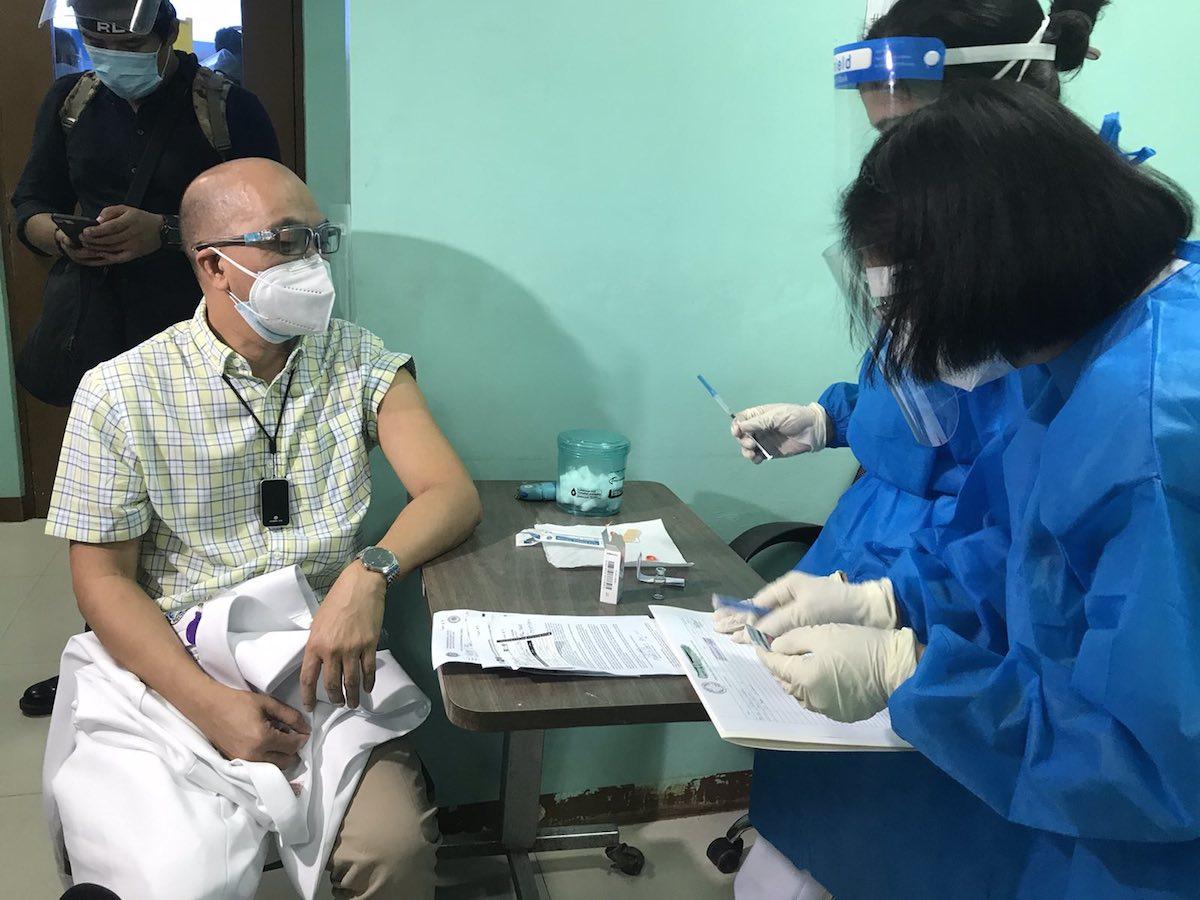 The OCTA Research group called for an efficient deployment of vaccines in the next two weeks to ensure health workers are inoculated as it noted "significant positive growth" in fresh COVID-19 cases in the National Capital Region (NCR).
Based on its data and projections, the group said "the period of negative growth rates in cases observed in the NCR in the past few weeks has now ended. This trend has been reversed, with significant positive growth in some LGUs (local government units) in the region."
"Given that a surge in the NCR is now not a question of if but of how much, we exhort the government to ensure the urgent but efficient deployment of vaccines in the next two weeks," it said.
On Sunday, the first shipment of China's Sinovac arrive in the country consisting of 600,000 doses. In the priority list for vaccination are health workers, senior citizens of specific age bracket, and other frontline and essential workers.
OCTA encouraged health workers to get themselves inoculated as the COVID-19 cases rise.
"There is a very small window of opportunity for health workers in the NCR to get vaccinated while the surge is still in its early stages and hospital occupancy in the region is still manageable. Our healthcare workers in the region must seize this opportunity," it said.
NCR projection
OCTA said that under the current trend, the number of new COVID -19 cases per day will increase from its current average daily value of 770 to 2,200 by the end of March 2021 "unless the spread of the virus is curbed."
Moreover, the group said the total number of cases in NCR will have increased to 280,000 by the end of March, from its current value of 234,754, an increase of 19 percent.
"The total number of deaths in NCR under this scenario would be 5,700, that is, 920 new deaths will be reported between now and the end of March," it said.
OCTA noted that reducing the reproduction number "will not decrease the number of new COVIDA-19 cases but will control its increase to 1,000 daily cases by end of March, for a total of 260,000 cases in NCR, or an 11% increase compared to the current total."
"The total number of deaths under this scenario would be 5,300, or an additional 520 deaths compared to the current value. This would mean that 43% less deaths due to Covid-19 would occur in NCR by reducing the number of infections compared to the status quo. On a national scale, there are currently 574,247 Covid-19 cases and 12,289 deaths," it said.
"If this trend continues and the national reproduction number remains at around Rt = 1.2, the country is projected to have 665,000 Covid-19 cases and 14,000 deaths by end of March. If the reproduction number is reduced to Rt = 1, the total number of Covid-19 cases is projected to be 640,000 by month's end, with 13,500 deaths," it explained.
Cebu City, Pasay
According to the study, Cebu City still had the most number of new cases, averaging 209 per day for the past seven days, its upward trend has slowed down, as the reproduction number in Cebu City decreased to 1.38. In Lapu Lapu, hospital bed occupancy was above 70%.
In NCR, OCTA said "steep upward trends" in new cases were observed in Pasay, Quezon City, Manila, Makati, Malabon, Taguig, Paranaque and Navotas, while Valenzuela, Caloocan and Las Pinas had a smaller increase in new cases.
Pasay had the highest daily attack rate at 21.75 per 100,000.
In the Cordillera Autonomous Region, the number of new cases in Baguio City, La Trinidad and Tabuk, Kalinga, also had upward trends, while the daily attack rate in these three LGUs were above 7 per 100,000.
Targeted lockdowns
OCTA said that the "potentially serious surge" in the NCR is still in its early stages and can still be mitigated.
It urged high-risk LGUs in the NCR, Cebu City, Lapu Lapu, and other regions identified in its report to further intensify their efforts at testing, tracing, and isolation as well as to implement small, targeted lockdowns to "contain superspreader events and reverse the increase in transmissions in their communities."
"The deteriorating compliance with the minimum health standard by some citizens
due to pandemic fatigue and/or the failure of LGUs to monitor and enforce GCQ (general community quarantine) regulations have also contributed to spikes, especially in Metropolitan areas," it said.
"In this light, we appeal to our citizens to continue to do their share by being vigilant and by being disciplined. . . .We also exhort the national and the local governments to strictly monitor and enforce compliance with minimum health standards, such as physical distancing, wearing of face mask and face shields and proper hygiene, and to discourage large gatherings to reverse the increase in transmissions at the community level," it added.—LDF, GMA News