Filtered By: News
News
PDP calling on Duterte to run for VP in 2022 —Rep. Martinez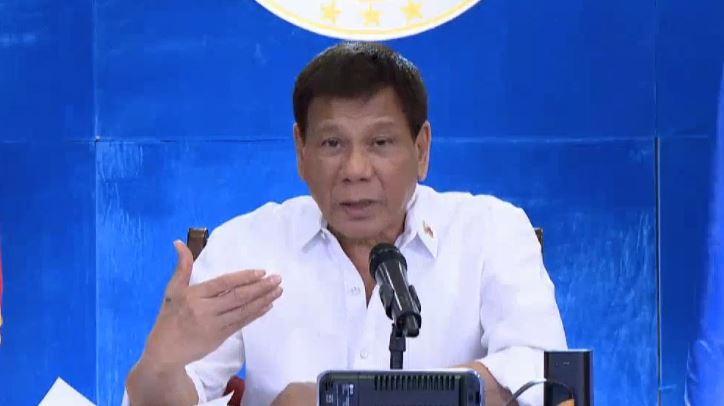 Members of the PDP-Laban party are calling on President Rodrigo Duterte to run for vice president in the 2022 elections, Deputy Speaker Eric Martinez, a party stalwart, said on Thursday, citing a circulating resolution.
Martinez told GMA News Online that the resolution is going around party members asking the President to seek the vice presidency in next year's elections.
"Yes, there is such a resolution that's been going around PDP members. It's going around the country now as PDP members are being consulted," Martinez said.
PDP members from the National Capital Region were the first to adopt the resolution, he added.
According to Martinez, the party is calling for Duterte's vice presidency run in 2022 to allow for a continuity of policy that he has started in his current term as chief executive officer.
"We feel continuity is the sentiment on this PDP reso and the President, with the highest approval rating ever seen in an incumbent President, holds the key to future decisions of the party," he said.
Reached for his comment, presidential spokesperson Harry Roque admitted being unaware of such development.
"I have no information on that," Roque said.
"I will consult the President on this. There was an instance when he mentioned that why would he run for Vice President when he already became President, but I don't know if there has been any change," he added.
No legal obstacle
Election lawyers said there is no legal prohibition for a sitting president to seek other elective posts after his or her term ends.
Former presidents Gloria Macapagal Arroyo and Joseph Estrada were elected as Pampanga congresswoman and Manila mayor, respectively, after they left Malacañang.
But can Duterte, as vice president, serve out the remainder of an unexpired term of the incumbent president? Election lawyers Romulo Macalintal and George Garcia both said "yes."
"The vice president will assume the presidency by succession and not by election," Macalintal said.
Garcia said the prohibition is against reelection as stipulated under the 1987 Constitution.
"It may not be an acceptable scenario to others but if this will happen (the former president elected as vice president then becomes president again by succession), no doubt on its legality and constitutionality," he said.
Section 8, Article 7 of the Constitution provides that the vice president shall become president in case of death, permanent disability, removal from office, or resignation of the president.
However, a person who has succeeded as president and has served as such for more than four years shall be disqualified "for election to the same office at any time," the nation's Charter added.
Duterte-Duterte tandem?
Chief presidential legal counsel Salvador Panelo earlier broached the idea of Duterte running for vice president position to his daughter, Davao City Mayor Sara Duterte, should she seek the nation's highest office in 2022.
Presidential spokesperson Harry Roque, however, has said in the past that the President is planning to go back to his hometown of Davao City when he leaves Malacañang after his term ends.
"Iyong Duterte-Duterte tandem po na sinasabi ni Secretary Panelo, iyan po ay kanyang personal na opinyon," he said.
(The Duterte-Duterte tandem that Secretary Panelo mentioned is his personal opinion.)
An OCTA Research survey conducted from January 26 to February 1 showed that Sara Duterte is the top choice of the respondents to be the country's next president in 2022. She was followed by Senators Grace Poe and Manny Pacquiao.
Sara Duterte, however, has said she is not interested in running for president. President Duterte has also repeatedly discouraged her from seeking the highest post in the land. — with Llanesca T. Panti/KBK/RSJ, GMA News