Filtered By: News
News
Cops asked Calbayog court for list of lawyers representing Reds, says SC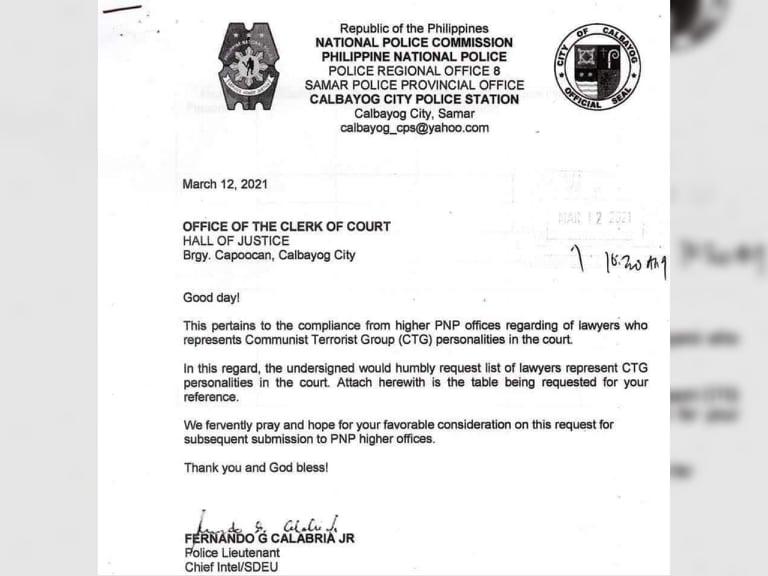 The Calbayog City police on Friday asked a trial court to furnish them a list of lawyers representing "communist terrorist group personalities."
Supreme Court (SC) spokesperson Brian Keith Hosaka said the Calbayog City Regional Trial Court received the letter that was signed by Police Lieutenant Fernando Calabria Jr. but "no action has been taken on the request."
Calabria said in the letter that the request was in compliance with a directive from "higher" offices of the Philippine National Police (PNP).
But Police Brigadier General Ronaldo de Jesus, head of the Region 8 police, denied this.
"There is no directive from our headquarters. [The] matter is being investigated," de Jesus said when sought for comment.
Reacting to the letter, National Union of Peoples' Lawyers (NUPL) president Edre Olalia thanked the police "for helping us produce damning evidence against them."
"This audacious request that is hard to refuse is the smoke in the gun traceable to the hand that pulled the trigger and the enablers of various attacks against lawyers especially human rights lawyers representing clients the state does not like," he said.
Early this week, several lawyers asked the SC to help stop the attacks on members of the legal profession.
The Office of Court of Administrator has already directed judges to submit an inventory of cases involving violence against lawyers. -NB, GMA News