Filtered By: News
News
Solon on Chinese vessels in Julian Felipe Reef: Did we barter marine resources for vaccines?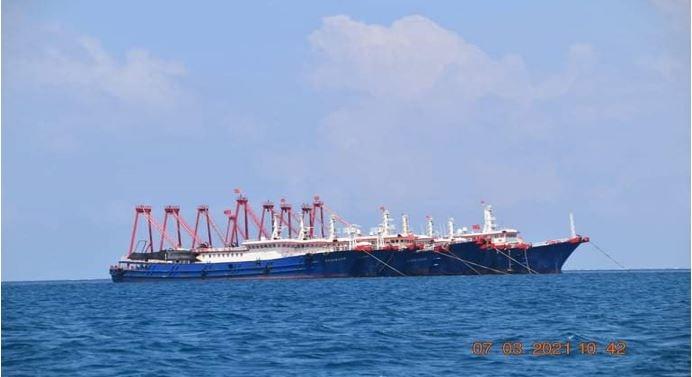 Deputy Speaker and Cagayan de Oro City Representative Rufus Rodriguez on Wednesday raised questions and concern over the presence of hundreds of Chinese militia vessels at the Julian Felipe Reef (Whitsun Reef) in the West Philippine Sea, days after the COVID-19 vaccines from China were delivered.
In a press statement, Rodriguez said the presence of the foreign vessels in the area were discovered within eight days from the delivery of the China's Sinovac vaccine to the Philippines.
The first batch of Sinovac vaccines, composed of 600,000 doses, arrived in the country last February 28. The Chinese vessels, meanwhile, were spotted on March 7.
"Did we barter marine resources in WPS (West Philippine Sea) for vaccine? This is the question many Filipinos are asking in the wake of the newest Chinese intrusion in the West Philippine Sea," Rodriguez said.
"This sequence of events makes many of us wonder if there is a connection between the vaccine donation and China's latest incursion in the West Philippine Sea, if we did not exchange marine resources for vaccine," he added.
Rodriguez said the Philippines is grateful to China for its donated vaccines, however, he noted that the latter's "newest intrusion" in the country's exclusive economic zone should be condemned.
He said "the donation should not give China the reason to enter our territory and violate territorial integrity."
Rodriguez is also not buying the statement of China, saying that the vessels were only "seeking shelter" near the reef, which they claimed is part of China's Nansha Islands or Spratlys in the South China Sea.
"If that were the case, they should have left the area, because it has been more than two weeks since they were discovered," he said. "What are their intentions there?"
From 220, around 183 Chinese militia vessels remain off Julian Felipe Reef, reports said.
Defense Secretary Delfin Lorenzana already appealed to China to pull out the vessels, saying the deployment breaches maritime rights and sovereignty.
Foreign Affairs Secretary Teodoro Locsin Jr. has said the Philippines already filed a diplomatic protest over the incident.—AOL, GMA News