Filtered By: News
News
PDP-Laban exec defends Pacquiao from members criticizing his remarks on Duterte's WPS stance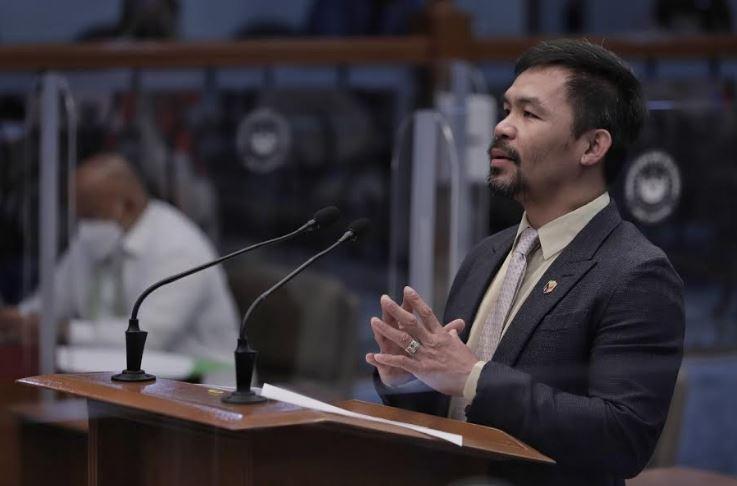 An official of ruling party PDP-Laban has defended Senator Manny Pacquiao from their members condemning the latter for issuing a statement seen as criticizing President Rodrigo Duterte's stand on West Philippine Sea.
The PDP-Laban Bulacan provincial council recently released a local resolution expressing strong disapproval to Pacquiao's statement that he found Duterte's action on China as lacking.
"Sa akin nakukulangan ako doon sa kumpara doon sa bago pa siya tumakbo, mage-eleksyon pa lang. Dapat ipagpatuloy n'ya 'yun para magkaroon din ng respeto sa atin ang China," Pacquiao said in an online interview with reporters.
The party members deemed the remark of Pacquiao, the party's acting president, as an attack on Duterte, their party chairman.
Ronwald Munsayac, PDP-Laban executive director, said while the party leadership is cognizant of the various sentiments of the members, there is a process by which they must all adhere to before issuing public pronouncements that are detrimental to the interest of the party and its general membership.
"As a fellow partymate, I lament the fact that you have issued this resolution and press statement without any actual fact-checking and proper verification of the full context of Senator Pacquaio's narrative," he said.
He said the party members could have directly communicated with him or Pacquiao for clarification.
"If you look at the said interview, you will realize that Senator Pacquaio was even defending the President when he said that people should not take the President's 'jetski statement' literally. Senator Pacquaio said nothing to criticize President Duterte and in fact expressed his respect and admiration for what the President had stated in his 'jetski' bravado, by saying 'ito, 'yung gusto ko.' Then, even as he said 'nakukulangan ako.. kumpara sa dati...' referring to the President's stance now versus the President's stance before on the same subject, Sen Pacquiao continued to say quickly, 'sana ibalik niya 'yung dati'," he said.
He added the senator simply gave a personal assessment of the President's stance now but immediately hoped that the state leader goes back to his own previous tougher stance.
"Where is the criticism? Moreover, isn't stating a point of view for the good of a party mate and the party itself welcome and even encouraged by our members, if the same is to enrich the common good?" he added.
Munsayac further said that they welcome the move of Bulacan council to elevate their resolution to the national council "without prejudice to other actions that may impact on your standing as members of the PDP Laban."—AOL, GMA News