Filtered By: News
News
Fil-Am actress lights up Broadway, stars with Tony Danza in 'Honeymoon in Vegas'
"Honeymoon in Vegas," the 1992 comedy flick starring Nicolas Cage, Sarah Jessica Parker and James Caan, is now a glitzy Broadway musical with TV and stage icon Tony Danza ("Who's the Boss?", "Taxi"), Tony-nominated Rob McClure ("Chaplin: The Musical") and stage diva Brynn O'Malley ("Annie", "Wicked") filling the love triangle.
Cast in a scene-stealing featured role is a Filipino-American singer-actress, Catherine Ricafort, in her biggest Broadway break as the island girl Mahi.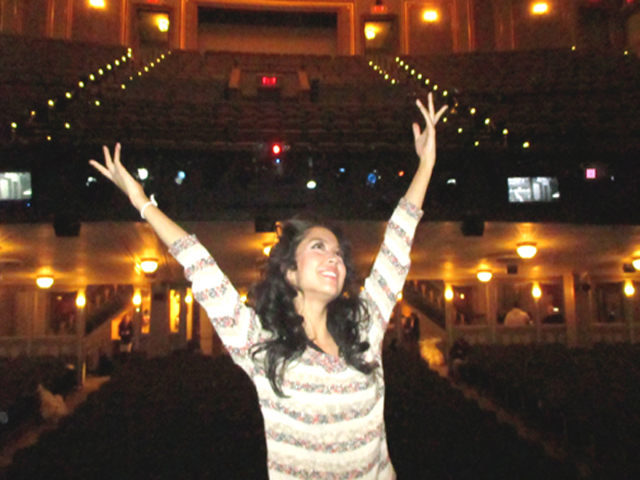 Catherine Ricafort poses for the Filipino Reporter on stage at Broadway's Nederlander Theatre.
The part in the screen version was essayed by a man, the late Japanese-American actor Pat Morita, best known for his Oscar-nominated character Mr. Miyagi in the 1984 film "Karate Kid."
"It literally feels like a dream come true and it even feels unreal at times," said the Arizona-born Ricafort of her nightly engagement at the Nederlander Theatre on 41st Street on Times Square.
"I just love the adrenaline rush and entertaining a large crowd. It's so fulfilling."
"Honeymoon in Vegas," which began previews on Nov. 18 with an opening night on Jan. 15, 2015, is a musical by renowned author Andrew Bergman and three-time Tony-winning composer Jason Robert Brown, directed Gary Griffin and choreographed by Denis Jones.
It tells the story of Jack Singer (McClure), a regular guy with an extraordinary fear of marriage, after his dying mother made him promise never to get married "because no girl will ever love you as much as I do."
Jack eventually musters up enough courage to propose to his girlfriend, Betsy (O'Malley), and together they head to Las Vegas to get hitched.
But smooth-talking gambler Tommy Korman (Danza), looking for a second chance at love, falls head-over-heels for Betsy, who's a dead ringer for his late wife.
Just like in the film, Tommy aborts the wedding and steals Betsy from Jack by flying her to Hawaii.
As Mahi, Ricafort gets to share the spotlight with McClure in a hilarious number, "Friki-Friki," where Mahi seduces and distracts Jack to keep him away from Betsy who is with Tommy in Kauai Island.
It is also through Mahi that Jack finds a way to deal with his gamophobia in a very touching number between him and his mother's ghost that reduced us to tears.
Every actor's dream
"This is very special to me because it's every actor's dream to originate a role in a new show," Ricafort told the Filipino Reporter in an exclusive interview.
"It's like a different level of accomplishment when an actor is the first person to bring this character to life on stage and there's no one else before you."
Fil-Am New York travel specialist Zoila Mendoza, who recently watched the new musical, said Ricafort is "an acting gem."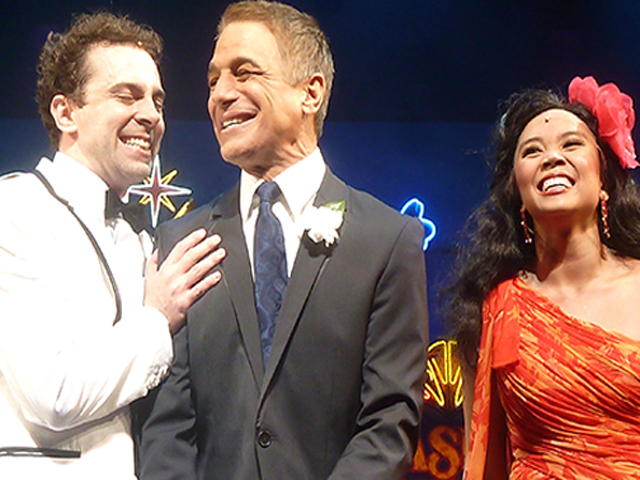 Catherine Ricafort during curtain call with "Honeymoon in Vegas" co-stars Tony Danza (center) and Rob McClure.
"She's very natural as a comedic actress... and she sings so well," Mendoza said.
"She's simply brilliant and she lights up the stage."
Ricafort got her first crack on Broadway in 2011 as Ali in the 10th anniversary edition of "Mamma Mia!".
She later joined the ensemble of "Cinderella" in May 2014 before nailing her audition for the role of Mahi.
"When I first moved here (New York), I didn't consider myself a true actress," she confided.
"And so when I found out I got this role four months before it started, I really worked hard because I knew if anything will stop me from doing a good job it's my head. I didn't believe I'm a good actress and I shouldn't be here with these seasoned actors so I put myself in acting classes to help me do a better job with my character."
Ricafort is also part of the "Honeymoon" ensemble and she's on stage most of the time in various roles, notably as an Asian slot machine player, and a showgirl that displays her perfectly-toned bod in a bikini.
Another Fil-Am, Albert Guerzon, is also in the ensemble in roles that include as one of the flying Elvis Presleys.
Prior to Broadway, "Honeymoon" had an out of town try at Paper Mill Playhouse in New Jersey, which received impressive reviews from critics, including The New York Times' Ben Brentley.
Ricafort said she's thrilled to be mentioned by Brentley in his "fantastic" Times review in the same breath as her Tony-nominated co-stars Nancy Opel (as Jack's mother Bea) and Matthew Saldivar (as Tommy's henchman Johnny), whose roles, Brentley wrote, "are never pushed to grotesque excess."
"Ben Brentley is known to close or open shows with his pen and he loved our show," she said.
"In fact, his review is printed outside the theater door for everyone to see."
Like other aspiring actors, Ricafort had to go through several rejections before landing Broadway.
"I wasn't part of an actors' union and I didn't have theater credits that's why sometimes people at the audition wouldn't even see me," she recalled.
"I didn't have an agent and my mom stood as my manager. I had to take the subway at 5:45 a.m. so I can be early for auditions. I even had to crash on an uncle's (Roy Lim of New York) couch when I first moved to the East Coast from Thousand Oaks (Calif.)."
"It was insanely hard... it was like an impossible dream," added Ricafort, who also stars in a popular interactive web series called "Prison Dancer: The Musical" top billed by Filipino-Canadian YouTube sensation and comedian Mikey Bustos.
But it's all worth it, she said, given the chance to work with a celebrated American composer she adores since high school.
"I'm a big fan of Jason Robert Brown, I've been listening to all his CDs," she disclosed.
"I still get kinda nervous when I talk to him. I can't believe that he was part of picking me to play this role."
Acting over engineering
Ricafort is not your ordinary theater performer.
The petite Pinay-American, who is actually eloquent and more sophisticated than her crass island girl role, has a degree in industrial and systems engineering (cum laude) from the University of Southern California.
A consistent scholar, she was in the middle of her master's in engineering management when she decided to put it on hold, move to the Big Apple, and pursue her real passion.
"I chose this job because I want to have an exciting life," she declared matter of factly.
"I want to pursue my dream and this is something I feel like I should do while I'm young."
Even her Manila-born parents, who used to worry about their daughter's unstable career choice and financial future, knew she's "home" after seeing her enormous joy on stage and holding her own against veteran performers.
Her father Ronillo is a quality engineer, while her mother Carmencita is a college guidance specialist; her younger brother Juan works as a data analytics startup in New York City.
Wouldn't a career in engineering give her some financial stability than in theater acting? we asked.
"Not necessarily," Ricafort pointed out.
"At this level, it's very lucrative but not as consistent. You can make a good living on Broadway but you don't know when your show is going to close. So, it's really frightening at times when a show ends and you have to find another one. That's when I'm like, 'oh, maybe I have to go back to engineering.'"
"Theater is a hard business so there's no guarantee how long it's going to run unless all Filipinos in America and elsewhere will come see our show," she chuckled.
This is when her Catholic faith comes in handy, she said.
St. Malachy's Church, popularly known as the Actor's Chapel near Times Square in Midtown Manhattan, has become her favorite place to seek solace.
"I pray for God to help me not to lose faith in myself because there are times when I feel bad about myself, when I feel like nobody wants me and I shouldn't even be here," she said.
"Many actors feel that way especially when rejected during auditions."
"I pray to keep me calm because when you're auditioning in between jobs, no matter how good you are, you are turned down a lot because there are just so many good actors for so few roles," she added.
"But right now, I'm just grateful God has allowed me to fulfill my dreams and experience this kind of happiness," she said. —
Filipino Reporter