Filtered By: News
News
Chinese fishing vessel does a Guardian, runs aground in Tubbataha
(Updated 2:00 p.m.)
– Nearly three months after an incident involving a US minesweeper, a Chinese fishing vessel ran aground in Tubbataha Reef shortly before midnight Monday.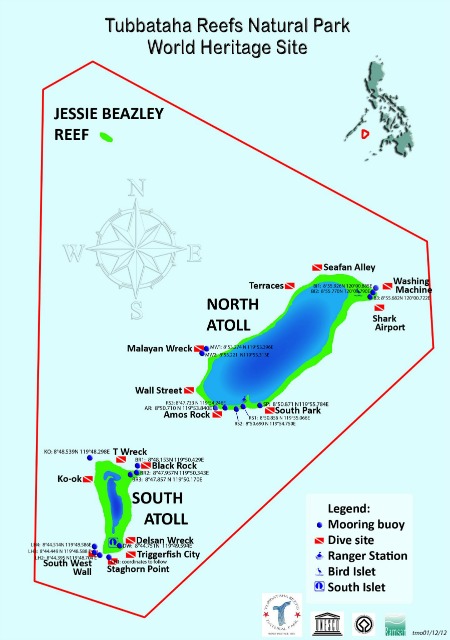 A Chinese fishing vessel ran aground on the eastern flank of the north islet of Tubbataha Reef. WWF/Lorenzo Tan
The incident involving the Chinese fishing vessel with hull number 63168 occurred at 11:40 p.m. Monday, radio dzBB's Carlo Mateo reported Tuesday.
Initial information from the Tubbataha Management Office indicated the vessel ran aground some 1.1 nautical miles east of the ranger station.

Tubbataha Reef is a World Heritage site and hugely popular diving destination known for the diversity of its marine life. It is located in the middle of the Sulu Sea, in the heart of the Philippine archipelago.
Park rangers were quoted in the dzBB report as saying the Chinese vessel had at least 12 crew members on board.
The Philippine Coast Guard has sent a search and rescue vessel (SARV-3503) to the area.

Meanwhile, Department of Foreign Affairs (DFA) spokesperson Raul Hernandez told GMA News Online that they are still studying the matter and the Coast Guard is already investigating the incident.

Zhang Hua, spokesman of the Chinese Embassy in the Philippines, said in a text message to reporters, "We noticed the media reports and are verifying it."
Rising tide
"Obviously they're within our territorial waters... Alam naman natin na kung may na-violate ka na local laws, you'll be within the jurisdiction of the area," he said.
Balilo said they are monitoring the area in case the rising tide pushes the grounded ship off the reef.
"Mayroong possibility na maka-angat itong barko from its present position pag lumaki ang tubig. Babantayan ito at sasamahan papunta 'dun sa Puerto Princesa," Balilo said in an interview aired Tuesday on "News to Go."
He added that the ship is likely to be the average size of a fisherman's boat usually seen in Philippine territorial waters.
"Hindi pa natin napi-picture kung gaano kalaki pero malamang maliit lang ito. The usual fishing boat na ginagamit ng mga Chinese fishermen na dumadaan sa area at 'dun sa ating mga territories sa Northern Luzon," Balilo said.
Department of Transportation and Communications (DOTC) secretary Jun Abaya said they have yet to determine the cause of the grounding.
"So far, hindi pa alam kung ano ang kadahilanan at kailangang makausap ang grupong ito para malaman natin," he said in an interview on "News to Go."
Another USS Guardian
Authorities said the USS Guardian damaged 2,345.67 square meters of coral reefs, and
may fine the US government P58.4 million
.
"Talagang nakakamangha na pagkatapos lang ng USS Guardian, ito namang mga (Chinese) ang pumasok 'dun," DOTC's Abaya said.
He added that the fishermen may be detained for illegal entry due to an imprisonment clause on Republic Act 10067 or the Tubbataha Reefs Natural Park Act of 2009.
"Pwedeng i-detain po sila dahil kung babasahin po natin ung Tubbataha Preservation Act, may possible imprisonment and consequences ito bukod sa pagbabayad, particularly 'yung pumasok ka sa park mismo wihout complying with the exemptions" Abaya said.
According to Section 19 of the law, "No person or entity shall enter, enjoy or utilize any portion of the TRNP and the resources therein for whatever purpose without prior permission from the (Tubbataha Protected Area Management Board) as herein provided."
Violators may be penalized with imprisonment of six months to a year and P100,000 to P300,000 fine.
Meanwhile, erring fisherfolks face penalties of one to three years imprisonment and a P500,000 fine.

Coast Guard quizzes Chinese fishermen
Coast Guard Palawan and Task Force Tubbataha head Commodore Enrico Evangelista said they will conduct an inventory of the fishing vessel.
He said they will particularly look for weapons and illegal catch.
The Philippine Navy scheduled an aerial inspection in Tubbataha Reef but the flight had to turn back due to thick clouds and turbulence, World Wide Fund for Nature-Philippines president Lory Tan said.
The dzBB report said the Coast Guard is having problems communicating with the 12 Chinese fishermen in Tubbataha, and may need the services of an interpreter
.

Chinese vessel near north islet
The Chinese fishing vessel ran aground on the eastern flank of the north islet, said Tan.
Tan said WWF-Philippines is monitoring the area with a team from the Department of Science and Technology on Tuesday.
The USS Guardian ran aground on the south islet, Tan added.
—with Andrei Medina and Marc Jayson Cayabyab/KG/HS/VVP/YA, GMA News