Filtered By: News
News
UP Tacloban mulls future after Yolanda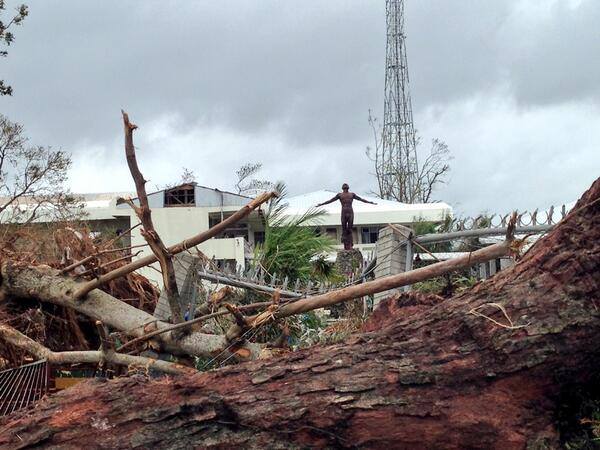 The Oblation statue in UP Tacloban, Leyte stands resilient amid the devastation brought about by super typhoon Yolanda. Micaela Papa
It was a dream come true for Rela Catucod when she passed the University of the Philippines College Admission Test (UPCAT). She was looking forward to becoming one of the many "Iskolar ng Bayan" attending classes in her hometown of Tacloban City—until the world's strongest typhoon to hit land battered the city, including the university's constituent campus there.
Super typhoon Yolanda's monster winds
uprooted trees and tore off roofs
in the UP Tacloban campus. Afterwards, Rela's friends heard rumors that the school might not reopen—that it might, in fact, be be transferred to Baybay, Leyte.
"Lahat po kami sa section namin pumasa. Almost lahat kami, ang plano mag-aral sa UP Tacloban. Pero may rumors na ililipat na raw. Medyo kinakabahan sila na malayo na sa Tacloban," Rela told GMA News Online in a phone interview.
But the 16-year-old still isn't sure if she would enroll in UP Tacloban when it opens this June. "After what happened due to Yolanda, hindi natin alam kung gan'un pa rin ba ang Tacloban."
"Medyo nakakatakot pa rin kasi malapit sa dagat," she added.
UP Visayas-Tacloban College is situated by the sea, from which a meters-high wall of water hit the city during Yolanda.
Open by June?
The devastation brought UP Tacloban to a standstill, with students cross-registering to other UP constituents if only to avoid being delayed. However, a UP System official said that the campus would be rehabilitated in time for June.
"It will certainly open. It's something that we have to do. Wala namang option B. The only option is we will rehabilitate it," Dr. J. Prospero De Vera, the UP System Vice President for Public Affairs, told GMA News Online over the phone.
De Vera said UP requested a P2-billion allocation from the rehabilitation fund for its constituents in Leyte, including the Palo-based UP School of Health Sciences, a premier midwifery school headed by UP Manila.
The buildings of the Tacloban campus may still be renovated, but the Palo constituent, supposedly built of wood, was destroyed, De Vera said.
The rehabilitation funds for UP will be sourced from the P20-billion rehabilitation fund for Yolanda-hit areas, part of the country's
P2.265-trillion budget for 2014.
Rehabilitation funds might also be sourced from
the P14.6-billion supplemental budget
from lawmakers' unused Priority Development Assistance Fund or PDAF that would be allotted for disaster management, De Vera added.
"We can start immediately. But it's now a question of fund releases," he said, noting that UP has a six-month reckoning for rehabilitation.
The official also confirmed that UP Tacloban may soon find a safer haven far from the sea, but not in Baybay as Rela has heard.
"It's a very risky location [by the sea]. We have other properties in Leyte," De Vera said.
UP is looking at a property in Sta. Elena, Tanauan, he added.
But De Vera said the priority is on rehabilitating UP Tacloban. "Medyo matagal-tagal pa ang usapan [ng transfer], kasi the cost will be bigger," he said.
In case of a relocation, De Vera said, UP might not transfer all of the academic programs to the new campus.
"Slowly, we move the bulk of the programs to a new facility but still retain the regular campus," he said.
Yolanda changed Rela's perspective, and complicated what was supposed to be an easy decision after she passed the UPCAT.
If UP Tacloban transfers its campus, Rela said, she would certainly opt to study in Ateneo De Manila University or University of Santo Tomas, even if it means giving up the title "Iskolar ng Bayan."
"Mas prefer ng mga students na hindi lumayo sa Tacloban o lumipat na lang sa ibang schools ... kahit pa UP ang campus," she said.
But should UP Tacloban reopen, what now of its risky location by the sea? Rela said the fear that a potential storm surge may hit the campus again may not go away soon.
"May takot na, hindi na mawawala 'yun," she said.
— BM, GMA News