Filtered By: News
News
Nearly 1 year after Yolanda, stench of bunker oil bothers residents in Iloilo village
Nearly a year after super Typhoon Yolanda (Haiyan) devastated the Visayas, residents of a barangay in Iloilo province are still suffering from the stench of bunker oil from a barge damaged by the howler.
Many teachers and students in Botongon Elementary School in Barangay Botongon in Estancia town said they cannot stand the stench of the oil, Iloilo news site The Daily Guardian reported Thursday.
The school has sought help from the Philippine Coast Guard and the Department of Health to address the problem.
Yolanda had left more than 6,000 dead after pounding the Visayas on Nov. 8 last year. In Iloilo, it damaged a power barge owned by the Power Sector Assets and Liabilities Management (PSALM).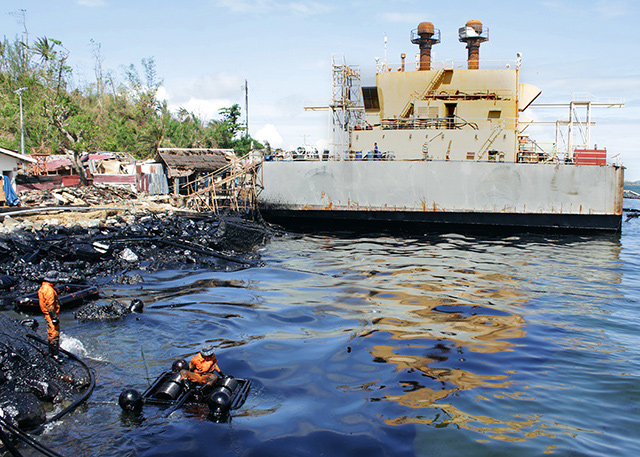 Members of a team from the Philippine Coast Guard are cleaning up the massive oil spill in Estancia, Iloilo, in this file photo taken on December 5, 2013, almost a month after Typhoon Yolanda that hit the Visayas destroyed this power barge. Photo by Tara Yap.
School teacher Beulah Coloso had to wear a facial mask to minimize the effects of the stench, the report said.
Coloso said the foul odor from the spilled oil remained even after the Philippine Coast Guard claimed the coastline was cleared of debris and toxic fumes.
But she said they are more worried about the potential long-term effects of the fumes on people's health.
"For now, we will not feel the effects. But five years [or so later], we might suffer from various illnesses," she said.
Worse, the spilled bunker oil destroyed school properties including books and chairs, even as the report said PSALM has so far offered no help for the school.
— Joel Locsin /LBG, GMA News