Filtered By: News
News
Int'l media group deeply outraged by Bohol radioman's murder
The International Federation of Journalists also joined the National Union of Journalists of the Philippines in lamenting the death of Maurito Lim.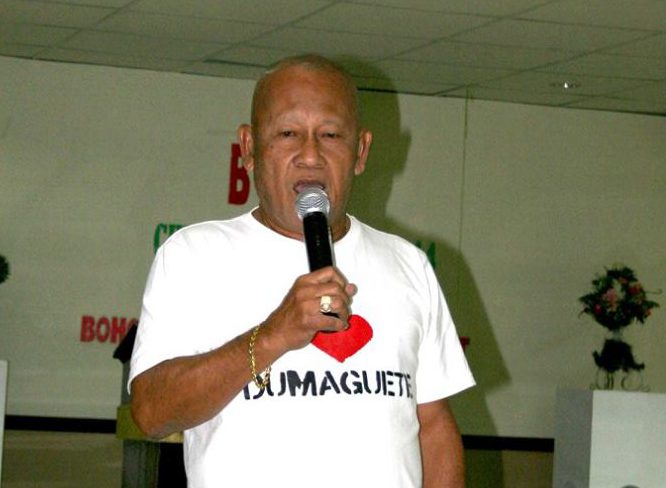 Radioman Maurito Lim. Leo Udtohan
"The IFJ and NUJP are deeply outraged by the continued disregard for the life of journalists and media workers in the country and call on the government to immediately act to find the gunman and any masterminds behind the order to kill the outspoken journalist," it said.
"The killing of Maurito Lim is a despicable and cowardly act of the highest order. The IFJ expresses its deepest sympathies to the family and colleagues of Maurito Lim," added IFJ Asia Pacific acting director Jane Worthington.
Citing initial information on the case, the IFJ said a lone gunman shot Lim in the face before noon last Saturday.
Lim was getting out of his car outside his workplace at radio station dyRD when he was shot.
The IFJ noted Lim was a "noted critic of local officials linked to illegal drug trade in the city."
Earlier, the NUJP said it had "run out of condemnation in the face of the murder of yet another colleague."
"While we seriously doubt demanding justice will get us, or Maurito Lim's family and colleagues, anywhere, we challenge the government to prove us wrong by acting swiftly to solve the case, arrest the killers and, most important, the mastermind who ordered his death" said NUJP chairperson Rowena Paraan.
The IFJ scored anew the Philippines' culture of impunity, which it described as an epidemic.
Ampatuan massacre
In 2009, it noted the single deadliest killing of journalists took place in the Southern Philippines when 32 journalists were among 58 people assassinated as a result of a political power struggle in Maguidanao.
"To date, not a single perpetrator has been convicted and at least four key witnesses have been killed," it said.
Mike Dobbie, a delegate of IFJ missions in 2009 and 2014 called for "determined efforts by law enforcement agencies to seek out not only the gunmen responsible but also those who ordered this outrage and who employed the shooter."
He added the judicial system "must move to a swift resolution. To do less than these measures is to allow impunity to continue and flourish."
Cops eye professional hitman in radioman's murder
Meanwhile, police suspect a professional hitman could be behind the murder of Lim, state-run Philippine Information Agency reported late Monday.
A
PIA tweet
quoted Tagbilaran City police head Chief Inspector George Vale as saying footage from closed-circuit television pointed to a "professional hitman."
Reward
The Tagbilaran police announced the offer as it formed Task Force Mao to probe Lim's murder, GMA News stringer Leo Udtohan reported. —Joel Locsin/KG, GMA News