Filtered By: News
News
Lake Sebu fish kill affects tilapia prices in Kidapawan
KIDAPAWAN CITY - Fish vendors in Kidapawan City fear that the price of tilapia will surge in the next few days as a result of the fish kill in Lake Sebu.
The fish kill has already affected hundreds of fish cages due to the sudden change of weather in the past weeks.
An estimated 200 fish cages have reportedly been affected last week.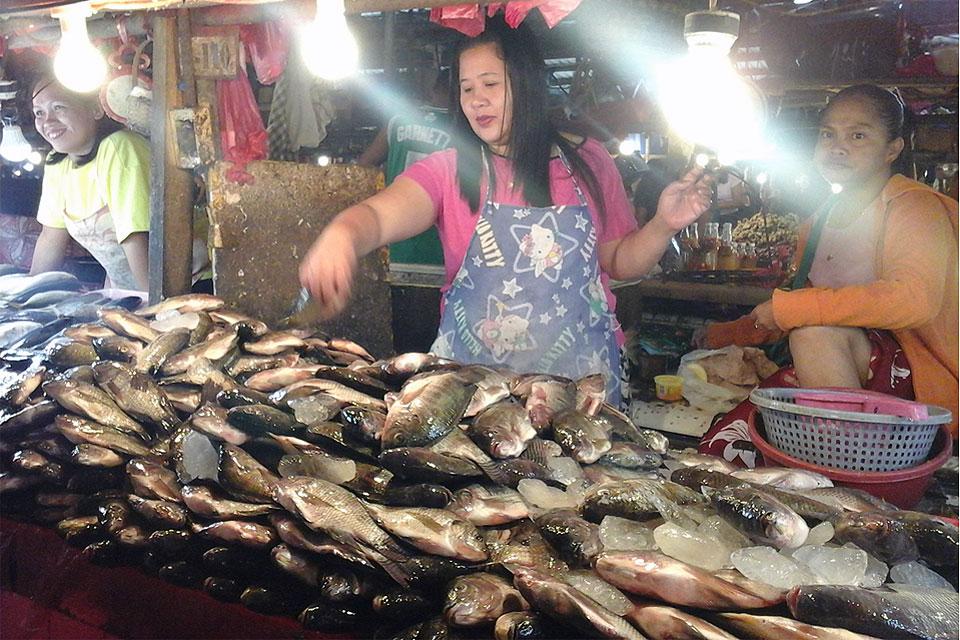 Tilapia vendors in Kidapawan City on Thursday, October 13, 2016, note a decrease of at least two tons of fish supply since Ocotber 10, 2016, following the incident of fish kill at Lake Sebu. Tilapia prices in mega markets also increased by least P5 per kilogram. Williamor Magbanua
Roldan Rebuto, Kidapawan City Mega Market Fish Vendors Association president, said they now feel the effect of the fish kill as the supply of tilapia at the mega market are down by at least two tons per day.
Rebuto said for now, only seven to eight tons of fish were being sold by the vendors. Prior to the fish kill, vendors could sell at least 10 tons per day.
"We fear that it will continue to drop since more fish kills were being noted in Lake Sebu, which supplies tilapia fish to various provinces in Mindanao," Rebuto said.
Kidapawan fish vendors do not get all their supply of tilapia from Lake Sebu. Vendors however still feel the effect of the fish kill since supply is affected.
Rebuto disclosed that tilapia vendors from as far as General Santos City and Bukidnon, who used to get their supply from Lake Sebu, are now dealing with suppliers in Lake Buluan, thus affecting supply in Kidapawan and other towns as well.
Rebuto also said an increase in the prices per kilogram of tilapia has already been noted since Monday last week.
"We have nothing else to do but to raise our prices by at least P5 per kilogram in order to cope with our expenses," Rebuto added.
He also fears that once the remaining fish cages in Lake Sebu and possibly Lake Buluan as well get hit by fish kills, prices of tilapia will increase suddenly just like what happened during the height of the El Niño phenomenon.
"Our fear is that when high demand for fishes in the next remaining months (remain), the prices per kilogram might even reach to at least P100 to P120 per kilogram," Rebuto said.
Rebuto disclosed that following the Lake Sebu fish kills, some tilapia vendors are now getting supply from Lake Buluan, affecting other vendors not only from here but in the other public markets of Mindanao as well. —KG, GMA News