Filtered By: News
News
Joseph Estrada and his 'final performance' in Philippine politics
If pre-election surveys are to be believed, the deposed leader popularly known as "Erap" could be well on his way to retaking the position he said was stolen from him in 2001. The only Philippine president impeached in Congress and convicted of plunder but granted pardon by his successor, Joseph Estrada is among the front-runners in the nine-way presidential race in the 2010 elections.
JOSEPH ESTRADA
---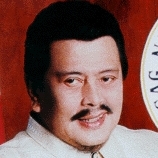 ---
Name
: Joseph Marcelo Ejercito Estrada
Nickname
: Erap
Date of Birth
: April 19, 1937 (age 73)
Running mate
: Makati City Mayor Jejomar Binay
Campaign Slogan
:
Kung may Erap, may ginhawa
(If we have Erap, we have progress)
Polling precinct
: Precinct 132-B, Barangay Pedro Cruz, San Juan City
Spouse
: Luisa "Loi" Pimentel Ejercito
Known mistresses
: Laarni Enriquez, Guia Gomez, Peachy Osorio, Joy Melendrez, Mary Ann Murphy, Rowena Lopez
Children
with wife Loi: Jose (Jinggoy), Jacqueline, Jude
with Peachy Osorio: Joel Eduardo (Jojo), Teresita
with Guia Gomez: Jose Victor (JV)
with Laarni Enriquez: Jerika, Juan Emilio (Jake), Jacob
with Joy Melendrez: Jose Mari
Educational Background:
College: Engineering, Mapua Institute of Technology (dropped out) High School: Ateneo de Manila University (expelled)
Government Service:
13th President of the Philippines (1998-2001) Vice President (1992-1998) served concurrently as chair of the Presidential Anti -Crime Commission (1992-1997) Senator (1987-1992) Mayor, Municipality of San Juan (1967-1986)
Data compiled by GMANews.TV, GMA News Research
Still drawing on his pro-poor and pro-masses rhetoric to advance his presidential bid, the 73-year-old Estrada says he is heartened by the public's warm reception during his campaign sorties nationwide. In the quaint town of Boljoon, Cebu, a throng of supporters ran alongside Estrada's campaign float on the streets. At the Makati city coliseum, thousands of residents erupted into cheers when Estrada arrived. In the Ilocos provinces, youngsters pushed their way into the crowd to get stickers, posters, and other campaign paraphernalia. It's as if nothing has changed, says Estrada, reminiscing about his campaign in the 1998 presidential polls, which he won by landslide. A dozen years later, Estrada confidently says his road to the presidency will lead to victory even if it is tougher this time, with Senators Noynoy Aquino and Manny Villar as his chief rivals. "I will give them the surprise of their lives," beams Estrada, who is on a steady uphill climb despite the heavy political baggage – his ouster and plunder conviction, the mansions for his mistresses, his hidden bank accounts, his alleged involvement in jueteng and the murder of a close ally – on his back.
Silver screen hero
Joseph Marcelo Ejercito was born on April 19, 1937 in Manila's Tondo district. He is the eighth of 10 children of engineer Emilio Ejercito and Maria Marcelo. The Ejercitos later moved to San Juan town, now a city, where Joseph started his political career in the 1960s. The young Joseph was booted out of the Ateneo de Manila University high school after he supposedly fought with a bully. In college, he took an Engineering course at the Mapua Institute of Technology, but he was also kicked out. When he was 17, Joseph appeared in the 1954 film "Kandelerong Pilak" – the first of about 160 movies in his three-decade film career. The budding actor used the screen name Joseph Estrada because his father supposedly disapproved of his profession. In most of his films, Estrada portrayed a swashbuckling guy who defends the poor against the corrupt establishment. http://www.imdb.com/name/nm0261825/ Close friend and fellow actor Fernando Poe Jr., who ran for president in 2004 and died the same year, gave Estrada the monicker "Erap" – the inverse of "Pare" which is the Filipino colloquial term for close male buddy. At the height of his popularity, Estrada entered the political arena, winning as San Juan Mayor in 1967. He was removed from his post in 1986, when newly-installed President Corazon Aquino purged the government of officials that held power during the Marcos regime. After Aquino restored democratic institutions in the country, Estrada made a successful bid for the Senate in 1987. Five years later, he was elected vice president, paving the way for his presidential candidacy in 1998. Estrada bested nine other contenders in the elections, receiving more than 10.7 million votes. The second-placer, Jose de Venecia Jr., got 4.2 million votes.
Eraptions and corruption
Estrada's short-lived rule was replete with jokes assailing his intellectual capacity. But more seriously, his administration was rocked by allegations of questionable deals that favored his family, cronies, and mistresses. He was criticized for allegedly maintaining a "midnight Cabinet" that made deals and influenced government policies over glasses of whiskey. He was also pinpointed as the mastermind in the murder of veteran publicist Salvador Dacer and driver Emmanuel Corbito in November 24, 2000, an accusation that Estrada has repeatedly denied. Dacer had supposedly possessed incriminating information linking Estrada to the BW Resources share price fixing scandal in 1999, the biggest controversy to hit the Philippine Stock Market. When he became senator in 1987, Estrada declared P2.3 million in his Statement of Assets, Liabilities and Net worth. But in his last SALN in 1999, Estrada's net worth had ballooned to P35.8 million. Philippine laws require government officials to divest themselves of business interests while in public office. However, a study conducted by the Philippine Center for Investigative Journalism in 2000 showed that Estrada had business interests in about 60 firms where he was listed as either an incorporator or board member. Estrada did not declare these companies, worth more than P800 million, in his SALNs. THE PCIJ report also showed that Estrada had at least 20 houses in Laguna province and in the cities of Parañaque, Makati, San Juan, Tagaytay, and Baguio. In his SALNs, Estrada only declared his Polk Street home in the upscale Greenhills community in San Juan as his only residence. During his campaign for the May 10 polls, Estrada asserted: "I have divested all my properties to corporations and to my family. My children can kick me out of the house because I do not own a single property."
From friend to foe
The 13th Philippine president's downfall started with the exposé of an erstwhile close friend who was privy to his affairs. At a House of Representatives hearing in October 2000, former Ilocos Sur Gov. Luis "Chavit" Singson divulged Estrada's alleged involvement in jueteng and called the president "the lord of all jueteng lords." Singson also accused Estrada of receiving bribes from the tobacco excise tax. Singson's revelation resulted in the filing of an impeachment case against Estrada. Former House Speaker Manny Villar, who is currently running against Estrada in the presidential race, transmitted the complaint to the Senate in November 2000. Singson stood as witness in the impeachment trial, but the proceedings were aborted on Jan. 16, 2001 after majority of the senators, mostly Estrada's allies, voted not to open an envelope containing evidence that could pin him down. When former Supreme Court Chief Justice Hilario Davide Jr. said "the no votes have it," the prosecution panel walked out. The public took their indignation to the streets, gathered at the EDSA Shrine, and demanded Estrada's resignation. The street uprising culminated on Jan. 20, 2001, when Estrada bowed out in disgrace, allowing then Vice President Gloria Macapagal Arroyo to be sworn in as the 14th president of the Philippines to finish Estrada's term. Looking back at what is now known as EDSA Dos, Estrada says disgruntled elite forces and civil societies ganged up on him and stole his presidency. After six years in detention, Estrada was found guilty of plunder by the Sandiganbayan in September 2007. The anti-graft court said Estrada abused his power to amass more than P500 million in ill-gotten wealth. But to the public's disappointment, President Arroyo pardoned her predecessor a month later and restored his civil and political rights.
'Kung may Erap, may ginhawa?'
How does one explain Estrada's increasing survey ratings and the throngs of people cheering him on during his motorcades? Erap had no sins to begin with, his supporters say. Filipinos are a forgiving people who forget their leaders' transgressions, others argue. Despite his checkered past, Estrada says the public's reception of his second shot at the presidency only proves that he has nothing to be sorry about. "My conscience is clean. I never asked for that pardon. It was given to me and I just accepted it," he says. He quickly clarifies that he is running for president not to vindicate himself, but "to continue the programs of my government." Should he win, Estrada says his new administration would focus on three things: fighting corruption, establishing food security by supporting the agriculture sector, and instituting peace and order to boost investor confidence. He also wants to end violence in Mindanao and transform the southern Philippines into the country's food basket. In his campaign, he uses the tagline, "Kung may Erap, may ginhawa" to show that Filipinos were better off under his administration than under Mrs. Arroyo's nine-year rule. In a country mired in poverty, Erap sees himself as the savior who will pluck Filipinos out of their dire situation, the way he does in his movies. Erap said it best on the day he announced his candidacy: "This will be the final, final performance of my life. I should not fail the Filipino people in this next chapter." With these words, the deposed leader is determined to reclaim the highest elective post in the land. –
YA, GMANews.TV