Filtered By: News
News
55 political families have unbreakable hold on power, one clan for 43 years
Among the 18,000 elected officials who assumed office on July 1 is a small group of congressmen, mayors and governors who came from the most resilient of political families – they have held on to a post for at least two decades, uninterrupted.
At least 55 political families will have each controlled an elective post for 20 to 40 years straight when their scions' fresh terms end in 2016, according to findings of GMA News Research based on the Commission on Elections' list of proclaimed winners.
At least one political clan, the Abadillas, will have governed the town of Banna in Ilocos Norte for 43 uninterrupted years by 2016.
At least nine political families will each have held a post for more than 30 years uninterrupted.
At least 45 other political clans will each rule over an incumbent post for more than 20 years straight by 2016.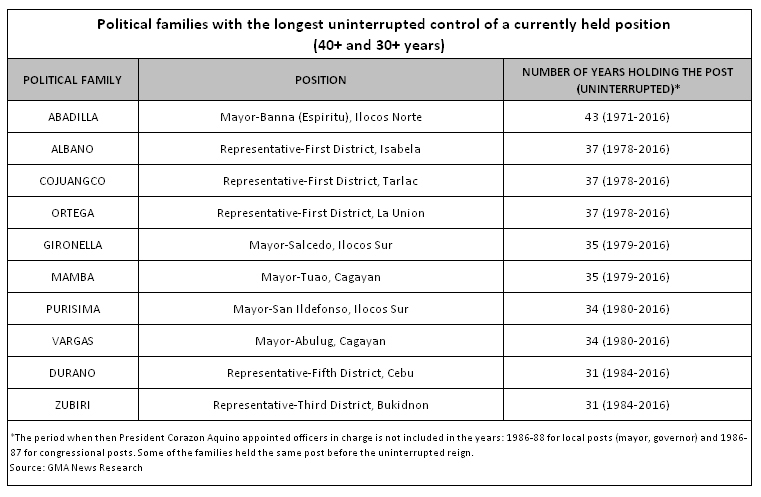 The elite circle is led by the Abadilla family, whose members will hold the post of mayor of Banna (Espiritu) in Ilocos Norte for 43 straight years, from 1971-2016. (In computing the years, GMA News Research deducted the OIC years of 1986-1988 for local posts and 1986-1987 for congressional posts.)
Three political families will each occupy a congressional post for 37 straight years by 2016: Albano, Isabela First District; Cojuangco, Tarlac First District; and Ortega, La Union First District. Members of these families were colleagues since the Interim Batasang Pambansa in 1978, although all three clans were elected congressmen earlier than that.

The time of these three families in the House of Representatives started many years before their uninterrupted reign. The Ortega clan will represent La Union's First District for a total of 58 years by 2016 as its stint began in 1934. The Cojuangcos will clock a total of 57 years as Tarlac First District congressman by 2016, they first held the post in 1907. The Albano family will be on its 45th year as Isabela First District representative by 2016.

(click image to enlarge)
For 35 years, from 1979-2016, the Gironella family holds the mayoralty post of Salcedo in Ilocos Sur. The Mamba clan occupies the post of mayor of Tuao, Cagayan also for those years.
Members of the Purisima family will control the mayoralty post of San Ildefonso, Ilocos Sur for 34 years, from 1980-2016. Members of the Vargas family will occupy the mayoralty post of Abulug, Cagayan also for 34 years, also from 1980-2016.

Members of the Durano and Zubiri families are contemporaries in the House of Representatives since the Regular Batasang Pambansa in 1984 and will continue to be so until 2016. The Duranos represent Cebu's Fifth District while the Zubiris hold Bukidnon's Third District.

Two families were able to regain their posts after losing sometime in their 30-year run.

The Dy family clocked 32 straight years as Isabela governor, from 1970 until 2004, when it lost to broadcaster now Elections Commissioner Grace Padaca. The clan reclaimed the post in 2010 and won again in May 2013.

The Reyes family represented the Lone District of Marinduque for 31 years, from 1978 until 2010, when it lost to Lord Allan Jay Velasco. In the May 2013 polls, Regina Reyes won over Velasco.

Losers

Two families who each ruled over a post for at least three uninterrupted decades lost for the first time in the May 2013 elections.
The Payumo clan, which before the elections holds the distinction of staying in an incumbent post for the longest time at 48 straight years (1963-2013, minus OIC years), lost its hold on the Dinalupihan mayoralty post. The loss of the Payumos is the gain of the Garcias, yet another prominent political family in Bataan.

The Gordons' 31-year reign in the Olongapo City Hall was toppled last May. They held the post since 1980. Patriarch James Leonard Gordon was also the first mayor of the city, elected from 1963-1967.

Three political families who had each ruled over a post for 30 years or more failed to regain the post last elections: the Felix family for Cainta mayor, the Kintanar family for Cebu Second (Fourth before) District representative and San Luis for Laguna governor. All fielded candidates but lost.

These political families each occupied an elective post for more than 30 years but appear to have lost interest in the office: Cuneta for Pasay City mayor, Yulo for mayor of Binalbagan, Negros Occidental, Leviste for Batangas governor, Carmona for mayor of San Carlos City, Negros Occidental and Rodriguez for Rizal governor. These families did not field any candidate to those posts but have members who are either incumbents or sought other positions

20+ years

At least 45 families each will control a post for 20 years and more when their new term ends in 2016.
Of these 45 political families, at least 26 each control a district representative for more than 20 years straight. Some of these families spent years on their district posts on top of the 20-year-something unbroken reign.
The Fuentebella family, for instance, represented Camarines Sur's Third District (now the Fourth District) for a total of 67 years starting 1910. The Espinosa clan occupied the congressional seat of Masbate's First District for a total of 57 years beginning 1934.

At least 14 of the 45 political families will each hold a mayoralty post for more than 20 years straight by 2016. Half of these families are local chief executives of cities, including four from Metro Manila—Binay in Makati, Estrada-Gomez in San Juan, Eusebio in Pasig and Aguilar in Las Piñas.

At least three of these families had been elected mayors for many years before the uninterrupted reign. The Ecleo family is the local chief executive of San Jose town for a total of 48 years by 2016, starting in 1963 when it was still part of Surigao del Norte.

The Marañon clan governed Sagay City for a total of 42 years beginning 1970. Former President and now Manila Mayor Joseph Estrada was mayor of San Juan from 1969-1986; the family will rule the city for a total of 41 years by 2016.

Five of the 45 political families rule as governors for more than two decades straight.

The families of Dimaporo of Lanao del Norte, Petilla of Leyte and Yñares of Rizal will each govern their provinces for 24 years uninterrupted by 2016. The Amante clan of Agusan del Norte and the Villafuerte family of Camarines Sur will manage their respective provincial capitols for 21 years by 2016. —with Allan Vallarta, Carl Ivan Villegas/RSJ/KG/HS, GMA News Research